34 Sponsored Online Programs Available
EducationDynamics maintains business relationships with the schools it features
Online Accounting Bachelor Degree
Online accounting bachelor degree programs may offer students not only the opportunity to acquire business knowledge and prepare for a potential career as a professional accountant, but also, a convenient learning format! Accountants prepare financial documents, make sure financial records are accurate and that taxes are submitted to the government on time. They are vital to the smooth and efficient operation of organizations.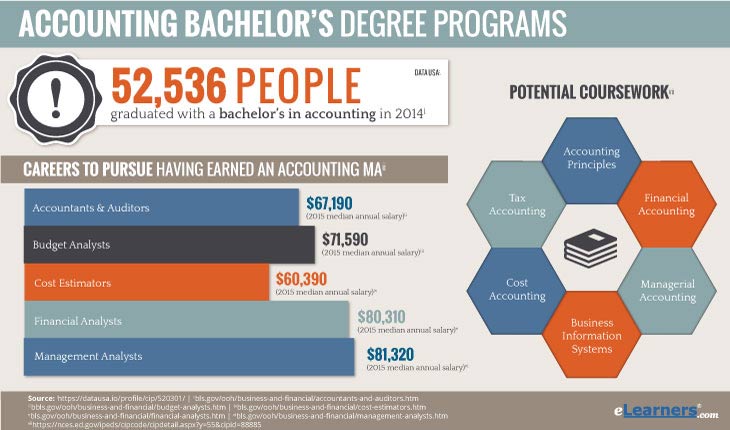 In fact, the employment outlook for accountants is faster than average.[i] That said, most employers are looking for candidates who have earned a bachelors degree in accounting or a related field. [ii] Let's get you started with some useful information about online bachelors in accounting degree programs!
Why Earn an Online Bachelor's Degree in Accounting?
Online accounting bachelor degree programs, sometimes referred to as 'Bachelor of Accounting' or 'B.Acc.'[iii] offer the principal undergraduate-level degree in accounting that is often used for subsequent professional practice in accounting. 'Subsequent' because while a bachelors degree in accounting is part of the process, employers may prefer to hire certified accountants[iv].
Certified Public Accountants, or CPAs, are licensed by their state's board of Accountancy. This requires passing a national exam and completing 150 semester hours of college coursework, 30 hours above the usual 4-year (full-time) Bachelors degree in accounting[v]. In other words, it is both a foundation and a platform for continued education.
DID YOU KNOW? Per DATA USA, in 2014, 52,536 Bachelors degrees in accounting were awarded. That represents a 68% share of the total.[vi]
Potential Features of Online Accounting Bachelor Degree Programs
Although online accounting bachelor degree programs vary in formatting and curriculum, distance learning may offer scheduling flexibility. This might give individuals currently working (perhaps as bookkeeping, accounting or auditing clerks) the motivation to take the next academic step.[vii] A few of the potential features of earning your bachelors in accounting online might include:
Pre-recorded podcasts, video-taped lectures or live streaming seminars;
Participation through online discussion boards;
Self-paced study (while meeting deadlines for assignments);
Online Accounting Bachelor Degree Programs: Basics
Online accounting bachelor degree programs typically require students to have earned their high school diploma or GED, although some students may have earned their associates degree in accounting. Several schools may offer a 5-year combined bachelor's and master's degree program to meet the 150-hour requirement for the CPA exams, otherwise, while this might vary, earning an accounting bachelors degree in accounting might take 4-years.[viii] However, you might also find accelerated programs, opt to study part-time (where available), or have transfer credits from an associates degree.
Potential Curriculum of an Online Bachelors in Accounting
While specific degree requirement for bachelors in accounting online programs vary, students might expect to take roughly 120 credit hours. This may involve a combination of electives, general education (communication studies, mathematics, science, social science, arts and humanities) as well as courses tailored to an accounting major.
While best to refer to a curriculum from a prospective college, the following potential curriculum may give you a generalized feel of what an online accounting bachelor degree might look like[ix]:
Financial Accounting
Managerial Accounting
Auditing
Taxation
Management Theory
Business Mathematics
Statistics
Business Law
Economics (micro economics, macro economics)
Statement Analysis
Cost Accounting
In some programs, you may also be able to pursue a concentration that aligns with your interests. This is one of the things you might weigh as you evaluate different online accounting schools.
Bachelors in Accounting Online Program: 5 Skills You Might Learn
Whether you have these abilities already or they are cultivated through your years of study in an online accounting bachelors degree program, accountants may be skilled at many things. We pull 5 from the list here[x]:
Active Listening
Mathematics
Reading Comprehension
Writing
Critical Thinking
Choosing an Online Bachelors Degree in Accounting
Online accounting bachelors degree programs may be available as Bachelor of Arts (BA), and Bachelor of Science (BS) in Accounting. Some schools may also offer Bachelor of Science in Business Administration (BBA) in Accounting, Bachelor of Business Administration (BBA) in Accounting or Bachelor of Accountancy. In addition to coursework, some colleges may help students find internships.[xi]
Online BA in Accounting Degree
In an online Bachelor of Arts in Accounting degree program, students typically must satisfy course requirements in liberal arts and social sciences (e.g. foreign language). With a Bachelor of Arts the there may also be more elective course credits rather than courses devoted to your major. This path might offer a "well-rounded" education that might prepare for a masters program where further specialization could occur.
Online BS in Accounting Degree
In an online Bachelor of Science in Accounting degree program, students typically have more courses devoted to the accounting major. Instead of the liberal arts focus of a BA, students might encounter more advanced courses in math, business (applied science), and accounting. Electives may not be as predominant as they are in the BA. In some cases, you may also find a Bachelor of Applied Science in Accounting which might be considered a 'degree completion' for students who have already completed two-year degrees in accounting related fields.
Online BSBA or BBA in Accounting
In an online Bachelor of Science in Business Administration, accounting may be chosen as a concentration. The curriculum might be focused on business practices and management functions, with an emphasis on accounting topics. In an online Bachelor Business Administration in Accounting, students may take a core curriculum of business courses (marketing, economics, finance, management) with courses in an accounting major.
Online BAC
An online Bachelor of Accountancy may provide a foundation in accounting topics. It might also be a preparation for a graduate degree such as an MBA-Accounting or Master of Accountancy (MAcc).
After Graduation
We have touched on a few points that may have answered your question as to "what can I do with a bachelors in accounting?"
Continued Education: earning a bachelors degree in accounting online may be a stepping stone to a Masters of Accounting or other graduate degree. Also, keep in mind that if you aspire to file reports with the Securities and Exchange Commission (SEC) you are required by law to be a CPA, and many prospective employers look for this credential (which may entail more study).[xii]
Potential Career Paths: while earning a degree is not a guarantee, some of the potential career paths that graduates with a bachelors in accounting degree might pursue could include:
Bookkeeping clerk
Accounting clerk
Auditing clerk
Junior accounting positions
Find an Accredited Bachelor Degree in Accounting Online Program
One of the things you might look for in an online bachelors degree in accounting program is accreditation. In the United States, institutions may submit for voluntary accreditation by a third-party agency such as the U.S. Department of Education. Within nationally or regionally accredited schools, you might find accredited programs. To apply for accounting accreditation an institution seeking specialized accreditation such as by the AACSB (The Association to Advance Collegiate Schools of Business) International, must simultaneously hold or be applying for business accreditation. [xvii]
Take the Next Step
Start reviewing the sponsored listings on our site to land on an online accounting bachelor degree and program that aligns with your interests. Each online business school may present unique courses, concentrations and distance learning technology. So while you do have some legwork, we make it easy. . . Just use the "request info" tab and you might be on your way to enrollment.
[ii] bls.gov/ooh/business-and-financial/accountants-and-auditors.htm |[iii] en.wikipedia.org/wiki/Bachelor_of_Accountancy | [i, iv, v, vii] bls.gov/ooh/business-and-financial/accountants-and-auditors.htm [vi] https://datausa.io/profile/cip/520301/ |[vii] bls.gov/ooh/office-and-administrative-support/bookkeeping-accounting-and-auditing-clerks.htm | [ix] https://nces.ed.gov/ipeds/cipcode/cipdetail.aspx?y=55&cipid=88885 |[x] www.onetonline.org/link/summary/13-2011.01 |[xvii] aacsb.edu/accreditation/accounting