2 Sponsored Online Programs Available
Compare Online PhD in Accounting Programs
Pursuing a PhD in accounting online program may be the best path for those with serious goals in the fields of business administration and accounting. These doctorate-level programs could potentially allow you to explore top strategies accounting research, professional applications, and even teaching. You might study analytical approaches to your research that could potentially be used in a business practice. And, you may discover how to apply your learning to professional areas like government, consulting, and education through an online phd in accounting program.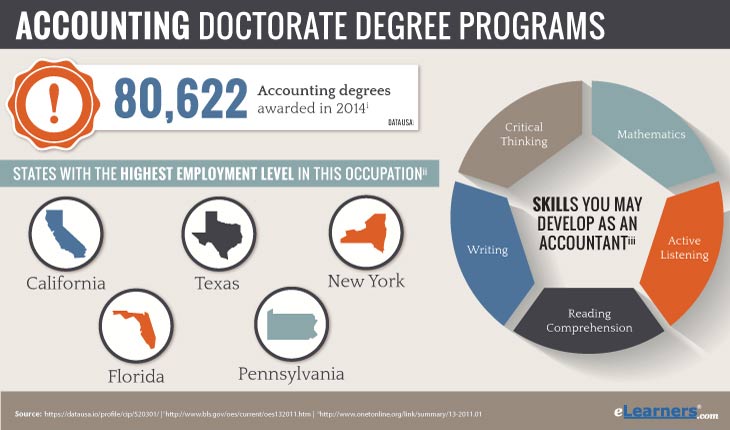 Hint

Besides a PhD in accounting online, there may be other types of accounting doctorate programs worth checking out, such as a DBA in Accounting.
What Are DBA Accounting Programs?
DBA stands for Doctor of Business Administration. This is a terminal doctorate degree that may help candidates prepare for new challenges in business, research, or teaching. Though you could potentially choose from other concentrations, DBA accounting programs specifically focus on accounting theory, practice, and leadership. In a DBA in accounting program, you might engage in applied accounting research, after learning to design your own research study. And, you might study core areas of business leadership, from strategic planning to the challenges of the global marketplace.
While every DBA accounting program may be a bit different, here's a sampling of potential courses you might encounter:
Applied research design
Applied accounting research
Financial reporting
Global operations
Forensic accounting
Requirements for Earning a PhD in Accounting Online or a DBA in Accounting
Prerequisites for pursuing a DBA or PhD in accounting online may vary by school. You may need to have earned a masters degree, though an undergraduate degree along with some professional experience may be sufficient. Check with your prospective program for other specifics!
Graduation requirements also vary by online PhD in accounting programs. Here are a few potential requirements you may encounter:
Business and accounting courses. You may have to earn a certain number of course credits, which might vary by program. Some programs may require you to pursue core business courses, along with courses in your area of concentration – in this case, accounting.
Residencies. Some PhD or DBA accounting online programs may require in-person residency sessions.
Examinations. You may need to pass written exams after you have finished your coursework.
Dissertation. Like most doctoral programs, PhD and DBA accounting programs may require candidates to research, write, and defend an original dissertation.
Earning a PhD in Accounting Online
While studying on campus might be an option worth considering, there may be a lot to love about online learning. Students busy with independent study and research may enjoy the flexibility of learning from home at times that work for them. Online PhD in accounting programs may feature online research technologies, course discussion tools, and networking sites that enrich the learning experience. And, you could potentially take part in occasional in-person residencies, too.
Ready to Get Started with an online PhD in Accounting?
Check out some sponsored listings for PhD in accounting online programs that may help you pursue your ambitions in business and beyond!