Because it's such as varied profession, it makes that that accounting salaries also vary, depending on the specialization that you choose. Not only are there differences in accountant salaries and the accounting job outlook between occupations – these can also vary by state and education level. Either way, it's clear that there are lots of factors to consider should you pursue your accounting degree. But we're here to help you sift through the information!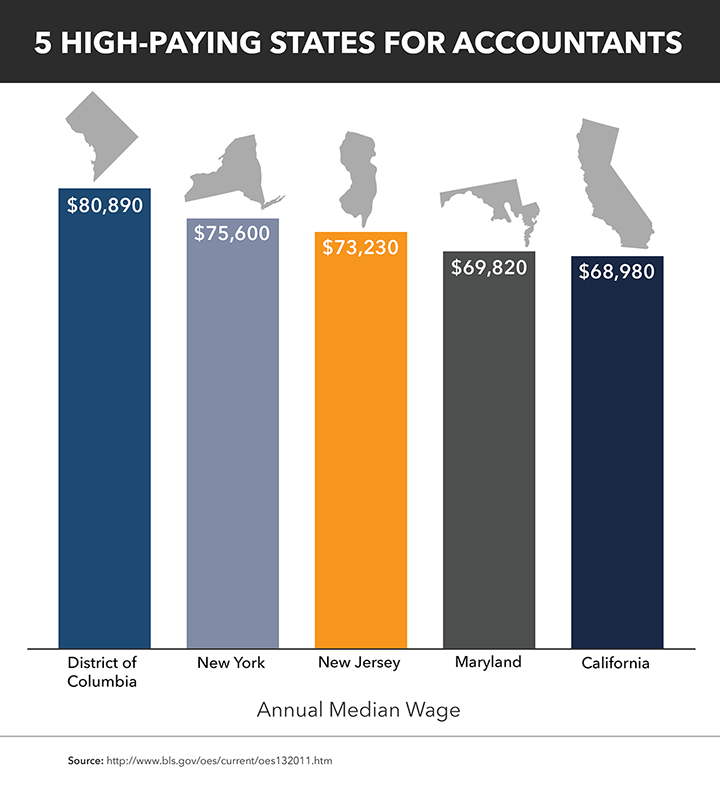 Accounting Job Outlook & Salaries
Still on the fence about which career path in accounting is right for you? We've compiled a list of seven accountant salaries and jobs so that you can get more of taste for what's out there.
1. Financial Manager
If you're organized, goal-oriented and a strategic thinker, a career as a financial manager may work well for you.
Median Annual Salary: $109,740[i]
2. Certified Public Accountant
One of the more well-known accounting jobs, CPAs are responsible for preparing and examining financial records.
Median Annual Salary: $63,550[ii]
3. Fraud Examiner
Fraud examiners may gather financial documents and evidence related to investigations. 
Median Annual Salary: $61,160[iii]
4. Management Analyst
As a management analyst, your goal would be to help managers reduce costs and increase revenues.
Median Annual Salary: $78,600[iv]
5. Top Executive
Having a strong base in accounting could help prepare you for a role as a top executive in business.
Median Annual Salary: $ 101,650[v]
6. Personal Financial Advisor
If you enjoy helping others and giving financial advice, you may be interested in a career as a personal financial advisor.
Median Annual Salary: $67,520[vi]
7. Tax Examiner
How does reviewing tax returns, conducting audits and collecting overdue tax payments appeal to you?
Median Annual Salary: $50,440[vii]
Five Potentially High Paying States for Accountants
As we mentioned earlier, accountant salaries and employment statistics are higher in some states than they are in others. If you're wondering which states may fare the best for accounting degree holders, check out our list below.[viii]
| | | |
| --- | --- | --- |
| City | Median Wage | Employment |
| District of Columbia | $80,890 | 10,210 |
| New York | $75,600 | 94,300 |
| New Jersey | $73,230 | 34,230 |
| Maryland | $69,820 | 24,680 |
| California | $68,980 | 133,570 |
How Could My Education Level Factor In?
The reality is that your education level could potentially have a real effect on both your earnings and your job security. How so? According to the Bureau of Labor Statistics, as of 2012, the median weekly earnings for masters degree holders was $1,300, versus $1,066 for bachelors degree holders. Not only that, the unemployment rate was 3.5 for masters degree holders and 4.5 for bachelors degree holders.[ix] That's something to consider, when planning your educational goals.
[i] bls.gov/ooh/management/financial-managers.htm [ii] bls.gov/ooh/business-and-financial/accountants-and-auditors.htm [iii] onetonline.org/link/summary/13-2099.04 [iv] bls.gov/ooh/business-and-financial/management-analysts.htm [v] bls.gov/ooh/management/top-executives.htm [vi] bls.gov/ooh/business-and-financial/personal-financial-advisors.htm#tab-4 [vii] bls.gov/ooh/business-and-financial/tax-examiners-and-collectors-and-revenue-agents.htm#tab-4 [viii] bls.gov/oes/current/oes132011.htm [ix] bls.gov/emp/ep_chart_001.htm