2 Sponsored Online Programs Available
Associates Degree in Accounting Online
If you are interested in possibly pursuing a career as an accountant, you may want to initiate your education with an online associates degree in accounting program. Associates degree in accounting online programs are designed to best prepare students with financial accounting skills for the business world, or for continued education. And, instead of having to get yourself to class, the virtual classroom means you may get more flexibility in your schedule. Classes may be livestreaming or pre-recorded. Motivated? Read on to learn the about the different types of accounting associates degree online programs.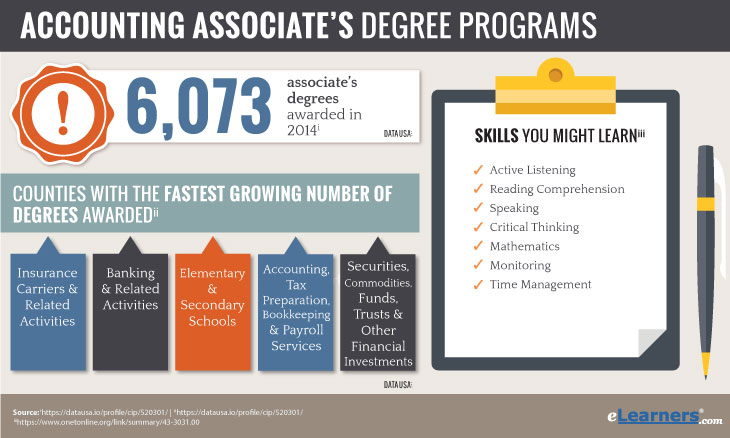 Online Associates Degree in Accounting Programs: Basics
Online associates degree in accounting programs typically take university students 2-years of full time study to complete. You may also find accelerated credit or part-time degree plans which may be useful depending on what else you must balance into your schedule.[i]
FUN FACT: In 2014, 6,073 associates degrees in accounting were awarded![ii]

Click To Tweet!
Associates Degree in Accounting Online: Potential Admission Requirements
Prospective applicants into an online associates degree in accounting program should have a high school diploma or GED. Specific admissions requirements do vary, but some accounting schools may also assess students' math or writing skills to determine whether any prerequisite courses need to be taken.
Associates Degree in Accounting Online : Potential Course Requirements
Earning an online associates degree in accounting may involve successfully completing about 60 college credits – around 20 courses.[iii] Keep in mind though, that the requirements may be different in each program. This goes the same for your core classes. A generalized curriculum might cover subjects such as:
Foundational accounting (financial, managerial, cost accounting)
Generally accepted accounting principles
Introductory economics, business, math
General education
Use of accounting software programs
Critical thinking
That said, curriculums vary, so read through descriptions on each school's program guide. In addition to courses, some programs may offer internships which may be for credit and provide the opportunity to gain some valuable and practical work experience.
DID YOU KNOW? Per the BLS, "In some cases, those with associate's degrees, as well as bookkeepers and accounting clerks who meet the education and experience requirements set by their employers, get junior accounting positions and advance to accountant positions by showing their accounting skills on the job.[viii]
Types of Accounting Associates Degrees
Online Associates Accounting degrees may be offered as Associate of Science (AS) or Associate of Applied Science (AAS) in accounting. Which path might be right for you? Here are some factors to consider:
Online A.S. in Accounting Degree Programs
If you anticipate pursuing a bachelors in accounting degree, the online associate of science in accounting is what is known as a transfer degree.[i] This usually means that you take the introductory courses of the bachelors degree which might involve general education, science and math courses. Keep in mind that most schools will not accept transfer credits unless your credits were earned at an accredited school. Also, you should make sure that the school you attended and the one you plan to transfer into have an agreement.
Online A.A.S. in Accounting Degree Program
If you hope to pursue a career after graduation, the online associate of applied science in accounting is what is known as an occupational degree.[i] This usually means that you learn the technical skills necessary for entry-level accounting-related occupations.
Choose an Accredited Online Associates Degree Accounting Program
Whether you choose an Associate of Science or an Associate of Applied Science, it is important to consider an accredited online accounting school. Accredited institutions are those that have been evaluated by the U.S. Department of Education or one of six regional accreditors[xi]. Accredited accounting programs have also been evaluated per specific standards that cover things such as curriculum development, faculty qualification, student support services and student achievement. Online associates degree in accounting programs may be accredited by an agency that specializes in accounting such as:
Association to Advance Collegiate Schools of Business
Accreditation Council for Business Schools and Programs
International Assembly for collegiate Business Education
From the student's perspective, checking that a prospective online associates degree in accounting program has been accredited may be important in terms of:
Transfer credits
Potentially receiving financial aid
Eventually taking the CPA (chartered public accountant) licensing exams. Why? Because most states require completion of 150 credit hours from a school accredited through an agency recognized by the State Board of Accountancy[xii].
About Online Associates Degree Accounting Programs
An online associate accounting degree program may be formatted differently at each school. That said, it is not uncommon that you might be able to attend class when it is convenient to you, as long as you respect deadlines for assignments. In programs where all your material is 100% online, you usually get access to learn it 24/7. So, if you are working at the moment, have a family or just live too far from an accredited school, online courses might be appealing. If you are anxious about feeling isolated, online programs may make use of online discussion boards to help students stay connected and participate just as they would on campus. Plus, you usually correspond with professors via technology – email, chat or through the web portal. All you need to do is discipline yourself. In other words "eyes on the prize"!
Associates Accounting Degree Online: Potential Next Steps
Do you have plans after graduation? Are you inclined to pursue a bachelors in accounting degree? Did you know there may options for combined bachelors and masters in accounting degree program? Or do you aspire to pursue your career goals? Hopefully you see how potentially versatile earning an associates degree in accounting online program might be for you!
After Graduation: Potential Career Paths
There are several potential occupations that commonly require a minimum of an associates degree in accounting or related field. While some of these options may be similar to those that one might prepare for with a certificate program, earning an online associates degree in accounting may provide more opportunity for advancement, since most accountants need at least a bachelors degree in accounting or related field.[xiii] Some of the potential career paths for graduates of online associates accounting degree programs might include:
Accounting Clerk
Accounting Assistant
Bookkeeper
Auditing Clerk
Take the Next Step
The next step is yours to take, and we make it easy to review online associates degree in accounting programs! Browse sponsored listings then use the 'request info' setting to contact prospective schools. This will give you all the details so you can add them up and make your choice.