Sponsored Online Programs Available
Masters in Accounting Online
Masters in Accounting or MAcc online degree programs are oriented to working professionals, possibly like yourself, who may be hoping to advance their knowledge of accounting, fulfill the education requirements for the CPA exam or meet the credit-hour requirement for Chartered Public Accountant Licensing. Almost all states require CPA candidates to complete 150 semester hours of coursework to be certified which is 30 hours beyond the Bachelors degree.[i] While some schools combine the best of bachelors and masters degree coursework into a 5-year dual degree program, an online masters accounting program might be appealing if you are out gaining on-the-job experience and simultaneously want to pursue a top graduate degree.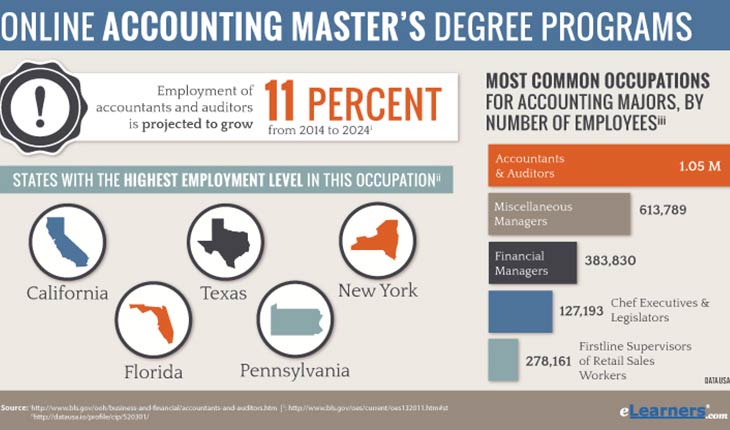 MAcc Online Programs: Master of Accounting Basics
Also known as 'Master of Accountancy' and 'Master of Accounting' - online MAcc programs are professional graduate degrees that usually require students to have earned a Bachelors degree from an accredited business school. In some cases, students may have to fulfill some accounting prerequisite courses prior to application, although this may not be necessary for individuals who have earned their Bachelors in Accounting degree. Other requirements might include submission of your current resume, copies of transcripts, and GMAT or GRE scores, but each school sets their own criteria, and may have specific requirements for foreign students as well.
DID YOU KNOW?

Per Data USA The most common degree awarded to current students graduating in Accounting and Finance is the Master's degree; 1,299 masters degrees were awarded in 2014[ii]
How long is a Masters of Accounting online degree program?
In terms of program length, it might be possible to earn a Masters of accounting online on a full-time or part-time basis, so program lengths vary. You may be looking at one to two years or 30 to 36 semester hours.[iii]
Masters in Accounting Online: Potential Coursework
MAcc online programs may consist of all graduate accounting courses or a combination of graduate accounting courses, graduate management, tax, leadership and other graduate business electives.[iv] What you learn in a master of accountancy online program depends on the school you choose and the courses they offer. Possible course topics might include[v]:
Accounting principles and theory
Financial accounting
Managerial accounting
Cost accounting
Budget control
Tax accounting
Legal aspects of accounting
Auditing
Financial Reporting procedures
Statement analysis
Planning & consulting
Business Information systems
Accounting research methods
Professional standards, ethics & their applications
Online Masters in Accounting: 7 Potential Skills You Might Learn
There are several skills that are deemed important[vi] for succeeding in accounting occupations, and it is possible that a MAcc online program might help you develop them. Here are seven skills that score high on the list– per Data USA.[vii]
Reading
Speaking
Critical Thinking
Writing
Complex problem-solving
Systems analysis & evaluation
Mathematics
Types of Masters in Accounting Online Degree Programs
There are a few different options when it comes to choosing an online accounting masters degree program. These might include the Master of Accountancy (MAcc), Master of Science in Accountancy, MBA – Accounting and Master of Professional Accounting (MPAc). Your choice may be a function of where you have been (your Bachelors degree) and where you want to go (career aspirations). MS and MAcc online programs may admit students with undergraduate degrees in accounting or related field while MBA and MPAc programs may extend admissions to other humanities-based majors. Your best bet is to read through the course descriptions offered by prospective schools to see which one addresses your needs.
MAcc Online Programs
Students in an online M programs might complete about 30 credit hours of coursework. Sometimes, individuals meet with a faculty advisor to determine a degree plan, as graduate level education might involve specialization or 'tracks' where students complete a series of courses than add emphasis to their learning. These might include taxation or forensic accounting. The Masters in accounting online curriculum might be similar to a Master of Science in Accounting (MS) in that these programs are usually designed to help learners fulfill the education requirements of CPA Licensure.
MS Accounting Online Programs
A Master of Science online program may be like a Master of Accountancy in terms of offering the additional CPA education requirements. You can often find Masters in Accounting programs that don't require you to take the GMAT as well. Students may also learn management skills and perform tax research. Students in an MS accounting program may also write a thesis; the MS is sometimes a stepping stone for a PhD in accounting which is usually a requirement for professors[viii].
Online MBA- Accounting Programs
Online MBA Accounting programs usually offer accounting as a concentration unlike in a MAcc which provides in depth knowledge in a specific field of accounting. An MBA in Accounting curriculum typically offers a broad range of business courses, where the first year might be devoted to marketing, economics, management, finance and basic accounting. The second year is usually devoted to the concentration area (accounting) and its applications in business (e.g. corporate taxation or financial accounting).
Potential Features of Online Masters in Accounting Programs
Earning your MAcc online may provide that balance between study and your full-time job or family commitments. Typically all you need is a working computer that is compatible with your school's software platforms and reliable Internet. Not that each university may format their online MAcc programs differently, not just in terms of the educational technology they use, but also in terms of synchronous or asynchronous learning. In cases where the Online Masters in Accounting program is asynchronous, you might complete assignments on your own time frame, if you submit your work by the deadline date. In cases where there are synchronous lectures or activities, all students participate at the same time. Look for potential features such as online discussion boards, videoconferencing and possible on campus meetings.
Accreditation
In the United States, schools may be accredited by national and regional accreditors. Accredited schools may have programs that have met the standards for their specific professional programs such as business or accounting. Accreditation is voluntary and has to be kept updated for the program to maintain its standing. Some institutions with AACSB business accreditation may also be accredited for their accounting programs.[ix]
Why Consider Earning an Online Accounting Masters Degree?
Working towards your MAcc online might be a convenient way to help expand your career prospects and earning potential, or prepare for continued education.
Possibilities on the Career Front: The Bureau of Labor Statistics reports that accountants and auditors who had earned their masters degree had a higher wage premium than those with their Bachelors degree.[x] Pretty motivating! Plus, earning your MAcc online may provide that balance between study and your full-time job or family commitments. While program formats differ between online business schools, typically all you need is a working computer that is compatible with your school's software platforms and reliable Internet. Potential occupations for accounting graduates might include:[xi]
Public Accountants
Management Accountants
Government Accountants
Auditors
Continued Education: Students interested in research, teaching or advanced leadership might use an online Masters degree in accounting as a platform for a doctorate degree. Options might include a PhD or DBA in Accounting.
One of the trends that is projected to continue, especially in an increasingly regulated global economy, is the need for Certified Public Accountants.[xii] Per the BLS, some employers prefer to hire applicants who have either a masters degree in accounting or in business administration with a concentration in accounting.[xiii] Ready to take the next step? Review sponsored listings for MAcc online programs. Since each school has unique features and deadlines for enrollment, make sure to request info from prospective online business schools without delay!
---
[i] bls.gov/ooh/business-and-financial/accountants-and-auditors.htm |[ii] https://datausa.io/profile/cip/520304/ |[iii] en.wikipedia.org/wiki/Master_of_Accountancy |[iv] en.wikipedia.org/wiki/Master_of_Accountancy |[v] https://nces.ed.gov/ipeds/cipcode/cipdetail.aspx?y=55&cipid=88885 [vi] https://datausa.io/profile/cip/520301/ |[vii] https://datausa.io/profile/cip/520301/ |[viii] bls.gov/ooh/education-training-and-library/postsecondary-teachers.htm |[ix] aacsb.edu/accreditation/accounting |[x] bls.gov/careeroutlook/2015/article/should-i-get-a-masters-degree.htm#Education |[xi] bls.gov/ooh/business-and-financial/accountants-and-auditors.htm |[xii] bls.gov/ooh/business-and-financial/accountants-and-auditors.htm |[xiii] bls.gov/ooh/business-and-financial/accountants-and-auditors.htm |