Sponsored Online Programs Available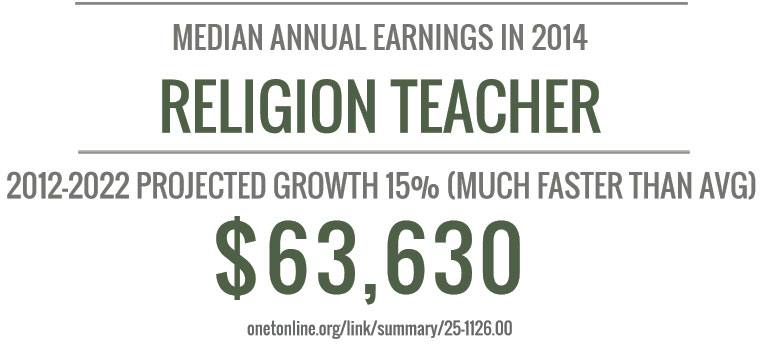 Theology Degrees Online
If you enjoy thinking about the big issues in religion and ethics, earning an online theology degree may be a perfect choice for you. For people who would like to pursue the possibility of a future career in ministry, studying theology online could be a good way to prepare. This exciting field of study offers many educational options for students who want to learn more about religion.
Theology Degree Levels and Concentration Options
There are a number of degrees you could pursue in theology, from an associate's degree to a doctorate. There also may be multiple concentration options, depending on your specific study interests. A person who plans to work in a developing country as a missionary or in the inner city as a youth pastor might choose a different course of study than another person who wants to teach academic theology at a seminary or a private university.
Some concentration options for an online theology degree may include:[i]
Ministry and Leadership
Christian Studies
Christian Counseling
Biblical Studies
Religion and Divinity
Within these concentration options, there could be electives and other flexible choices that may allow you to customize your online theology degree.
Important Skills and Qualities for Pursuing a Career in Theology
People who want to pursue a theology career may benefit from a number of skills. Some of the most important skills that may be needed by people with careers in religious activities include:[ii]
Social Perceptiveness — Being aware of others' reactions and understanding why they react as they do.
Speaking — Talking to others to convey information effectively.
Active Listening — Giving full attention to what other people are saying, taking time to understand the points being made, asking questions as appropriate and not interrupting at inappropriate times.
Reading Comprehension — Understanding written sentences and paragraphs in work related documents.
Reading Comprehension — Understanding written sentences and paragraphs in work related documents.
Coordination — Adjusting actions in relation to others' actions.
The complex intellectual work involved in pursuing a theology degree means that you could be ready to develop all these skills. Many online theology programs include special education and training in problem solving and critical thinking, helping you apply them to the complex problems of modern religion and ethics.
Possible Career Paths for Theology Graduates to Pursue
After completing an online theology degree, people may choose to pursue a number of different career paths. An example of a career someone might pursue is a position as a member of the clergy.[iii]
Members of the clergy conduct religious worship and perform other spiritual functions associated with beliefs and practices of religious faiths or denominations. They also provide spiritual and moral guidance and assistance to members.[iv]
Another potential career that theology students may pursue is Director of Religious Activities and Education. People in this role plan, direct and coordinate programs designed to promote the religious education or activities of a denominational group. They may also provide counseling and guidance for marital, health, financial, and religious problems.[vi]
Career Outlook for Theology Students
According to the Bureau of Labor Statistics, 46,510 people are currently employed as clergy in the United States in 2014. The median annual wage for clergy was $43,950 in 2014. Members of the clergy may be employed in religious organizations, medical organizations or community social services.[ix]
You might also be interested in employment data for Directors of Religious Activities and Education. In 2014, there were 18,850 people employed in this role, and the median annual wage was $38,480.[x]
Making the choice to study theology may potentially enhance your career. It's a great way to help fulfill a dream of helping people, offering comfort in difficult situations and tackling the big problems of human existence. If you successfully earn an online degree in theology, you could pursue a fulfilling career as a member of the clergy or even as a Director of Religious Activities for a church or other religious institution.
[i]catalog.apu.edu/undergraduate/school-theology/theology/theology-major/ [ii]onetonline.org/link/summary/21-2021.00 [iii]bls.gov/ooh/about/data-for-occupations-not-covered-in-detail.htm [iv]bls.gov/ooh/about/data-for-occupations-not-covered-in-detail.htm [v]bls.gov/ooh/about/data-for-occupations-not-covered-in-detail.htm [vi]bls.gov/ooh/about/data-for-occupations-not-covered-in-detail.htm [vii]bls.gov/oes/current/oes212011.htm [viii]bls.gov/oes/current/oes212011.htm#nat [ix]bls.gov/oes/current/oes212011.htm#nat [x]bls.gov/oes/current/oes212021.htm gov/ooh/about/data-for-occupations-not-covered-in-detail.htm [vi]bls.gov/ooh/about/data-for-occupations-not-covered-in-detail.htm