Sponsored Online Programs Available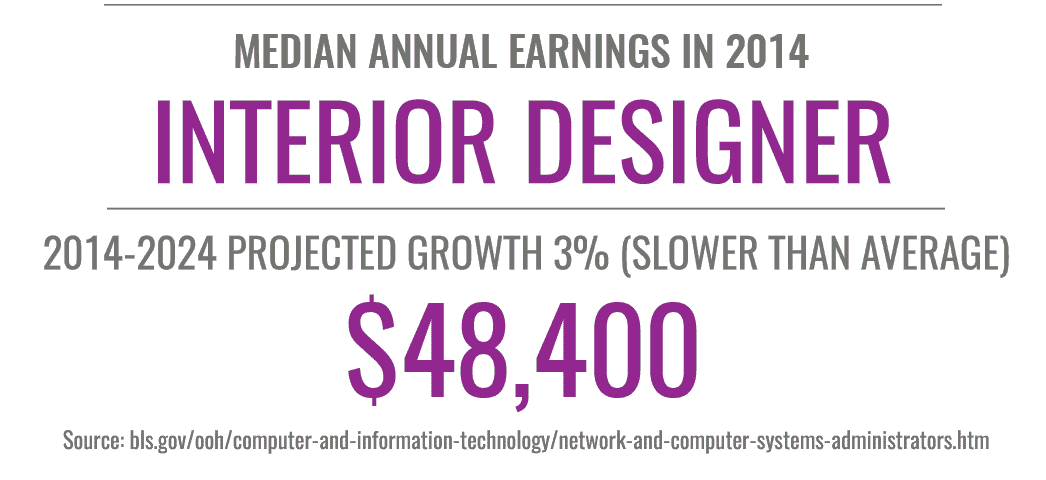 All About an Online Interior Design Degree
If you've got an eye for art but a desire to work in a more technical career, it may be wise to pursue an online interior design degree. This degree encompasses a range of courses and skills that may be essential for thriving in a profession in this field.
Interior designers frequently work alongside building developers and corporate architects to create the most effective and visually appealing spaces possible. These workers generally require a great deal of background knowledge pertaining to the business world, artistry and engineering as, based on your desired profession, you may be working with these concepts on a daily basis after earning an interior design degree online.
What is interior design?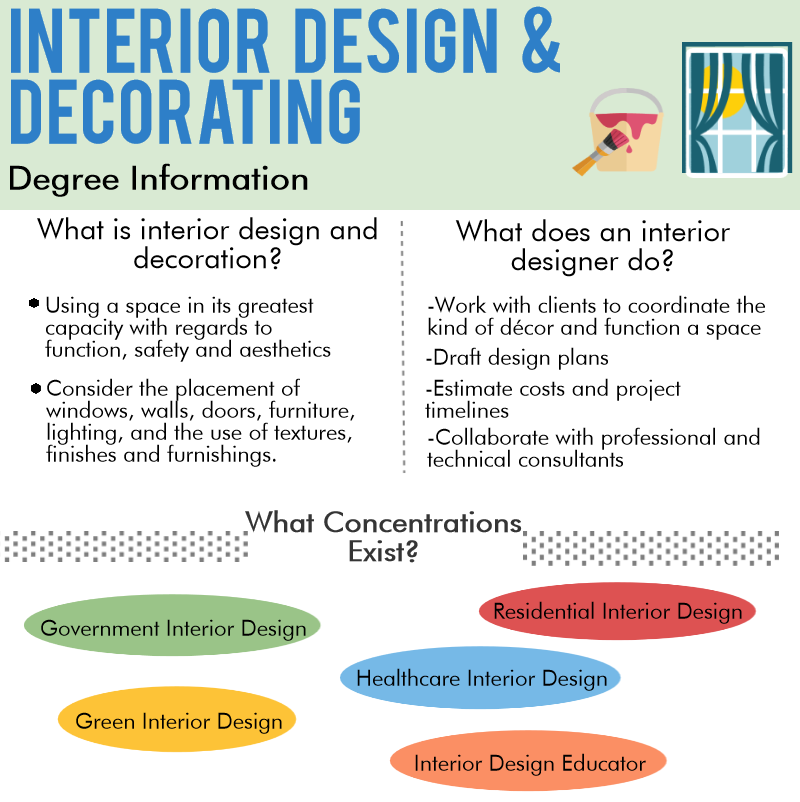 The interior design industry focuses on using space in its greatest capacity with regards to function, safety and aesthetics. Primary considerations include the placement of windows, walls, doors, furniture, lighting, as well as the use of textures, finishes and furnishings.
Interior Design Online Programs - What Does an Interior Designer Do?
They plan the use of space for offices, restaurants, hotels, schools, hospitals, and private residences.Their focus is more on the optimal use of a particular space instead of just focusing on color palettes, window coverings and decorations.
The responsibilities of an interior designers may vary, but most projects follow a general process. Interior designers may be involved in some or all of the following:
Identify and analyze client needs and goals, safety requirements, budget limitations and project schedules

Take inventory of existing space, furnishings and fixtures

Draft design plans, preferrably using computer-aided design (CAD) for ease in adjustments

Estimate costs, prepare budgets and develop project timelines

Present project plans to the client for approval

Coordinate and collaborate with other professional and technical consultants such as architects, electricians, and building contractors

Oversee that plans are followed and safety codes are adhered to

Conduct field reviews of construction and installation of furnishings, fixtures and equipment

Review and evaluate projects on behalf of clients, during implementation and upon completion
What are some concentrations in pursuing an online interior design degree?
While pursuing and online interior design degree, you can specialize in a specific area. These areas of design include:
Contract Interior Design

Residential Interior Design

Healthcare Interior Design

Hospitality Interior Design

Government Interior Design

Interior Design Educator

Ergonomic Interior Design

Green Interior Design
A glimpse into the realm of interior design
Interior design encompasses many of the aesthetic and structural components that comprise the inside of a building. From how the windows are situated to what color the walls are painted, these individuals are essential for ensuring a space is both beautiful and functional. Workers in interior design may have a variety of roles designated by administrators or engineers, including determining which pieces of furniture are best for a room, how much lighting should be implemented and how the building can best adhere to regulations set forth by federal organizations.
Pursuing an online interior design degree could introduce prospective workers to the field, allowing them to see that the profession extends far past merely picking out pillows for a couch. Courses introduce students to developmental design, the basics of architecture and communication classes that may improve relations between artists and commissioners. Additionally, interior designers who choose a specialized field of study can pursue a degree tailored to their interests. For example, those interested in green design practices can take classes geared toward this realm and how to create designs best suited to the environment.
What is the work environment like for interior designers?
Working conditions for interior decorators vary depending on the scope of their employment. Those working for large design corporations typically work standard business hours in an office setting. Others who work for smaller firms may work on contract or a per job basis.
Freelance or self-employed interior designers may work from home or an office. Duties include finding new clients; traveling to meet with clients at varying locations, possibly outside of normal business hours; dealing with budget constraints; and general aspects of running a business.
Possible salaries for a career in interior design
Salaries for occupations in interior design vary based on a number of factors, including skill, education and specialty. Consider the following careers in interior design, with data compiled by the U.S. Bureau of Labor Statistics in 2012.
Interior designers: 2012 Median annual salary of $47,600 (13 percent projected growth through 2022)[i]
Art directors: 2012 Median annual salary of $80,880 (3 percent projected growth through 2022)[ii]
Industrial designers: 2012 Median annual salary of $59,610 (4 percent projected growth through 2022)[iii]
Additional skills required for a position in interior design
To work in interior design, you must have a strong passion for art and how it applies to the real world. Individuals in these careers translate their creative skills to develop rooms, spaces or products that best serve the public as a whole, so artists must be willing to adapt their creations if requested. For those who choose to work with buildings, it's crucial to have a strong interest in learning about legislation, as these workers must stay up to date about regulations and codes affecting builders. Additionally, in pursuit of your online interior design degree you choose to specialize in a niche area, it is essential to stay updated about industry news, especially if the specialized field is constantly evolving.
---
[i] bls.gov/ooh/arts-and-design/interior-designers.htm | [ii] bls.gov/ooh/arts-and-design/art-directors.htm | [iii] bls.gov/ooh/arts-and-design/industrial-designers.htm