3 Sponsored Online Programs Available
Online Web Development Degree Programs
Earning an Online Web Development Degree could bridge the distance between just visiting the coolest sites online and actually creating them. In fact, web development and design are crucial skills for creating cool webpages. That's because design determines how a webpage looks while development focuses more on a page's function.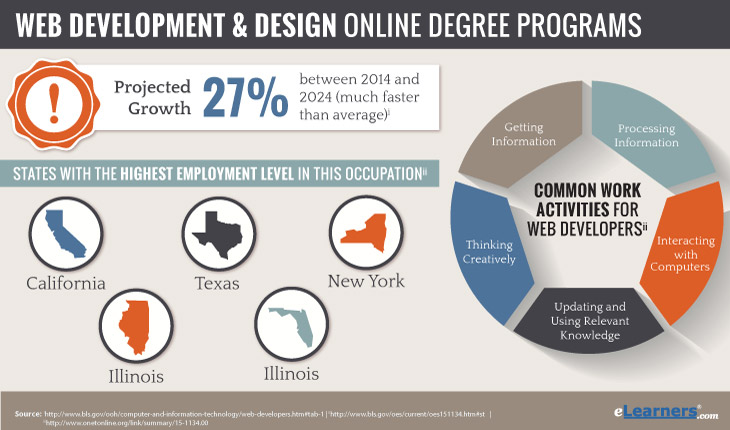 So, these are the things you need to learn in order to pursue an Online Web Development Degree. Popular websites usually tend to be a vital combination of great design and development that keeps the user experience in mind. Still, even the most popular sites only hold our attention a short time. If you check out the list of the top 50 websites you'll find that the average visit only last about 10 to 15 minutes.
The Worldwide Web Is Expanding
Part of the reason may be that there are just so many other sites to visit. The world of webpages keeps growing with nearly a billion and a half websites out there as of October 2016. For comparison sake, there were only about 3,000 websites in 1994.
This means that in the past twenty years there's been a 33 million percent increase in websites. But very few of these sites are actually popular. In fact, 75% of websites are ranked as inactive. That means nobody visits, but it may just be because sites are archived, brand new, or defunct.
4 Steps to an Online Web Development Degree
Every degree program is different but there are consistencies within the web development and design field of study. Some classes you may find offered in a school's Online Web Development Degree program include:
STEP 1 -- Web Interface and Usability combines the two aspects of the field for a beginner so they learn how to design and guide the user experience.
STEP 2 -- Flash Design and Animation leads students through the basics of web animation creation using Adobe Flash.
STEP 3 -- Designing for Web Standards teaches about web development at its most fundamental, outlining the methods for optimizing any site to reach and retain users.
STEP 4 -- Digital Media and Intellectual Property presents the challenges of rights and ownership in the free information era of today.
And That's Just the Beginning
This intriguing set of required classes is just a small sample of what lies ahead for a web development and design degree. You could also potentially specialize in whatever aspect of web development or design interests you most.
Some students might tend toward the more artistic, design side of the field. Others may enjoy a deep dive into programming and want to focus more in that area. But either way, students likely experience a little bit of both while earning a degree in web development and design.
Fun Fact

A pricing infographic by Incion reveals that a good website design can cost between $500 to $5,000.
Relevant Web Development and Design Programs
As you consider an Online Web Development Degree, program type is a good place to start your research. Your choice of program type might depend on your education level as well as your academic and career goals.
Typically, associate degree programs attract students with a high school diploma or equivalent education. Generally, A.S. (Associate of Science) degrees consists of about two years of study, or roughly twenty classes of coursework. An associate degree may serve one of two purposes. The first could be to prepare students for their career pursuits.
Beyond an Associates Degree
Some web development or design jobs may require just an associates degree as entry-level education. However, other such jobs sometimes prefer candidates who have completed higher levels of education. The second purpose an A.S. degree serves is to help students qualify for transfer to a parallel bachelor degree program.
A bachelors degree usually takes four to five years to complete. One of the nice things about spending more time in a program is a greater variety of coursework. For instance, bachelor degree programs provide both broad and specialty instruction. That's so students can cover general requirements and also pick a specialty subject to explore.
Specific Online Programs to Consider
Some schools offer online degree programs such as a Bachelor of Science in Information Technology (BSIT) with a specialty in Web Development. Such programs offer students a solid foundation in IT while also refining their skills in web development.
Another pathway in this field of study could be a Bachelor of Science in Web Design and Development. These online programs often include coursework that teach design and aesthetic techniques as well as programming and coding. This pairing keeps web development and design interesting and fun as a way to pursue a bachelor degree. If you agree, check our sponsored links here for more specifics on relevant programs.
Graduate Programs in the Field
There are also graduate degrees available in web development and design. Most students who pursue a graduate level degree do so after completing their bachelor degree. An O*Net poll found that 43% of web developers had earned bachelor degrees, while 20% had an associate degree. A masters degree usually has only about two years of coursework, either academic or professionally focused.
So, some students may continue in graduate studies with hope for a competitive edge in pursuing a workforce position. Others might simply enjoy the coursework and want to continue for its own sake. The best part is, many graduate programs are for an Online Web Development Degree.
How to Become a Web Designer or Developer
After earning a degree in web development and design, some people ask themselves questions including "how to become a web developer or designer"? The two job titles are pretty interchangeable because web developers design and create websites.
Also, the Bureau of Labor Statistics points out that "the typical education needed to become a web developer is an associate degree in web design or a related field". If you look at the web developer job description, it's also design-focused in many ways. For instance, web development involves the look of the web pages and sometimes creating content for the site as well.
Web Designer or Developer Career Prospects
In 2015, the median annual salary for web developers and designers was $64.970. As of 2014, the United States had 149,000 web developers and that number is projected to grow much faster than average by 2024. That's because there are 58,600 predicted jobs opening up in that time period, according to the Bureau of Labor Statistics.
This makes sense not only given the speedy surge of website growth but also because more people are using the Internet all the time. For instance, there are three and a half billion users right now and that number increases by the millisecond.
Next Steps for a Future in Web Development and Design
There may be additional subjects you'd like to cover while pursuing an Online Web Development Degree. Be sure to reach out to relevant schools to find out the specifics of their program.
In the meantime, feel free to explore their links here at elearners.com for lots of inspiring information. You might find degree programs such as MS in Information Technology - Web Design, CERT: Web Development, Bachelor of Science in Information Technology - Web Development, Undergraduate Certificate - Java Development, or Undergraduate Certificate - Website Design and Development. We hope to help you find the perfect degree program to suit your web development and design career pursuits.