Sponsored Online Programs Available
Online Associates Degree Programs in Legal Studies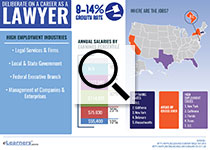 Earning an Associate Degree in Legal Studies Online is no easy task as the field of law is known for its complexities and nuances. It's part of what can make the work so interesting, but it can also intimidate people who would otherwise be drawn to work in the legal field. However, you don't have to commit yourself to a four-year degree or a career track as an attorney in order to get a taste for the field. Earning an associates degree in legal studies could lead to an entry-level position in a law office and give you exposure to the workings of the legal system. From there, you may decide whether you want to pursue further education and work as a lawyer.
Associate Degree in Legal Studies Online
Coursework in an associates degree legal studies program will focus on the laws that govern our society. They may cover all levels of government, including federal, state and local law. Additionally, you'll likely learn how law relates to the overall functioning of society. As such, law classes may incorporate the fields of economics, sociology and even psychology, all of which can play a major part in how laws are passed, interpreted and enforced. Those latter two aspects are of special concern for those who wish to pursue work in a law office, as many laws are either laden with detail or possess ambiguities that make it possible to read a statute many different ways. In terms of sentencing the prosecuted, many factors such as mental health, intention and the degree of a crime could influence what kind of punishment lawyers and judges pursue.
An associates degree in legal studies could serve as an introduction to all of these topics and issues. Graduates may have a better understanding of how the law and, perhaps just as importantly, the paperwork and bureaucracy works. It may not prepare you for work as an attorney, which requires a bachelor's degree. However, the degree could lead to a number of other careers in the field, or else jump start further studies.
Job opportunities after an Associate Degree in Legal Studies Online
While attorneys get a lot of the press surrounding court cases, they generally have a strong support team that helps do a lot of the heavy lifting that comes with preparing and pursuing legal action. Paralegals and legal assistants play a key role in assisting lawyers and law firms, which rely on them to conduct research and investigations, keep records, file important documents and draft reports. The work may also vary depending on the kind of law a firm handles, according to the U.S. Bureau of Labor Statistics.[i] For example, litigation paralegals may focus more on the preparation of court cases, while real estate paralegals may deal more with out-of-court related work.
Apart from becoming a paralegal, people who hold an associates degree in legal studies may choose to serve in other law-related roles. An understanding of the legal system may serve police officers, private detectives and even claims adjusters in their everyday work.
Potential salaries
The annual median wage for someone with an Associate Degree in Legal Studies Online will vary depending on the work you pursue. The BLS provides an overview of those wages along with job outlook for a variety of positions.
Paralegal: $46,990 (17 percent projected job growth expected through 2022)[ii]
Police and detectives: $56,980 (5 percent projected job growth expected through 2022)[iii]
Claims adjusters, appraisers, examiners and investigators: $59,850 (3 percent projected job growth expected through 2022)[iv]
Skills required
As mentioned, law involves plenty of complexity and paperwork. An attention to detail, the ability to perform research and good organizational skills are all advantageous in the pursuit of an associates degree in legal studies.
---
[i] bls.gov/ooh/legal/paralegals-and-legal-assistants.htm#tab-2 | [ii] bls.gov/ooh/legal/paralegals-and-legal-assistants.htm#tab-1 | [iii] bls.gov/ooh/protective-service/police-and-detectives.htm#tab-1 | [iv] bls.gov/ooh/business-and-financial/claims-adjusters-appraisers-examiners-and-investigators.htm#tab-1