Continuing Education and Certificate Programs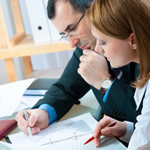 What's the Story With Certificates, Training & Continuing Education?
The Name Game
What's the difference between certification, training, and continuing education? It's hard to say. Sometimes the terms overlap. And sometimes they're completely different pursuits. In the paragraphs below, we try to distinguish these labels based on how they're often used. We also provide some examples that link to related programs.
The terms are grouped together in this section because they are all types of learning that don't necessarily involve a degree. They are usually shorter periods of study. That's not to say they are easier, or less valuable programs. Often, they are the best route for online students.
What's the Story with Training Programs?
"Training" by itself is a nonspecific term. Training may lead to a certificate or a diploma, or it may just involve a few classes. Depending on the subject, pace, and objective of the student, training may take a few months or a few years. Some training programs include a campus-based element because they can't be accomplished from a distance. Some training is done as part of a supervised apprenticeship.
Many of today's best jobs start with focused training. Florists, web designers, home inspectors, and physical therapy aides are just a few of the professionals who undergo a hands-on educational approach. To learn more about a specific line of training, or to view a full list of training programs, click here.
What's the Story with Continuing Education?
Continuing Education usually refers to course work done by students who have already finished an initial degree program. Continuing education aims to update professionals on the latest field developments and technology. In many cases, continuing education courses are required. Nurses, healthcare workers, teachers, engineers and accountants are just a few of the professionals who need C.E. credit in order to stay certified.
Continuing education is completed in units of CEUs, or continuing education units. The units were established and are regulated by the IACET. All together, CEUs provide a record of how much training and education a professional has completed. The units are nationally recognized, so professionals can submit their portfolios to employers or licensing boards, nationwide.
What's the Story with Certificate Programs?
If you're confused by the idea of certificate programs, we don't blame you. There are many, many different kinds of certificate programs. Some are for beginners — students coming straight out of high school. Others are for professionals who already have established careers. There's also a range of options in between, all with different time commitments, different price tags, and different admissions requirements.
Certificate programs usually involve less than 10 classes, and they can be earned at both the undergraduate and graduate level. The classes are focused on a single subject or profession. Accordingly, certificates are ideal for professionals who need to learn refresher material and industry updates. In this regard, they may be considered as a form of continuing education. Certificate programs are also ideal for students who want to test the waters in a brand new field.
Certificates vs. Certificates
Topping off the confusion, colleges and universities frequently offer 2 different kinds of certificate programs: For Credit certificate programs and Non-Credit certificate programs. The programs may also go by different names. And some subjects — like Project Management, for example — can be studied within both kinds of programs.
Below are some general facts about Non-Credit certificate programs versus For Credit certificate programs. Remember, the various options aren't "better" or "worse." They just benefit different people in different ways. If you have specific questions about your education, the best idea is always to contact an admissions counselor at the school you're considering.
Similarities Between For-Credit and Non-Credit Certificates
Many schools and colleges offer both types of education
Both types award students with a certificate after successful completion of the program
Both can be delivered online or on campus, and both come in varying timeframes
Some subjects are offered in both formats (Project Management, for example)
In some cases, both For-Credit and Non-Credit programs can qualify students to take national or professional certification exams
For-Credit Certificate Programs
Students usually receive a grade for each class (A-F)
Students receive college credits for each class that can be used towards a degree, if they choose
Classes may cost more than Non-Credit classes taken through the Continuing Ed. Dept.
Classes may last as long as a traditional semester class (about 16 weeks)
Instructors may have higher credentials than non-credit course adjuncts or lecturers
Course content may involve more theoretical learning than applied, or "hands on" learning
Non-Credit Certificate Programs
Students do not receive college credits for each class, which means classes cannot be counted towards a degree
However, students may receive CEUs, or Continuing Education Units, which may be used to fulfill some professional requirement
Classes are usually taken through a department called Continuing Education, Continuing Studies, or Professional Studies
If you want to make your résumé stand out, investigate a certificate program. Certificates in Project Management are a great option. Other popular programs include Paralegal study, Information Security, and Six Sigma. To learn more about a specific certificate, or to view a full list of certificate programs, click the button below.
You may also be interested in one of these Sponsored Listings: