2 Sponsored Online Programs Available
Why Pursue an Online Degree in Adult Education?
An online adult education degree addresses the educational challenges that are unique to adult students. Develop learning methods to grapple with adult education obstacles by pursing one of the degrees below. Whether you're pursuing a bachelor's degree or a doctorate, online adult education programs could prepare you to assist those who might find education intimidating!
Additionally, your chosen program might expand your understanding of general educational techniques, too. Who could argue about learning two things for the time it takes to learn one?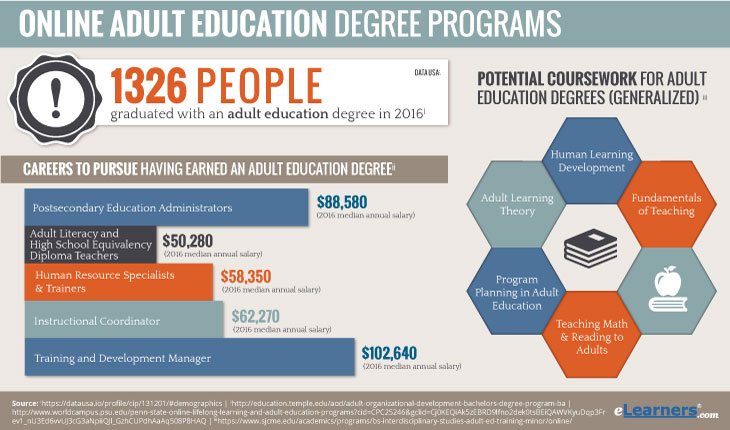 What is an Online Adult Education Degree?
Online adult education programs aim to develop students' knowledge and skills to address the growing the number of adults returning to education. So many professional positions now require a high school diploma, or even a postsecondary degree. Seeing this, adults are returning to improve their chances of jumpstarting a career. Or, they might be looking to enhance their current one! But, these nontraditional students present challenges that typical high schoolers and college goers might not.
There Are Roadblocks for Adult Learners
For example, adult students could be working and studying simultaneously. Or, they might have family obligations. They may not even speak English as their first language!
As you could see, there's a lot of challenges they might have to overcome to earn their diploma. Helping them overcome these obstacles is what an online continuing education degree is about.
Fun Fact

10% of adults in the United States have not completed a high school diploma.iYet, adult students who have earned a high school diploma are more likely to be employed.ii
Common Adult Education Degree Program Classes
An online adult education degree may vary. But there are some common courses in an online adult education degree that many schools feature. Some common core classes in adult education programs online might include some of the following.
Life Span Learning Communication
Human Learning Development
Fundamentals of Teaching
Teaching Math & Numeracy to Adults
Teaching Reading to Adults
Program Planning in Adult Education
Adult Learning Theory
Adult Education Administration
Adult Learning Motivation
More Advanced Classes
Of course, depending on which online adult education degree you pursue, these courses may be more advanced. For example, an adult learning theory class could be offered at a bachelor's and doctoral level. It might be safe to say the doctoral one may be more difficult, though! Check with any intended institution for a more comprehensive list of required courses.
Degree Levels Available in Adult Education Programs Online
Continue below for more in-depth break down of adult education programs online, sorted by degree level. Take a peek at potential curriculum, online adult education degree programs, and post-graduation professions.
Online Associates in Adult Education
Earning an associates in adult education could be a great first stepping stone. After high school, applying directly to a bachelor's degree program may be a daunting task. This online adult education degree program might allow you test the waters! You could try out postsecondary degree academics without committing to the longer bachelor's program. Typically, an associates in adult education could potentially be completed in 2 years. Additionally, if you'd like to continue with your education, you could possibly apply your associate credits to a bachelor of adult education!
Online Bachelor of Adult Education
Bachelors of adult education programs could be a great choice for students who wish to pursue a career in teaching. Depending on what you want to teach, there's two ways to go about your bachelor's education. You could choose to pursue a bachelor of science or a bachelor of arts (BA). While they may sound the same, there are a few differences between these degrees.
Bachelor of arts degrees combine education classes with liberal arts electives. This might be a great choice for students who want to teach the humanities (i.e. history, language arts, music).
Bachelor of science programs emphasize education courses and analytical studies. As part of this program, you may focus on topics like information technology and science.
In addition to learning about adult education, bachelors programs may also offer general education courses. That way, you could apply your teaching skills to almost any classroom! This could be a great opportunity to prepare you for wide-range of professional opportunities in the future.
Just the Facts

Around 2 million Americans participate in adult education services as of 2016.iii
Online Adult Education Certificate
Adult education certificate programs usually emphasize one aspect of education. In this case, that means they focus specifically on adult education. These short programs may not provide "filler" classes like electives. Certificate programs are commonly used to flesh out other degrees. For example, it could be paired with a bachelor's or a graduate degree in education to help expand students' teaching methods.
Additionally, graduate certificate programs are often made accessible to current educators. More adult education means more adult educators, after all! Certificate programs often require lower GPAs and less credits to graduate than other programs. Plus, teachers might be strapped for time with teaching their own courses. By making admissions easier and completion time shorter, it's a win-win situation for teachers and students alike! That being said, students could potentially earn a graduate certificate in 1 year.
Online Masters Degree in Adult Education
Like the bachelor's program, an online masters in adult education degree may also cover both adult and general teaching methods. And there's plenty of ways to go about it! Depending on your goals, you could pursue a master of arts (MA), master of education (MEd), master of science (MS), or master of teaching (MAT) degree.
MEd programs might be a great choice for students who want to use their masters to continue teaching because the coursework emphasizes classroom teaching methods and techniques.
An MAT degree builds upon specialized bachelor's degrees. For example, a MAT in adult education would require students to have a bachelor in adult education. These programs typically tackle advanced topics in adult education.
MA degree programs may prepare students for a role in school administration. Coursework could help students create instructional support systems for school districts and students alike.
Finally, an MS program tends to focus more on educational research and analysis. It may also provide students an opportunity to engage with topics like information technology, science, and data analysis.
Online Doctorate in Adult Education
Online doctorates in adult education may focus on advanced educational methods as well as research and development. Depending on whether you pursue a doctorate of education (EdD) or a doctorate of philosophy (PhD) you might engage with some of the following programs.
A PhD in adult education emphasizes students conducting education research inside classrooms. This way, you could try out new teaching techniques with actual adult students. Then, after you're finished, you could use the data to potentially help other adult learners!
EdD programs could be a great choice for students who want to improve adult instruction. This program aims to refine current learning plans to better serve student needs.
Other PhD Requirements:Unlike the other online adult education degrees mentioned on this page, doctoral students often have to write a dissertation to graduate. This is a lengthy assignment that could take multiple years to complete. While the research and writing portions of a dissertation may be done online, students may have to come on campus to defend their argument.
Did you know?

More than one-third of people pursuing a postsecondary degree are over 25 years old!
Careers in Adult Education
Depending on what online adult education degree you pursue, earning an adult education degree could potentially prepare you for several professional positions. While many students pursue teaching careers, that's not the only option! There's plenty of education-related professions to choose from. Check out these potential careers, as well as their potential median salaries:
Postsecondary Education Administrators, $88,580iv
Adult Literacy and High School Equivalency Diploma Teachers, $50,280v
Human Resource Specialists & Trainers, $58,350vi
Instructional Coordinator, $62,270vii
Training and Development Manager, $102,640viii
Postsecondary Teachers, $72,470ix
Out of these possibilities, it is important to note that some have additional requirements besides earning their associated degree. For example, the above-mentioned teaching positions may require students to earn additional state teaching licensure.iiFor more information about adult education degree career possibilities, please visit the specific degree pages.
Next Steps to Pursuing Adult Education Programs Online
You may have just taken your first steps to pursuing an online adult education program! Whether you're considering an associate's or a master's degree in online adult education, you could be on the brink of assisting adults in need of educational guidance.
Ready for the Next Step?
On this page, you could browse a list of potential programs for an online adult education degree. To refine this list to a particular degree type, use the menus on this page. Once you found a program that addresses your aspirations, click its associated link.
Request Information from Schools
This should provide you with a brief description about this program you're interested in. For more information, just click the "request info" button. Hopefully this information helped you find a great adult education degree that's perfect for you!
---
[i] nces.ed.gov/programs/digest/d15/tables/dt15_603.10.asp [ii] bls.gov/news.release/empsit.t04.htm [iii] nces.ed.gov/programs/digest/d15/tables/dt15_507.20.asp?current=yes [iv] bls.gov/ooh/management/postsecondary-education-administrators.htm [v] bls.gov/ooh/education-training-and-library/adult-literacy-and-ged-teachers.htm [vi] bls.gov/ooh/business-and-financial/human-resources-specialists.htm [vi] bls.gov/ooh/business-and-financial/human-resources-specialists.htm [vii] bls.gov/ooh/education-training-and-library/instructional-coordinators.htm#tab-1 [viii} bls.gov/ooh/management/training-and-development-managers.htm#tab-1 [ix] bls.gov/ooh/education-training-and-library/postsecondary-teachers.htm