0 Sponsored Online Programs Available
Earn a Masters in Adult Education Online
By pursuing an online masters in adult education, you could potentially prepare yourself to take an active role in the professional and educational development of adult students. With many nontraditional students flocking to the educational system, you may have the opportunity to develop skills and knowledge to cater to their unique learning habits.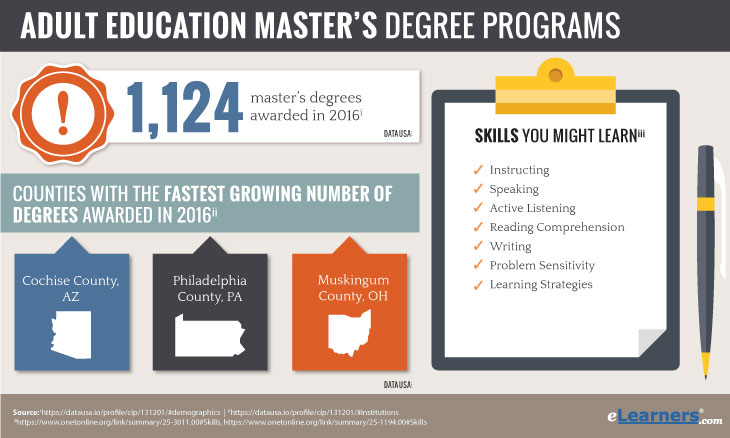 While you're working to assist other's academic goals, you could simultaneously be working towards your own. This masters program might further develop the foundational teaching techniques and methods you studied during undergraduate coursework to better assist adult learners' needs in the classroom and in the overall educational system.
What Is a Masters Degree in Adult Education?
Online masters in adult education have a clear-cut goal of educating students to better serve the needs of atypical, adults who may be returning to their education. Many employers are raising the bar when it comes to hiring new employees, so many adults return to academics in the hopes of better their career potential. An online masters in adult education could help you develop leadership capabilities to serve these people and design curriculum to aid in their scholastic journey.
Types of Curriculum & Courses
When pursuing online masters in adult education programs, you might find yourself engaging with two education based curriculums. First, you may encounter courses in overarching educational theories that apply to general academic classrooms. This could entail subjects such as literacy development, social theory and development, education research methods, and cognitive assessment.
These courses intend to expand your understanding of key teaching concepts that could be potentially beneficial to a wide range of students, no matter their age. In addition to that, masters in adult education programs then offer specialized coursework tailored to educating adult students. Topics could include adult instructional design, multicultural teaching methods, and teaching core subjects to adult learners (I.e. math, science, language arts).
The ESL Option
These curriculums may additionally offer students the opportunity to take an English as a second language course. Many adult students returning to education often do not speak English as their primary language and could potentially benefit from language assistance in the classroom. By pursuing a masters degree in adult education, you could gain valuable language skills and knowledge to further develop a welcoming educational environment for students of many language capabilities.
Not 100% Online
The entirety of the online masters in adult education program may not actually be 100% online. Oftentimes, fieldwork inside the classroom is required. Typically, this in-classroom portion of your curriculum lasts for one semester. This in-person semester could place you among the very students you might teach in the future. During this time, you could have the chance to practically apply the theories and methods you're developing as part of your masters program and assist students while receiving critical feedback from professors and current adult educators.
Each Degree Program Varies
It is important to note that courses may vary by institution. Be sure to speak with potential programs for a full course list and academic requirements.
Requirements of Admission
Due to the graduate level of education, and the more rigorous coursework involved therein, admissions aims to assess incoming candidates' academic abilities. Due to this, students may be required to submit a 3.0 undergraduate GPA in addition to GRE or MAT exam scores.
Different Program Names
Online masters in education programs may be offered in a variety of formats, each one highlighting a different aspect of education. Some common continuing education masters programs might be:
Master of Education (MEd) in Lifelong Learning and Adult Education
Masters of Education (MEd) in Human Resource Studies – Adult Education and Train Specialization (AET)
Master of Science in Adult and Continuing Education
These are only a sampling of potential masters degree programs you could pursue. Others may also be offered in the master of arts (MA) or master of arts in teaching (MAT) format. For a more comprehensive list, continue further down this page to view possible degree opportunities. Or, check with an intended program for a list of their master degree offerings.
What Are the Differences Between MA, MEd, MS, and MAT Degrees?
But what exactly is the difference between an MA, MEd, MS, and MAT degree?
Students pursuing a MEd are often current educators looking to advance their skills and potentially enhance their career possibilities. This career path helps students engage with contemporary teaching strategies to potentially benefit their own classrooms. In the case of adult education, courses may be directed at better understanding adult learning capabilities.
An MAT degree is typically for students who have already earned a specialized undergraduate degree in education. In this instance, it could be a perfect fit for students who have already studied adult education in their bachelor's program. This program aims to enhance students' current understanding of teaching theory to better serve their nontraditional students.
MA students may wish to use the knowledge from their degree to help them pursue alternate educational careers, post-graduation. The skills and knowledge you could learn from this program could be applied to other education related positions in industries such as non-profits and social media. Coursework might include teaching methods and similar pedagogy as mentioned above, but with less emphasis on teaching in the classroom. Fieldwork may not be required as part of the degree program.
Finally, an MS program may take a more analytical and scientific stance in regards to education. These degree programs might rely more heavily on statistics, instructional technology, and quantifiable educational evaluation in their teaching philosophy. This program might be a great choice for students that wish to study trends in education as opposed to teaching in the classroom.
Specializations
It's important to note that some programs may not offer specific adult education degrees, but might extend a subset of classes in that concentration so that students could choose to specialize. These degree programs may be listed as "adult education specialization" or "adult education focus."
Did you know?

Adults with some college, but no degree, potentially earn $3,000 more a year than those with just a high school diploma.i
Unlike a bachelor's degree, adult education masters programs are often more concise and do not place emphasis on general academic electives. Their focus remains solely on their course material. This may be reflected in the masters degree graduation timeline: typically students are required to complete 30 credits in order to graduate. This translates to students earning a masters of adult education in roughly 2 to 2.5 years. Completion times may vary by institution.
What to Do with a Masters Degree in Adult Education
After earning a masters degree in adult education, students could potentially continue their education at the doctorate level. You may consider earning some of the following degrees:
PhD in Education – Adult Education Leadership Specialization
Doctor of Education (EdD), Adult Education Specialization
For a more comprehensive list of doctoral programs, and more information about the program in general, check out the doctorate in adult education page.
Fun Fact
63% of students earning a degree at a postsecondary institution (fulltime and part-time) are 25 years or older. ii
Post-Graduation Options for a Masters in Adult Education
In terms of post-graduate application, an online masters in adult education could be applied to many professional positions, and not just ones teaching in the classroom! Below is a list of potential adult education career options, and their associated annual incomes, that you could pursue:
Instructional Coordinator, $62,270 iii
Training and Development Manager, $102,640 iv
Postsecondary Education Administrators, $88,580 v
Adult Literacy and High School Equivalency Diploma Teachers, $50,280 vi
While students may find that they're able to pursue a training and development manager position with an undergraduate degree, many employers do favor masters degrees in adult education for this role. Thanks to your masters degree, you could display valuable knowledge of behavioral psychology, instructional design, and educational theory that may be valuable to jumpstarting a career in this field. It is predicted to see a potential growth in available occupations 7% in the period between 2014 to 2024.iv
In regards to the above mentioned teaching position, a bachelor's degree is often a major requirement for entry-level positions. While this is true, students may also be required to earn state licenses, in the form of teaching certificates, in order to enter a professional education role. For more information about your specific state's teaching certificate requirements, speak with your department of education. Often, to maintain this license, teachers are required to earn a masters degree.
By earning your degree before you begin teaching – or while you are currently educating – you could attain this requirement before it is mandatory. This might potentially save you valuable time later in your career. Adult literacy and high school equivalency diploma teachers are expected to see a potential increase in available occupations of about 7%.
Ready to Pursue an Online Masters in Adult Education?
By earning a masters in adult education online, you could be taking the first steps to assisting a new generation of nontraditional students. To continue your search for a perfect online masters in adult education, scroll further down this page to view a list of potential programs.
To read a short description about a program, or request more information, click through its associated link, and select "request info." This could provide with details such as applications requirements and deadlines, course expectations, and graduation timelines.
By reading the information on this page, you might have already begun your journey to finding a perfect masters in adult education program for you!
---
[i] bls.gov/emp/ep_table_001.htm [ii] nces.ed.gov/programs/coe/indicator_csb.asp [iii] bls.gov/ooh/education-training-and-library/instructional-coordinators.htm#tab-1 [iv] bls.gov/ooh/management/training-and-development-managers.htm#tab-1 [v] bls.gov/ooh/management/postsecondary-education-administrators.htm [vi] bls.gov/ooh/education-training-and-library/adult-literacy-and-ged-teachers.htm