Sponsored Online Programs Available
Doctorate in Adult Education Online
By earning a doctorate in adult education online, you could potentially be providing support to numerous adult students returning to academics. Pursuing this advanced graduate degree could potentially help you develop skills and knowledge to influence school district policy and infrastructure to better serve these new, atypical students.
Starting a journey to enhance your own educational methods and techniques through doctoral research and study could address this changing academic climate and possibly help your students meet their own educational goals. Earning a doctorate in adult education doesn't just mean developing your own knowledge, but others' in the future.
Keep reading for more details about what goes into earning a doctorate in adult education. This includes information about potential curriculum, possible graduation timelines, on campus requirements, and post-graduation career pursuits.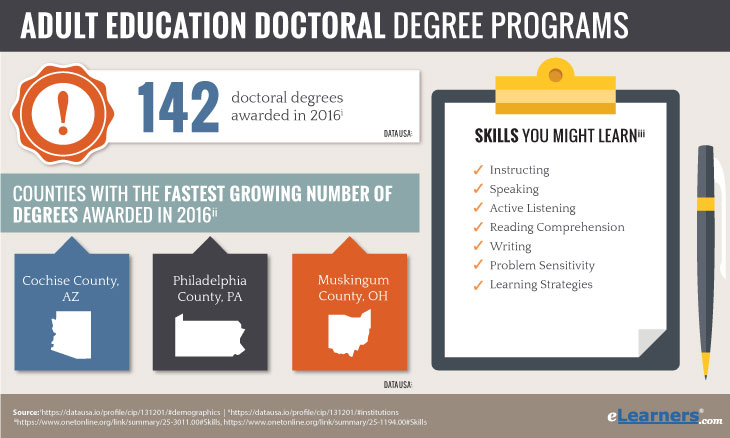 Earning a Doctoral Degree: More Than Just a PhD in Adult Education
Pursuing a doctorate in adult education could be your first steps towards an altruistic course of study. Adults are beginning to make up a larger portion of high school and college populations, and these nontraditional learners may have different needs than your average student.
Different Needs of the Adult Learner
For example, a traditional high schooler might not be working full time while simultaneously trying to earn their diploma! Many students who pursue this doctoral program may want to take a hands-on teaching role to assist this growing percentage of adults reentering education. Or, they might want to develop supportive infrastructure as part of a school administration to facilitate adults' overarching academic experience. By earning a doctorate in adult education, you could potentially make these students' journey easier by tailoring programs to their learning needs.
Adult Learning Curriculums
Curriculums for doctorates in adult education generally encompass general teaching methods as well as refined educational theories to specifically address adult learning styles. Overarching educational topics, that may be instated in general classrooms, could include advanced teaching studies, organizational dynamic systems, and quantitative research methods.
In addition, other courses then focus on adults' learning strategy and might include subjects such as adult learning theory, program planning for adult learning settings, current issues and challenges of adult learning, and adult curriculum design. By pairing these courses together, you could develop a holistic teaching style that may not only be applied to a plethora of classrooms, but also specifically address adult students' possible obstacles and challenges. Degree programs offered might vary by institution, so be sure to speak with your intended university about their specific program details.
Requirements of a Doctorate in Adult Education Online
It is important to note the doctorates in adult education may require students to write a dissertation. Typically, dissertation defenses are performed in-person and could require online students to report to campus in order to do so. While you're writing and research might be done from the comfort of your home, check with intended universities to see if you are required to physically present your completed work.
Before stepping into this challenging coursework, admissions programs aim to assess students' ability to handle and tackle the rigorous academics. With this information in mind, students may be required to submit a 3.0 graduate GPA as well as examples of previous work to apply.
Types of Doctorate in Adult Education Online Degree Programs
A doctorate in adult education online may be offered in both the Doctorate of education (EdD) and doctor of philosophy (PhD) formats. Some common degree titles you could find in your search are:
Doctorate of Education (EdD) in Adult Education
Doctorate of Education (EdD) in Education – Adult Education Specialization
Doctorate (PhD) in Educational Studies: Adult Learning and Development
These are only a few degree titles that you may find in your search. For more information about potential degree programs offered, check out the list of potential programs on this page.
Specialty Studies in Adult Education PhD Programs
You might notice that certain education doctoral programs you find do not offer a specific adult education degree. In these cases, some offer specialized coursework to help focus your studies on adult education. This are may be denoted as an "adult education specialization" or "adult education focus" concentration.
Did you know?

71% of incoming college students are non-traditional students.
At this point, you may be asking yourself, "What is the difference between an EdD and a PhD in adult education?"
PhD in adult education programs often require students to step outside the typical classroom setting – whether for research opportunities or in-classroom teaching. This degree option is typically reserved for students who wish to continue teaching after earning their degree and are looking at advancing their knowledge and skills. This degree path also focuses on conducting research to create new techniques to better serve students learning needs.
EdD programs might be more focused on solving systematic issues in school administration and curriculum, and therefore may emphasize developing educational theories that could influence them. This degree program could encourage students to implement new curriculum or instructional guidelines into school systems as part of their research, and report back with their findings in a dissertation. This may be a great choice for students who wish to pursue a career in educational administration, post-graduation.
How Long Does It Take to Earn a Doctorate in Adult Education Online?
As seen above, adult education doctoral degrees often require intense coursework and research. Due to this rigorous form of study, these programs tend to run longer than other graduate degrees. Typically, students are required to complete 45 credits in addition to writing their dissertation in order to graduate.
With this in mind, students could expect to earn a doctorate in adult education in 3 to 5 years. Completion time may vary by institution.
Fun Fact

As of 2014, around 1.5 million adults were participating in basic education, secondary education, and ESL programs.i
Pursuing a Doctorate in Adult Education-Centered Career
An online PhD in adult education could be a great stepping stone for students to pursue a career at an administrative or managerial level. The advanced coursework might prepare you to oversee instructional development of students, and affect a larger student body of adult learners.
After earning an adult education doctoral degree, you could potentially pursue potential careers as a:
Instructional Coordinator [ii]
Training and Development Manager iii]
Postsecondary Education Administrators [iv]
Adult Literacy and High School Equivalency Diploma Teachers [v]
Postsecondary Teachers [vi]
Typically, a position as a training and development manager may require a bachelor's degree in order to pursue an entry-level position. While this might be true, employers may seek out students who have earned an advanced degree because it displays a firm grasp of adult educational needs.
During your doctoral degree program, you might have engaged with more difficult theories, methods, and teaching ideologies that could enhance your performance in these positions over someone who has only earned an undergraduate degree.iii This profession may call upon knowledge and skills you learned through your degree such as behavioral psychology, instructional design, and educational theory. Training and development managers could potentially earn a median salary of $102,640 annually. Through the period of 2014 to 2024, this field is projected to possibly grow 7%.
If you're considering pursuing a career in teaching, besides initially earning a bachelor's degree, you should also be aware that many states may require educators to earn state-specific teaching certificates or licenses.v Your state's department of education could provide more information about licensure requirements. While a bachelor's degree may be a primary requirement, teachers often must earn a graduate degree in order to maintain their licensure. But earning your doctoral degree, you could potentially have already fulfilled this criterion, saving you time and effort later on in your career. To teach at a postsecondary level, professors are typically required to hold a masters or doctoral degree in their field in addition to the mandated criteria above.vi
Adult literacy and high school equivalency diploma teachers may possibly earn a median of $50,280, and postsecondary instructors $72,470.vi Teaching positions are also predicted to potentially grow between 2014 and 2024.
Adult literacy and high school equivalency diploma teachers might see a growth of 7%,v while postsecondary educators could see an increase of 13%.vi
Next Steps to Pursue a Doctorate in Adult Education
A doctorate in adult education might be only a few more clicks away. With an influx of nontraditional students flooding academics, now could be a great time to further develop your educational skills to address their unique learning needs. Continue on this page to view a list of potential online adult education PhD programs. To review a short description about a particular program, or request more information, click its associated link and select "request info." This could be a great first point of contact with your intended program to receive application deadlines, requirements, and assistance. Good luck finding a perfect doctorate of adult education program, today!
---
[i] nces.ed.gov/programs/digest/d15/tables/dt15_507.20.asp?current=yes [ii] bls.gov/ooh/education-training-and-library/instructional-coordinators.htm#tab-4 [iii] bls.gov/ooh/management/training-and-development-managers.htm#tab-4 [iv] bls.gov/ooh/management/postsecondary-education-administrators.htm [v] bls.gov/ooh/education-training-and-library/adult-literacy-and-ged-teachers.htm [vi] bls.gov/ooh/education-training-and-library/postsecondary-teachers.htm [vii] onetonline.org/link/summary/25-3011.00#WagesEmployment