Sponsored Online Programs Available
Bachelor in Adult Education Online
With many adults flocking to education, whether to continue previous endeavors or start a new degree path, you might be able to assist their journey by pursuing an Online Bachelor of Adult Education Degree. By earning a continuing education bachelor degree, you could develop skills and knowledge necessary to confidently step into the classroom as an adult educator.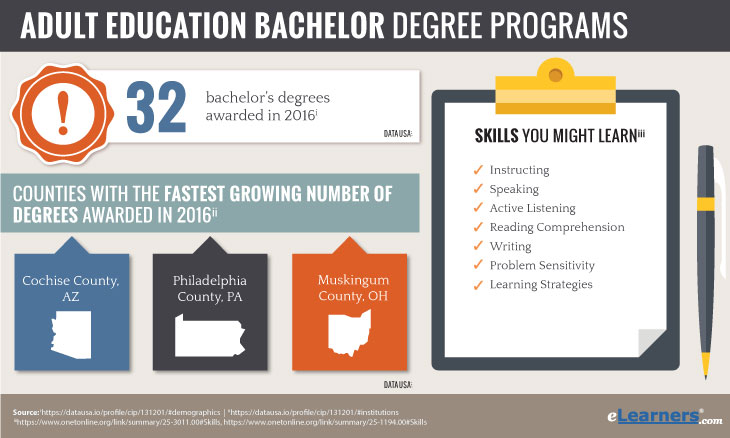 This bachelors program could entail developing your training methods to address adults' unique learning needs to potentially aid their future career enhancement. In a way, as you work to achieve your own academic, and possibly professional, goals, you could be assisting others to do the same!
Keep reading below for more information on the ins and outs of earning a bachelor of adult education. Whether it's creating a strong application, preparing you for your potential curriculum, or providing information on possible post-graduation careers, this could be your one stop shop for things adult education.
Online Bachelor of Adult Education: The Academic Essentials
By pursuing an Online Bachelor of Adult Education degree, you could be taking your first steps into an academic field determined to enhance the experience of adult students returning to education. These non-traditional students may be returning to academics to jumpstart a career, expand their own knowledge, or work towards their first diploma or degree.
Due to their age, and potentially their working status, these students might present a unique set of challenges to educators. Continuing education bachelor degree programs aim to mitigate these obstacles and help teachers present a welcoming and nurturing classroom for these atypical students.
Curriculums and Courses of a Bachelor in Adult Education Online
Common continuing education bachelor degree curriculums often have students taking part in a two-fold education. First, students may engage with core education techniques that may be applied to almost any classroom. These courses could include topics in human learning development, written communication, educational psychology, and the fundamentals of teaching.
In addition to this general coursework, students may then take on more specialized classes that deal directly with supporting adult students' learning needs. This curriculum could include subjects such as adult learning theory, life span learning communication, facilitation of post compulsory education, and adult teaching theory. Required courses may vary by institution. Check with intended programs for a comprehensive list of degree requirements.
Many programs may additionally require students to partake in field work that is conducted offline as part of their curriculum. This practical experience could place you directly into the classroom to practice the knowledge and skills you're developing as part of their bachelor's degree program. This could be vital practice for students who wish to pursue a teaching career after graduation. For more information about potential post-graduation careers, continue further down this page.
Additional Requirements
While this bachelors program is intended to assist adults' education comeback, you do not necessarily have to be an adult yourself to pursue it! Many students choose to pursue this degree program directly out of high school. When applying, students may be required to submit a 2.5 to 3.0 high school GPA. Additionally, you may be requested to submit general SAT or ACT, as well as subject test, exam scores as part of the application process. Be sure to speak with your intended program for a comprehensive list of application deadlines and requirements.
Online Bachelor of Adult Education Program Titles
While researching potential bachelor programs, you may encounter some of the following adult education options:
Bachelor of Science Interdisciplinary Studies: Adult Education Concentration
Bachelor of Arts (BA) in Adult & Organization Development
Bachelor of Science in Education Studies, Adult Education Concentration
These are only a few samples of degrees that you may find in your search. Key phrases to keep your eye out for when browsing programs are adult education and continuing education. Check with intended universities for a complete list of adult education bachelor degree program offerings.
Concentrations and Specialized Focus
It may be important to note that some schools might not offer a specific adult education degree concentration. In these cases, programs may offer students the option to take specialized adult education coursework as part of a general education bachelor's degree. While researching, these programs might be called "adult education focus" or "adult education concentration" education degrees.
Did you know?

Close to 2 million Americans participate in adult education services as of 2016.i
What Is the Difference Between a Bachelor of Science or a Bachelor of Arts?
The difference between the bachelor of science and the bachelor of arts mainly comes down to the coursework you could be dealing with as part of your bachelors of adult education.
Bachelor of arts degrees may offer students the chance to take additional liberal arts elective classes to flesh out their education coursework. The idea behind this structure is that students could have more flexibility to design a learning plan catered to their goals. For example, while students may be working towards a degree in adult education, they may want to specifically teach subjects such as science, math, music, or literature. By taking elective classes in these fields, they could later pursue teaching that subject.
Bachelor of science programs may be more intently focused on the education concentration as opposed to liberal arts electives. Besides this pedagogical emphasis, students in these degree programs may be less likely to study humanities as part of the concentration. Instead, courses tend to target analytical, scientific, and technological subjects. Students pursuing a bachelor of science in adult education may be more likely to take on STEM related teaching topics in the classroom, such as math, science, or computer programming.
When considering the required curriculum, and possible field work, associated with Online Bachelor of Adult Education degrees, students could expect to complete 128 credit hours of work during their bachelors of adult education program. This generally translates to potentially earning a degree in 4 years. Program lengths may vary by institution.
Next Academic Steps with an Online Bachelor of Adult Education Degree
After earning your bachelors in adult education, you may be wondering what your next academic step could be. Commonly, students who have earned a bachelor's degree choose to could consider pursuing on at the masters or doctoral level, post-graduation. Those pursuing a masters in adult education may pursue some of the following degrees.
Master of Education (MEd) in Lifelong Learning and Adult Education
Master of Education (MEd) and Human Resource Studies – Adult Education and Training (AET)
Master of Science (MS) in Adult and Continuing Education
After earning a masters degree, students might choose to progress their studies by pursuing a doctorate in adult education. Common program offerings could include, but are not limited to:
PhD in Education – Adult Education Leadership Focus
Doctor of Education (EdD), Adult Education Focus
During your research you may find additional graduate adult education programs available at different institutions.
For more information about curriculum, admissions, and graduation requirements, visit the masters in adult education and doctorate in adult education pages.
Did you know?

More than one-third of students pursuing a postsecondary degree are over 25 years old.
Pursuing Continuing Education Bachelor Degree Related Careers
Students who pursue a bachelor of adult education may be able to apply their skills and knowledge to potential careers that often revolve around educating, or overseeing the education or, adults. After earning your degree, you could possibly jumpstart a career as a:
Training and Development Manager ii
Adult Literacy and High School Equivalency Diploma Teacher iii
Postsecondary Vocational Education Teacher iv
Training and Development Manager
Many training and development managerial positions require a bachelor's degree for entry-level positions. Skills and knowledge you could gain from a bachelors of adult education such as behavioral psychology, instruction design, and educational theory could help jumpstart your career in this field. v In addition, many employers have begun to request candidates with an information technology background, which you could develop as part of bachelor of science in adult education.
Training and development managers could expect to potentially earn a median of $102,640 a year.i This position is also projected to see a potential occupational growth of 7% in the period between 2014 to 2024.i
Adult Literacy and High School Equivalency Diploma Teachers & Postsecondary Vocational Education Teacher
Earning a bachelors in adult education may also be required for entry-level adult literacy and high school equivalency diploma or postsecondary vocational education teaching positions. It's important to note that many states require potential educators to earn additional licensure, known as a teaching certificate, before entering government-run classrooms. Some states also have licenses that are specific to adult education. For more information about state specific teaching certificate requirements, speak with your state's department of education. After earning licensure and jumpstarting a career within a school district, educators could expect to earn a median of $50,280 annually.iii Vocational instructors, could expect a median salary of $49,470.iv Both occupations are projected to see a possible growth in available occupations of 5 to 8% between 2014 and 2024.iii,
Next Steps to Earn a Bachelor of Adult Education
As the need for adult educators increases, so does the popularity of a bachelor in adult education programs. Keeping in mind the information you have already read on this page, you may be ready to start your search for a potential bachelors of adult education.
Continue further on this page to view a list of potential program. To receive more information from a perspective institution, use the "request info" button on their associated page. This could provide you with key details such as application requirements, deadlines, and other important material. With the help of this information, good luck finding a perfect continuing education bachelor degree program for you!
---
[i] nces.ed.gov/programs/digest/d15/tables/dt15_507.20.asp?current=yes [ii] bls.gov/ooh/management/training-and-development-managers.htm#tab-1 [iii] bls.gov/ooh/education-training-and-library/adult-literacy-and-ged-teachers.htm#tab-1 [iv] onetonline.org/link/summary/25-1194.00