Sponsored Online Programs Available
Online Hospitality Management Certificates
Hospitality Management Certificate Programs Online are designed to develop your understanding of management, leadership, and operations in the hospitality and guest relations industry. In addition, they poise you to earn what may turn out to be a powerful industry tool! They might even help you enhance your career. Finally, online classes allow you to study and learn through a convenient and accessible format.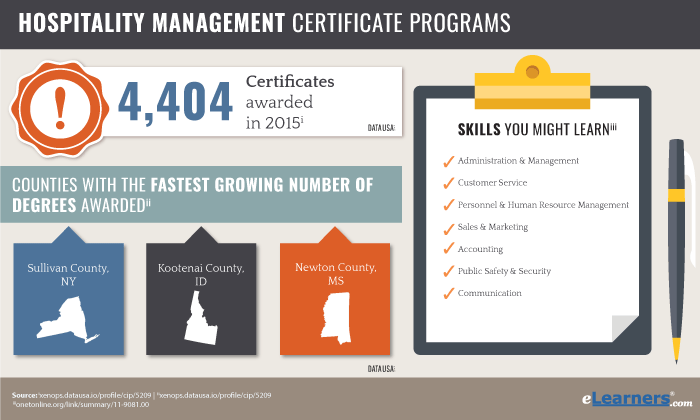 What Will I Study in Hospitality Management Online Courses?
Are you looking for the easy answer? If so, it's this: many of the same topics you might in an on-campus program. Overall, you might examine the moving parts of the hospitality industry. You might also develop your technical expertise and broad focus of hospitality management.
But what is the hospitality industry? Well, it is classed as a service industry. When thinking of the service industry, many people think of hotels. But hospitality is way more than just lodging. It also includes welcoming guests to theme parks, cruise lines, restaurants, and more.
Program Areas for Earning Hospitality Management Certificates Online
Your program may emphasize areas based on students' needs.
Some students may want to focus on planning, analysis, and decision-making tools.
Others might be interested in team building and team performance.
Business-minded learners may want to study management, finance and marketing.
"Green" students will likely want to study sustainability and eco-friendly building in the hospitality industry.
Finally, some students want to learn about cultural tolerance in the hospitality industry.
Courses in these areas and others aim to help you learn the basic vocabulary and operating principles of the hospitality industry.
Potential Courses in Hospitality Management Certificate Programs Online
When you take hospitality management courses online, you might study core and elective subjects. Some examples of subjects you might see include:
The nuts & bolts of tourism and service.
Tourism marketing, management, and finance.
Event planning in resorts, hotels, parks and restaurants.
Giving customers quality service.
Business basics.
You might focus on these and other subjects as they relate to:
Food-service management
Restaurant revenue management
Hotel management
Hospitality marketing
And others!
How Long Does it Take to Complete Hospitality Management Certificate Programs Online?
You may earn one quickly! Many Hospitality Management Certificate Programs Online have four to fifteen courses. You might complete your courses in anywhere from 1 semester to one and a half years. You might devote anywhere from 7 to 10 hours of work to each course depending on your learning style. With your hard work, hospitality certificate programs online may give you some leverage to boost your career.
Who Is in Hospitality Management Certificate Programs Online?
Maybe you! There are different reasons that you might be here.
You are a leader in hospitality.
Your feel passionate about hotels, restaurants, or casinos and want to help them flourish.
You are in a hospitality-based corporate office and want to learn and grow.
You want to enter the hospitality industry.
In addition, you might hold a bachelor's degree or be enrolled in a bachelor's degree program. You might have a background in business, service, or something else. You may aspire to management. You may have been promoted to a new position. You may want to enhance your knowledge. Or you may simply want to begin your career. No matter your position, pursuing an online hospitality management certificate might be perfect for you.
Find Hospitality Management Certificate Programs Online
If you're ready to shore up your future, take the next step. Browse through our Hotel and Hospitality Management Certificate Programs Online. You may see programs in areas such as Casino Management or Meeting and Event Management. Find ones you like and contact programs for more information. Tell programs about yourself and get reps calling YOU! Begin your journey now!