Sponsored Online Programs Available
Online Organizational Leadership Certificate Programs ~ The Essentials
Online Organizational Leadership Certificate Programs present the fundamentals of leadership to students and professionals. Whether you're a natural leader or you're hoping to improve your ability to head up an organization with confidence, earning your certificate may be an important step to achieving your goals! Earning an organizational leadership certificate could be the perfect way to learn how to be a strong and effective leader as you blaze your professional trail. Below, you'll find some info on what an organizational leadership program might involve, and how it could potentially help you tackle your managerial and entrepreneurial challenges.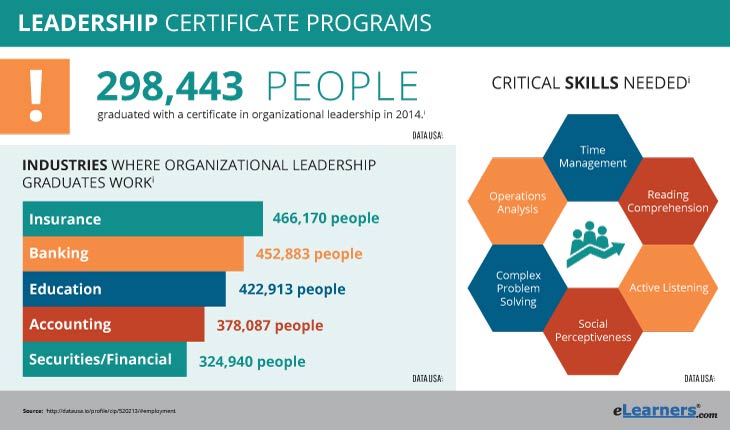 What you may study in an Online Organizational Leadership Certificate program
Leadership may sound pretty basic, but actually, it's a pretty complex field! Potential functions of a business leader may range from team-building and conflict mediation to managing a company's internet security! Pursuing an organizational leadership certificate may help you hone your knowledge of areas like finance and accounting, human resources, contract management, communication strategies, and much more. You may even find leadership certificate programs that focus on particular concerns, like the challenges of managing organizational change, or the unique experiences of female leaders.
Courses you could potentially pursue
Keep in mind that every Online Organizational Leadership Certificate program may have different course offerings and requirements. But, here's a sampling of possible topics:
Business planning and management
Conflict negotiation and mediation
Talent management and leading teams
Effective business communication (speaking and writing)
Managing change and ambiguity
Managerial finance and accounting
In addition to required courses, organizational leadership certificate programs may offer plenty of exciting electives and areas of professional discovery! So, if you ever wanted to learn about Six Sigma, power moves, ROI methodology, or marketing, you just might find the opportunity!
Earning an Organizational Leadership Certificate Online
Organizational leadership certificate programs may be available as campus and hybrid programs, too. However, busy professionals may appreciate the potential flexibility of pursuing an organizational leadership certificate online.
Plus, the majority of students (90%!) said their experiences with online courses were "about the same" or "better" than in-person courses they'd taken - according to information gathered from students by the Learning House.i So, if you're hoping to juggle work and family life with your professional development goals, perhaps online leadership programs are worth your consideration!
Ready to find an Organizational Leadership Certificate Online?
If pursuing an organizational leadership certificate online or otherwise sounds like the perfect next step, it's time to start exploring programs that may suit your goals. To the left, you'll find some sponsored listings for online leadership programs that are worth checking out. Keep in mind that some programs may have prerequisites, like a bachelor's degree or prior experience in business or management, while others may be more suited to beginners. Best of luck on your journey to becoming an inspiring organizational leader!
---
[i] Clinefelter, D. L. & Aslanian, C. B., (2016). Online college students 2016: Comprehensive data on demands and preferences. Louisville, KY: The Learning House, Inc.