0 Sponsored Online Programs Available
Earn a Certificate in Adult Education Online
Now may be a great time to consider pursuing an online certificate in adult education, with so many adults returning to their education later in life. Unlike traditional students, adult students present their own array challenges in the classroom.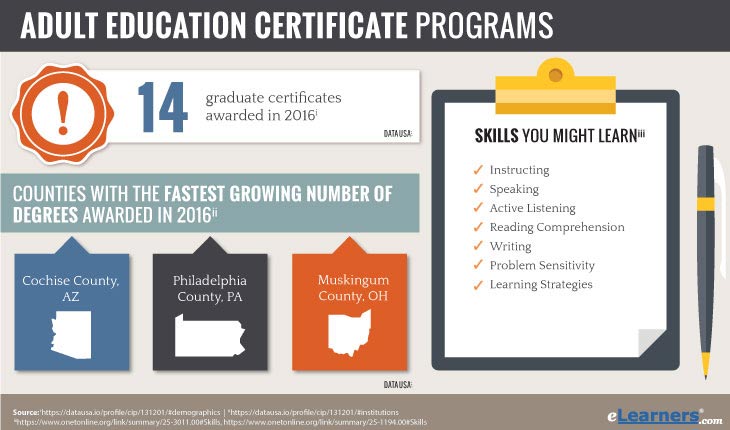 Earning an Online Certificate in Adult Education
By earning a certificate in adult education, you could either be expanding your education foundations you potentially gained during your undergraduate experience or developing new techniques for you to apply to a possible new career in education. The coursework in these programs is designed to help the growing numbers of adults entering education at the basic, high school, or postsecondary level.
For them, this new knowledge could be the first step towards jumpstarting a new career, or enhancing on the currently have. In fact, being attentive to their unique learning demands might potentially change someone's life for the better. Of course, you could simultaneously grow as an educator by pursuing an online certificate in adult education!
What Will I Study in an Online Adult Education Certificate Program?
Certificate curriculum is often highly focused and concise, compared to other graduate programs. Required courses tend to cover only vital, key courses as opposed to broadening their scope to include unnecessary electives. In the instance of adult education, this means that students will specifically learn about adult learning trends as opposed to general education. This could make the online certificate in adult education program ideal for students who have already earned a bachelor's or master's degree in education because it might further develop their already established academic foundation.
What Classes Will I Take For an Online Certificate in Adult Education?
Some examples of possible subjects students might encounter in their online adult education certificate program could be:
Teaching Math & Numeracy to Adults
Teaching Reading to Adults
Program Planning in Adult Education
Adult Learning Theory
Adult Education Administration
Adult Learning Motivation
Curriculum may vary by institution. Check with possible Online Certificate in Adult Education programs for a complete list of degree requirements and course schedules.
Did you know?

Around 10% of adults in the United States have not completed a high school diploma. And adult education certificate program could help change that!i
Certificate coursework is designed to be accessible to a wide range of students – including those that are current working professionals. In order to fit additional education into their already bustling career routine, potential students often look for shorter programs that could be integrated seamlessly into their schedule. Due to this fact, adult education certificate programs often require 12 to 18 credits to complete, which is equivalent to around 1 year of study. Completion times may vary between institutions.
Other Requirements to Be Aware Of
Admissions requirements are similarly accessible so as to welcome a diverse range of educators. It is common for degree programs to require students to submit a 3.0 undergraduate or graduate GPA. GRE scores are often not required for these admissions, which could save you valuable time and money when taking the next step in your education.
Different Program Names
When researching potential Online Certificate in Adult Education programs, you may find that there are many different titles associated with "adult education certificate." Some common programs names could be:
Adult Learning Certificate
Adult Basic Education (ABE) Certificate
Teaching Adult Learners Certificate
Adult and Continuing Education Certificate
Continuing Education Certificate
This is just a sampling of potential adult education graduate certificate programs. When browsing possible programs, look for key words such as "adult education," "continuing education," "ABE," and "adult learners." Programs with these titles often have similar curriculum, admission requirements, and graduation expectations.
Fun Fact

Adult students who have earned a high school diploma are more likely to be employed, and even more so when they earn a postsecondary degree! ii
What Do I Do After I've Earned My Certificate?
After earning a graduate certificate, students could potentially choose to pursue either a master degree in adult education or a doctorate in adult education. Some popular program offerings might include:
Master of Education (MEd) in Lifelong Learning and Adult Education
Masters of Education (MEd) in Human Resource Studies – Adult Education and Train Specialization (AET)
Master of Science in Adult and Continuing Education
PhD in Education – Adult Education Leadership Specialization
Doctor of Education (EdD), Adult Education Specialization
These programs could continue to flesh out your adult education skills and knowledge with advanced coursework in terms of teaching theory, adult learners, and research methods. For more information about the graduate degree programs, visit the adult education masters and doctorate in adult education pages.
Adult Education Certification Post-Graduation Careers
Graduate certificates in adult education may be a perfect fit for educators looking to enhance their current career, or for others who are looking to jumpstart a career in an education-based industry. After earning your certificate, you could potentially pursue some of the following careers:
Postsecondary Education Administrators iii
Adult Literacy and High School Equivalency Diploma Teachers iv
Human Resource Specialists & Trainers v
Postsecondary Education Administrators
Postsecondary education administrators oversee the ongoing interactions between student services, academics, and faculty in order to better serve the students in the program. In the case of adult education, this means addressing the unique needs of atypical students so that they may thrive in a learning environment.
These positions often require a bachelor's degree for entry-level positions, but graduate coursework is often a recommended requirement.iii These positions could expect to potentially earn a median of $88,580 per annum.
Logically, teaching might be a great fit for students who earn an adult education certificate. To step into this profession, employers typically require candidates to hold a bachelor's degree in education. Additionally, many states require educators to earn a teaching license prior to stepping into the classroom.iv For more information about state teaching licensure, check with the department of education's requirements.
Adult Literacy and High School Equivalency Diploma Teachers
Even though a bachelor's degree may be required for you to initially start your teaching career, a graduate certificate may be a great way to advance your skills – and enhance your career possibilities!
Adult literacy and high school equivalency diploma teachers could potentially earn $50,280 per annum.iv This position might see a potential growth of 7% between 2014 and 2024.
Human Resource Specialists & Trainers
Managerial or administrative positions within a school district may require this same detailed coursework. An adult education certificate could be your first step to develop your career into a more oversight-centered role as a postsecondary education administrator. This position boasts similar requirements to becoming an adult literacy and GED teacher.
Postsecondary education administrators could potentially earn $88,580 annually. The availability of these positions may also be on the rise from 2014 to 2024. It is predicted to see a 7% growth in available positions.iii
Pursuing a career as a human resource specialist or trainer may not seem to directly align with earning a graduate certificate in adult education. Yet, subjects such as psychology, professional writing, and communication might potentially benefit this career path. Here, your adult education skills could go to good use by helping adults enter new fields, or providing targeted HR training to better serve adults at your company. While a bachelor's degree is often required for entry-level positions in this field, earning a graduate certificate may even enhance the possibility of earning a human resources manager position. On average, this position could potentially earn $58,350 per year.
Get Ready to Pursue an Adult Education Certificate!
Earning an adult education certification could be a great way to further develop your foundational teaching capabilities to better assist the influx of nontraditional students. To continue your search for a perfect program, stay on this page to browse a list of potential programs.
To find out more information about a particular program, click its associated link for a short description. Or, click the "request info" button to receive additional information from the program itself. Starting your altruistic, educational journey to earn an adult education certificate might be only a few clicks away!
---
[i] nces.ed.gov/programs/digest/d15/tables/dt15_603.10.asp [ii] bls.gov/news.release/empsit.t04.htm [iii] bls.gov/ooh/management/postsecondary-education-administrators.htm [iv] bls.gov/ooh/management/postsecondary-education-administrators.htm [v] bls.gov/ooh/business-and-financial/human-resources-specialists.htm