Sponsored Online Programs Available
Online Certificates in General Education
Online Certificates in General Education include different opportunities for students interested in a teacher credential program. Some certificates offer stand-alone credentials, while others may be used within the context of a joint degree and credential program. You are always wise to verify with your State's education board to determine what their requirements are and whether the pathway you choose can help you meet those expectations.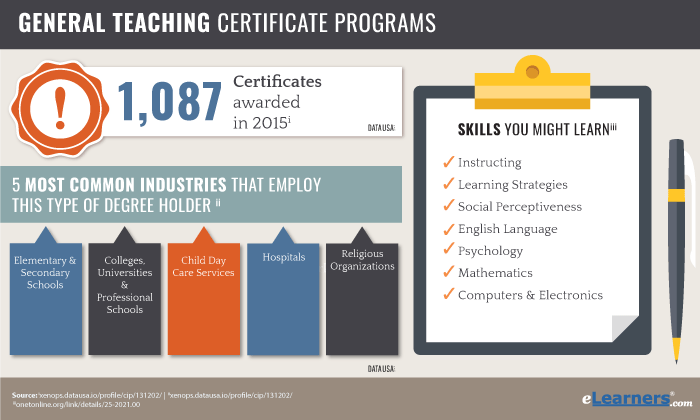 Online Certificates in General Education: Essentials
Online Certificates in General Education may be offered as Preliminary Education Specialist credentials, Preliminary Multiple Subject Teaching Credentials or as graduate certificates. Admission requirements differ; some programs are for teachers who have their Bachelors degree and teaching license. If you are interested in a short-term program, certificates may take less than two years to complete which could be around 18 credits. Note that program lengths, courses and credits do vary. Since there are different programs, it is also suggested that you find out whether, in addition to coursework, you are required to complete a supervised teaching experience.
DID YOU KNOW? "Requirements for certification vary by state. In addition to requiring a bachelor's degree, states require teachers to complete a teacher preparation program and supervised experience in teaching, typically gained through student teaching"[i].
Online Certificates in General Education: Potential Courses
Online certificates in general education may include coursework that is based on the procedures for design, implementation, evaluation and improvement of instruction.[ii] Course curriculum is likely to vary, however general teaching courses might consist of four components[iii]:
Instructional objectives
Pre-assessment
Instructional procedures
Evaluation
Take the Next Step
Education is one of the areas where advanced credentials might lead to higher wages,[iv]and where individual States play a role in determining certification procedures. If you are motivated to 'become a teacher' or learn detailed theory and knowledge to be able to educate specific populations, browse our directory of sponsored listings. When you find the online certificate in general education that appeals to you, contact the prospective school using the request info tab to apprise yourself of the enrollment deadline.
---
sources: [i] bls.gov/ooh/education-training-and-library/high-school-teachers.htm |[ii] http://eric.ed.gov/?id=ED055966 |[iii] http://eric.ed.gov/?id=ED055966[iv] bls.gov/careeroutlook/2015/article/should-i-get-a-masters-degree.htm#Education