Sponsored Online Programs Available
Higher Education Certificate Online
Whether you're interested in higher education leadership, teaching, student affairs, or another path, earning a higher education certificate online may be the way to go. Higher education certificate programs are typically shorter-term, non-degree paths that may help you prepare for a career challenge. For example, in a certificate of higher education leadership and management program, you might pursue insight into academic professions while studying leadership principles, organizational theory, and more.
Every certificate program is different, but chances are, yours may require fewer credits than earning a masters degree. So, if you are hoping to build on previous knowledge or discover the ins and outs of higher education, it's time to find out what higher education certificate programs may have to offer!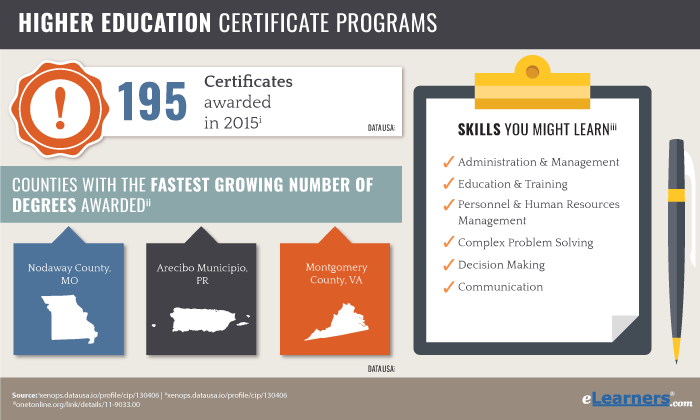 What You Might Learn in a Higher Education Certificate Online Program
What you might learn depends on the type of certificate of higher education you pursue. Let's focus on what you could potentially study while pursuing a certificate in higher education leadership and management. This type of program may be aimed at current or prospective higher education professionals, or even faculty members who want to learn more about leadership and management strategies. Therefore, you could take courses like some of the following:
Foundations of higher education
Leading higher education
Organizing higher education
And more!
Some higher education certificate programs might focus on areas like student affairs and administration. They may explore how to reach college students, and how to plan campus programming that gets students involved and excited! So, you may study subjects like these:
Personnel administration
Student development theory
Campus ecology
History of higher education
And more!
Some Potential Benefits of Online Higher Education Certificate Programs
In addition to flexibility, choosing a higher education certificate online program may have some other major pluses. For example, according to the Bureau of Labor Statistics, higher education administrators should be well-versed in computer skills.i Choosing to pursue a higher education certificate online may be a great way to learn the ins and outs of technology tools potentially used in your field. And, adult and higher education was one of the Top 10 most popular graduate majors for online learners!*
Are You Ready to Pursue an Online Certificate in Higher Education?
Check out some online higher education certificate programs that could help you pursue your goals in education, leadership, administration, and more. To the left, you'll find one or more sponsored listings for programs that may be perfect for you. Good luck preparing for your next potential career move!
* Clinefelter, D. L. Aslanian, C. B., (2016). Online college students 2016: Comprehensive data on demands and preferences. Louisville, KY: The Learning House, Inc.
---
[i] bls.pagex.tab4