Sponsored Online Programs Available
Online Medical Assistant Certificate Programs
Everybody loves a wingman. . . And Medical Assistants are the true wingmen of medicine. To get to be such a top helper, you may want to attend Online Medical Assistant Certificate Programs.
They assist everyone: patients, nurses, surgeons, dentists, and more. They are the great helpers.
Not only that, just as wingman status fills your social life with more variety, the same goes for Medical Assistants. There are more paths for a Medical Assistant degree or certificate holder than there are singles at the club. So, let's dig in and unpack some of the best examples.
What Is a Medical Assistant/Dental Assistant?
Medical Assistants generally help with various medical or medical-related tasks. Possibly under the direction of a doctor, assistants may perform administrative duties like scheduling appointments, keeping medical records, or billing patients.
They may also take on some clinical responsibilities, such as recording vital signs, preparing patients for exams, administering medications, or drawing blood. [i]
The healthcare industry is one of the largest sectors of the American economy. By 2024, it is expected to employ over 20 million people, more than is expected in retail, professional, and business services, or leisure and hospitality.[ii]
That could mean potential opportunities for anyone looking to pursue a healthcare career in:
Doctor's offices
Dentist's offices
Hospitals
Clinics
Labs
Other health-related workplaces

What Is an Operating Room Technician?
From anesthesia to phlebotomy, some Medical Assistant jobs might sound pretty fancy. But when you break them down it's all stuff you already know. For instance, anesthesia at its most basic provides pain relief, sleep, and amnesia during surgery.
Did You Know?

Surgical anesthesia in history included alcohol as far back as ancient Mesopotamia and then escalated to what are now modern-day party drugs, like cocaine, in the late 1800s.
We're certainly all familiar with the experience of unconsciousness and forgetting - pretty much daily. Surgical Technologists are the Medical Assistants involved in these types of procedures.
Operating Room Techs Vs Surgical Technologists
Sometimes they're called Operating Room Technicians too but either way, these crucial Surgical Technologists are in the room where it happens. After all, surgery is literally a life-changing experience for patients.
The average American only has about 3 in-patient operations in a lifetime. So, stakes are high in any operating room. Adrenaline and hope pump through the team as they work together to improve a patient's life.
The Salary
Not only is this work heart-pounding stuff, Surgical Technologists earn a median pay of $45,160 annually. And the job outlook says that the field is growing at a faster-than-average pace compared to other careers.
Typical entry-level education for a job as a Surgical Technologist? It only requires that you earn a certificate! [iii]

Source: bls.gov/ooh/healthcare/surgical-technologists.htm
In fact, the median annual salary for Surgery Technicians is much higher than similar jobs in the medical field that require the same amount of schooling. For instance, Nursing Assistants complete the same amount of training but their median annual wage is $26,590 while Surgical Technologists median annual wage is about eighteen thousand dollars more, at $45,160. Not to mention that the job title sounds pretty hype.
Occupational Therapist Assistant and Aides
Occupational Therapy Assistants enable patients to make their lives better. They engage clients in therapeutic activities to help them make progress toward health goals. [iv] Essentially it's a hand-on experience that involves working closely with an Occupational Therapist as well as patients.
There are a wide range of activities that can involve speech or auditory therapy as well as muscle work and even crafts. [v] It's a job where you can help people improve and grow - which is pretty satisfying in itself.
The Salary
The employment outlook for this job, at 43% compared to the 7% of all occupations, may make the prospect of getting a two-year associate degree seem less daunting. [vi] After all, Occupational Therapist Assistant positions also have a salary of $59,010 for the 2016 annual median. [vii]
To put that in perspective, that's $22,000 more than the median salary for all occupations that same year.
Did You Know?

Arts and Crafts aren't just fabulous fun at summer camp; they're also a crucial element of Occupational Therapy.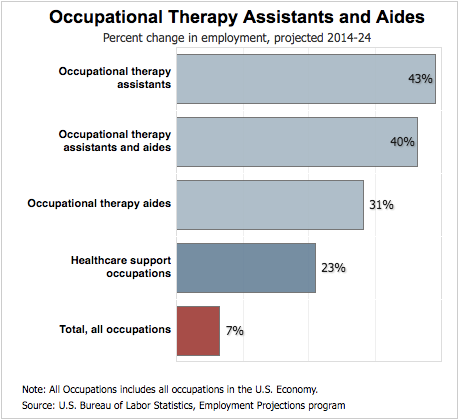 Source: bls.gov/ooh/healthcare/occupational-therapy-assistants-and-aides.htm#tab-6
What Is a Phlebotomist?
Phlebotomy is such a fun word. It's also the most popular job for vampires. I bet you didn't know that. Seriously, though. We've come a long way since the leeches of yore.
Did You know?

Blood-letting served as precursor to Phlebotomy because, although a bit brutal in method, there were benefits from using leeches, including lowered blood pressure.
Phlebotomists draw blood. That's the bottom line. Sure, they rub you with a cotton ball first, maybe say a few words but it's really all about the needle. That's when a great Phlebotomist can ease your mind and distract you while drawing your blood. So, the best Phlebotomists have that gift for putting people at ease… and a steady hand helps too.
Like many other Medical Assistant positions, Phlebotomists generally need only a certificate to join the workforce. In fact, many even enter the occupation with only a high school diploma and get trained on the job. That means either a year of school or getting paid while training to enter a booming industry. [viii] Yes, blood-letting is gaining lots of ground and it's not just because of all those vampire TV shows.
The Salary
The median annual wage for phlebotomists was $32,710 in May 2016.[ix] Compared to all occupations, Phlebotomy has an 18% higher rate of job growth projected until 2024 as compared to all those other occupations.
Other Medical Assistant Jobs
There are many more Medical Assistant jobs, some which require only a certificate, such as Radiology Technician, a job with an exceptional median salary of $58,960 in 2016. [x] Others, such as a Respiratory Therapist, require an associate degree. This one has a faster than average rate of job growth (12%) through 2024. [xi] There's also the thrill and fulfillment a Respiratory Therapist must feel providing relief for those struggling to breathe.
These Medical Assistant careers are all quite different from each other but also have fundamental similarities. For instance, they're all organic and free range due to their unstructured work environments. This isn't your typical 9-5 deal. It's enticing if you like the idea of a flexible schedule and variety in your day to day work experience. [xii] These jobs may not be for those who want every moment of their day and week planned in advance. But it's delightful for the rest, who relish flexibility.
Much like with wingmen assistance, Medical Assistance is all about who you're helping and how. The more people you help and the greater your impact, the better it feels.
Job Growth
The Bureau of Labor Statistics states that employment for Medical Assistants overall is projected to grow 23 percent from 2014 to 2024. That's 16% faster than the average growth rate for all jobs. [xiii] Because we now know how crucial these jobs are as a support system in the medical field, the news that jobs in this sector are all increasing rapidly isn't much of a surprise.
Earning a Medical Assistant Certificate - Classes
Generally, you may expect to take a mix of clinical and administrative classes, ranging from subjects like Office Management to Pharmacology. Other classes might be on topics such as:
Anatomy and Physiology
Diseases
Medical Coding
Insurance Processing
Management of a Healthcare Office or Institution
Other Requirements
Since Medical Assisting may sometimes be a hands-on profession, online coursework may also be supplemented by work experience, possibly in the form of an externship.
Why Consider Attending Online Medical Assistant Certificate Programs?
Unlike for some other medical professions, pursuing a career as a Medical Assistant may not normally require a Master's or Doctorate Degree, though medical assistants typically graduate from postsecondary education programs.
How to Qualify
In fact, according to a poll by O*Net, 18% of Medical Assistants had an associate's degree, 10% only had a high school diploma or equivalent, but the majority, or 65%, had earned a post-secondary certificate. Although there are no formal educational requirements for becoming a medical assistant in most states, employers may prefer to hire assistants who have completed these programs.
Similar to a degree, a certificate may be earned after completing a set course of study at the undergraduate or graduate level.
Medical Assistant Certificate Vs Degree Programs
Typically, certificate programs may be shorter and more narrowly focused than degree programs, often geared toward helping to prepare students to pursue a specific career, such as in the case of Online Medical Assistant Certificate Programs, medical assisting.
One way a program might do this is by helping students get ready to take a certification exam. While the words look similar, a certification may not be the same as a certificate. Certifications, instead of being issued by the school or educational institution, might be awarded by professional organizations as proof that someone may be knowledgeable in that profession. Usually, this could entail passing an exam, such as the Certified Medical Assistant exam offered by the American Association of Medical Assistants.
If you want to pursue a career as a medical assistant, you might consider earning one or more of these types of certification. Though the standards for hire of medical assistants may vary among employers and states, a professional certification might help indicate your qualifications to employers.
Keep in Mind

While schools may help prepare you to take a certification exam, this may not be the only requirement to earning a certification. Check with the school and with the certifying organization to see if you'll need to meet other demands like work experience or a background check.just a comment is
So What's Next?
You're in exactly the right place here at eLearners to take the next step and get matched to the Medical Assistant degree program that's perfect for you. Click on our relevant links to find your next step with ease. It's fast, free, and just what you're seeking.
---
[i] onetonline.org/link/summary/31-9092.00 | [ii] bls.gov/emp/ep_table_201.htm | [iii] bls.gov/ooh/healthcare/surgical-technologists.htm | [iv] bls.gov/ooh/healthcare/occupational-therapy-assistants-and-aides.htm#tab-2 | [v] bls.gov/ooh/healthcare/occupational-therapy-assistants-and-aides.htm#tab-3| [vi] bls.gov/ooh/healthcare/occupational-therapy-assistants-and-aides.htm#tab-1 [vii] bls.gov/ooh/healthcare/occupational-therapy-assistants-and-aides.htm#tab-5 | [viii] bls.gov/ooh/healthcare/phlebotomists.htm#tab-6 [ix] bls.gov/ooh/healthcare/phlebotomists.htm#tab-5 [x] bls.gov/ooh/healthcare/radiologic-technologists.htm |[xi] bls.gov/ooh/healthcare/respiratory-therapists.htm | [xii] www.onetonline.org/link/summary/31-9092.00 [xiii] bls.gov/ooh/healthcare/medical-assistants.htm#tab-6