0 Sponsored Online Programs Available
Online Homeland Security Certificate Programs
If you've followed the news at all for the last 15 years, you might know that homeland security and public safety have become essential topics not just in the United States but throughout the world. If you're pursuing a degree or a career in security or criminal justice[i] and these topics hold your interest, you might want to investigate online homeland security certificate programs. These programs may help you learn important knowledge or skills to help enhance your career in security.[ii] Here's what to consider when looking into the possibility of earning a certificate in Homeland Security: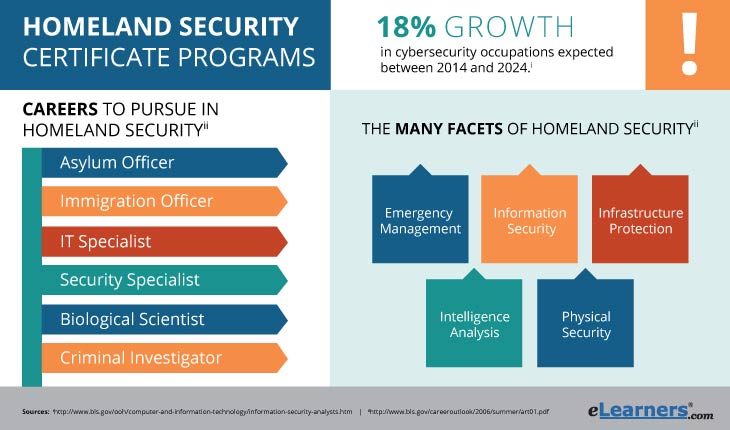 Online Homeland Security Certificate Programs
Certificates, like degrees, can be earned at different levels of study. Before you look into homeland security certificate programs, you'll want to make sure you know what level of coursework you should be seeking. Generally, if a certificate is termed an Undergraduate Certificate, it will offer coursework at a similar level to an Associates or Bachelor's Degree Program. Graduate Certificates, meanwhile, will offer classes similar to the Master's or Doctorate Level.
Who Might Want to Earn a Certificate

[iii]
Keep in mind that just because the coursework is at the same level doesn't mean that a certificate can take the place of a degree. Degree programs tend to be longer and more comprehensive than a certificate program would be. Instead of substituting for one, a certificate could add to a degree by offering targeted coursework in a specific area of focus. Specifically for criminal justice students, a certificate in Homeland Security or Security Management can add relevant skills to help broaden the pursuit of potential careers.[iv]
Earning an online certificate in homeland security could also be useful for working professionals looking to enhance their career. Beyond providing coursework in fields that could be useful in specific careers, certain programs may offer credits that can be later applied toward a Degree Program.
What Do I Have to Commit to?
Since they tend to cover less ground than a degree program would, certificate programs are generally seen as a less flexible option. If you're looking to expand your education, but can't commit to a Bachelor's or Master's Program, you might want to look into online homeland security certificate programs. So what kind of commitment does it entail?
It's hard to say specifically, since certificates can vary by program or school, but generally, a good expectation may be 15[v] to 18[vi] credits of coursework. Some programs might require more or fewer, but the Certificate Programs are usually a good bet to be shorter than Degree Programs, which may often demand 48[vii] to 120[viii] credits of coursework.
Beyond completing the coursework, certain online homeland security certificate programs might have other requirements you would want to look into. For example, you might need to maintain a certain GPA for graduation.[ix]
What Areas of Focus Might Be Available
So now that you know what it might take to earn a certificate online, you might want to look into the specifics of online homeland security certificate programs. As mentioned above, certificate programs tend to be smaller in scope than degree programs, often focusing on a single concentration, rather than a broad discipline.
Depending on the school and program you're considering, there may be a number of different areas of focus that might be available to you. Border security, emergency management and crisis preparedness, and national security policy and management are some examples of these concentrations.[x]
To see which concentration might be a perfect fit for you, it might help to look at some of the coursework offered in each. Depending on the area of focus, you might find classes such as terrorism, weapons of mass destruction, maritime gateways, or disaster recovery and business continuity security.[xi] Be sure to contact each school to get details about their curriculum.
What Opportunities May Exist for Those Who Earn a Certificate Homeland Security
Choosing a concentration in online homeland security certificate programs doesn't just to give you a different academic focus, it can prepare you to pursue certain careers within the field. Just like there are numerous different areas of focus in Certificate Programs, there are many different careers that could fall under the umbrella of homeland security. Knowing which one you'd like to pursue can help you make a decision about where to earn your certificate.
One potential career in Homeland Security field is as a Business Continuity Planner, people who help certain areas recover from disasters and manage crises. [xii] According to O*Net, 13% of workers in this role have earned a Post-Bachelor's certificate and in 2015, the median salary was $68,170.[xiii]
After earning an online homeland security certificate, you might also consider pursuing a career as a Criminal Investigator or Special Agent, 16% of whom have earned a certificate. This career had a median salary of $77,210 in 2015.[xiv]
There are many other potential careers to pursue in the field of homeland security, including Emergency Management Specialists, Immigration and Customs Inspectors, and Transportation Security Officers.[xv] To find out more about which of these a specific online homeland security certificate program might prepare you for, be sure to request information from each school.
---
[i] umassonline.net/degrees/online-certificate-homeland-security-management [ii] http://bush.tamu.edu/certificate/chls/ [iii]bush.tamu.edu/certificate/chls/ [iv] http://www.umassonline.net/degrees/online-certificate-homeland-security-management [v] bush.tamu.edu/certificate/chls/ [vi] umassonline.net/degrees/online-certificate-homeland-security-management [vii] bush.tamu.edu/degree/mpia/curriculum/ [viii] umassonline.net/degrees/online-degree-bachelor-criminal-justice[ix] bush.tamu.edu/certificate/chls/overview/ [x] bush.tamu.edu/certificate/chls/ [xi] bush.tamu.edu/certificate/chls/overview/ [xii] bush.tamu.edu/certificate/chls/ [xiii] onetonline.org/link/summary/13-1199.04[xiv] onetonline.org/link/summary/33-3021.03 [xv] bush.tamu.edu/certificate/chls/