Sponsored Online Programs Available
Earn a Certificate in Law Enforcement Online
Certificate in Law Enforcement Online programs may address areas like criminal justice management, police accountability, ethics, and more, to help candidates enhance their careers. You could potentially find certificates that focus on specific areas of policing, like law enforcement leadership or administration. And, online learning may offer the flexibility to continue working while you learn.
Why Pursue a Certificate in Law Enforcement Online?
According to the Bureau of Labor Statistics, many federal agencies and some police departments prefer or require police officers to have completed some college coursework. In other words, while a high school diploma may be the typical entry-level requirement for a policing role, some college coursework may be preferable.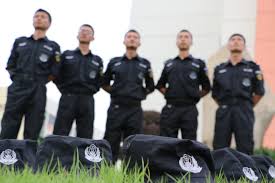 What Might I Learn in an Online Law Enforcement Certificate Program?
Each program may have a slightly different focus. For example, law enforcement administration certificate programs focus on topics related to managing a law enforcement agency. You may explore areas like public policy analysis and the police development process. If you're hoping to pursue a law enforcement administration path, perhaps this program is perfect for you!
On the other hand, a law enforcement leadership program may help law enforcement professionals prepare to better lead a department during changes and challenges. You might study personnel supervision, law enforcement management, ethics, and other areas.
You may also find programs with a focus on a particular area of policing, like law enforcement intelligence and analysis. These certificate programs may cover topics like terrorism, counterterrorism, intelligence operations, and more.
Keep in mind that every program may differ when it comes to requirements and topics covered. Explore a few potential paths to see if you can find the perfect fit.
How Long Does It Take to Earn a Certificate in Law Enforcement Online?
Online law enforcement certificate programs usually involve taking several courses, though they call for fewer credits than earning a college degree. A typical number of credits might be twelve to fifteen (four or five courses), though this may vary. The length of time it takes you to complete the coursework might depend on factors like:
Your part-time or full-time status
Length of courses
Course sequencing
Earn Your Certificate in Law Enforcement Online
Earning a certificate may help you jump-start a future career you want, or help you grow the one you already have. No matter what your goal is, you can look through the sponsored listings on this page and see if there is a perfect program for you.