Geographic Information Systems Certificates
GIS Certificate Online Programs walk you through how to capture, store, manipulate, analyze, and manage spatial or geographic data; it's all about maps and understanding where you are - location.
Everybody uses maps one way or another at some point in life, whether it's to find the nearest Starbucks using GoogleMaps or twirling a globe while writing a bucket list. Maps matter because we've all got somewhere to go.
One way to go might be making those very maps. Of course, first one needs to study Geographic Information Systems in pursuit of either a certificate or degree.
No matter which you choose, GIS could offer a fascinating career path with a vast variety of routes. That's because the field of Geographic Information Systems evolves along with technology and ever-changing landscapes. Mapping offers an expanding selection of career opportunities in many industry sectors. Some examples are: environmental organizations, private companies, local and national government agencies, along with intelligence and national security communities. GIS may even be used in the tourism and travel industry.
Geographers Survey the Territory
Many who study Geographic Information Systems may pursue a Geographer career. It's an exciting job with potential travel opportunities for fun stuff like fieldwork and site visits.
Source bls.gov/ooh/life-physical-and-social-science/geographers.htm#tab-5
Not only are there intriguing prospects for Geographers to discover and share through their work but the median annual wage for Geographers in 2016, at $74,260, was about double the average salary for all occupations that year - $37,040.
This is average, though. Depending on the industry, Geographers had median annual wages as high as nearly $90K in 2016 when working in the Federal Government, for instance.

Source bls.gov/ooh/life-physical-and-social-science/geographers.htm#tab-5
Another cool thing about Geographic Information Systems Certificates and Degrees lies in other applicable career paths. Cartographers are just one example.
Cartographers Create Maps
While Geographers are concerned mostly with the territory, Cartographers convert that kind of field work into actual maps. They put info into action. Cartographers make maps, and it's abundantly clear that maps are where it's at these days.
So, even the Bureau of Labor Statistics says, "Consumer demand for accurate and reliable maps is expected to increase the need for more cartographers". They also point out that this fuels employment growth for Cartographers. This shows up in the projected employment growth numbers for the years 2016-2026, which are projected to grow at a rate of 19% over the next 10 years or so. That's more than double the projected rate for all occupations, at 7%.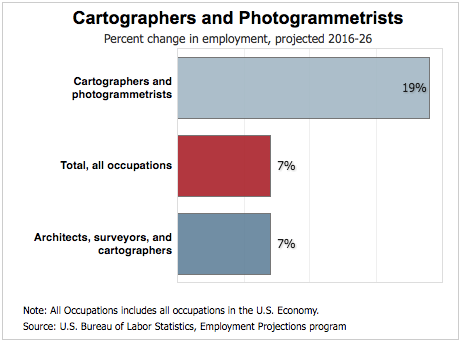 Get Your GIS Certificate Online
To learn more about how Geographers and Cartographers pursue and earn certificates, click on relevant links here at eLearners.com It's a free and immediate match to a perfect GIS Certificate program for you.
---
[i] bls.gov/ooh/life-physical-and-social-science/geographers.htm#tab-3 [ii] bls.gov/ooh/life-physical-and-social-science/geographers.htm#tab-5 [iii] bls.gov/ooh/architecture-and-engineering/cartographers-and-photogrammetrists.htm [iv] bls.gov/ooh/architecture-and-engineering/cartographers-and-photogrammetrists.htm#tab-2 [v] bls.gov/ooh/architecture-and-engineering/cartographers-and-photogrammetrists.htm#tab-6