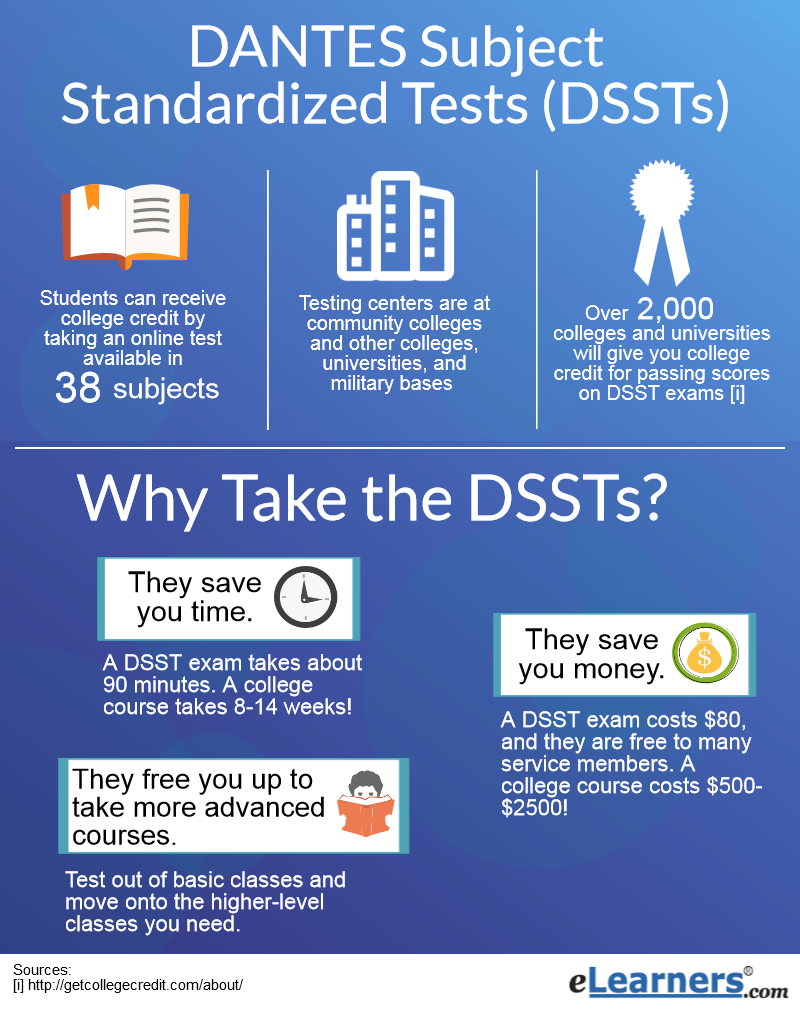 Many students who are interested in credit by examination have heard of CLEP. But the good news for students who enjoy this method of demonstrating the knowledge they've already amassed is that CLEP is not the only program out there. Another example is DSST, and it's similarly open to everyone with testing centers at community colleges and other colleges, universities, and military bases.
DSST started when the U.S. Department of Defense wanted to offer support for service members who were working towards earning their degrees. The department provides resources through a program called the Defense Activity for Nontraditional Education Support, also known as DANTES. One of DANTES main objectives is to make college more affordable and less time consuming for active duty and veteran military members.
In order to do that, DANTES developed a series of standardized tests, known as DANTES Subject Standardized Tests, or DSST. These tests were then opened up to civilians as well, and are now administered by Prometric, the educational services company. That means now anyone who is interested in saving time and money on their path to a college degree can take advantage of DSST!
There are currently DSST exams available in 38 subjects. Students who have gained knowledge through military training, work experience, or independent study can receive college credit for passing one or more of these tests.
Why Take the DSSTs?
Earning college credit through DSST exams can help you reach your educational and professional goals in several ways:
They save you time. A DSST exam takes about 90 minutes. A college course takes 8-14 weeks! There's no need to take a full-semester course if you already have the knowledge.
They save you money. A DSST exam costs $80, and they are free to many service members. A college course costs $500-$2500! You can potentially save thousands of dollars in tuition by completing course credits through testing.
They free you up to take more advanced courses. Test out of basic classes and move onto the higher-level classes you need to earn your degree.
How Do They Work?
DSSTs are offered in 38 subjects, from the following categories: Math, Social Sciences, Humanities, Business, Physical Science, and Technology.
Over 2000 colleges and universities will give you college credit for passing scores on DSST exams. The American Council on Education (ACE) recommends that 3 college credit hours (usually the equivalent of one course) be awarded for each passed DSST examination. And unlike CLEP, some DSST exams offer upper-division credit, which may even apply to your major! But it's important to check with your college advisor before testing. Factors you'll want to consider include:
How many DSST credits does your college allow? Some schools will put a cap on the number of courses you can skip through standardized tests. If you plan to take several DSST exams, you may want to select a college that accepts the most.
What is the minimum scored required to earn course credit? ACE lists minimum recommended scores for credit (ranging from 44 to 48, depending on the subject.) But your school might post different score requirements. It's important to know how high you need to score in order to earn college credit for the test.
Which exams will your college allow? Not all DSST exams are relevant to all college degrees. If you're pursuing a degree in accounting, your college might not want to give you credit for the Astronomy exam. Sometimes unrelated exam credit can count towards your elective requirements, but it's best to check with a school advisor before wasting your time and energy.
Have you already taken a college course or a different examination, like CLEP, in a similar subject? Most schools won't accept credit from different sources that cover overlapping material.
How Do You Prepare for the Exams?
The exams are similar to the final exams given at the end of an undergraduate course. You can locate study resources, sample questions, and textbook recommendations on the official DSST web site. Just be careful of fraudulent test preparation services. Never make any credit arrangements or sign contracts with companies that promise college credit without college enrollment.
Before the test, review the subject as much as possible. The fact sheets also list recommended study resources such as college textbooks that cover the relevant subject matter. Additional test preparation resources such as practice exams and courses for DSSTs are available through Prometric.
Generally speaking, if you get at least 70 percent of sample questions correct, you are ready to take the exam. Even though the DSST exams are free for service members, it's important to be well-prepared and confident that you can pass. If you do not get a high enough score, you will need to wait 180 days before retaking an exam.
How Do You Take the Exam?
Since 2006, DSST exams have been available in an online format, which allows you to get your scores immediately, and allows your college or university to get them quickly.
DSST exams can be taken at national test centers, which are both on-campus at colleges and universities, and base-sponsored. Military personnel taking the exam at an on-campus national test center pay only a small administrative fee; the exam itself is free. Civilians taking a DSST exam pay $80 for the exam, plus the administrative fee.
In addition, approximately 100 military installations currently offer online DSST testing on base. If you take your DSST exam on base, both the exam itself and the administrative fee are covered by DANTES. Be aware that the paper-based DSST exam given at a national test center is not funded by DANTES.
DSST exams take up to 2 hours to complete. Arrive early, and be sure to bring some form of photo identification, number 2 pencils (if necessary), a black pen (if an essay is required), and a watch. Test-takers are not permitted to bring cell phones, pagers, or other electric devices into the testing area.