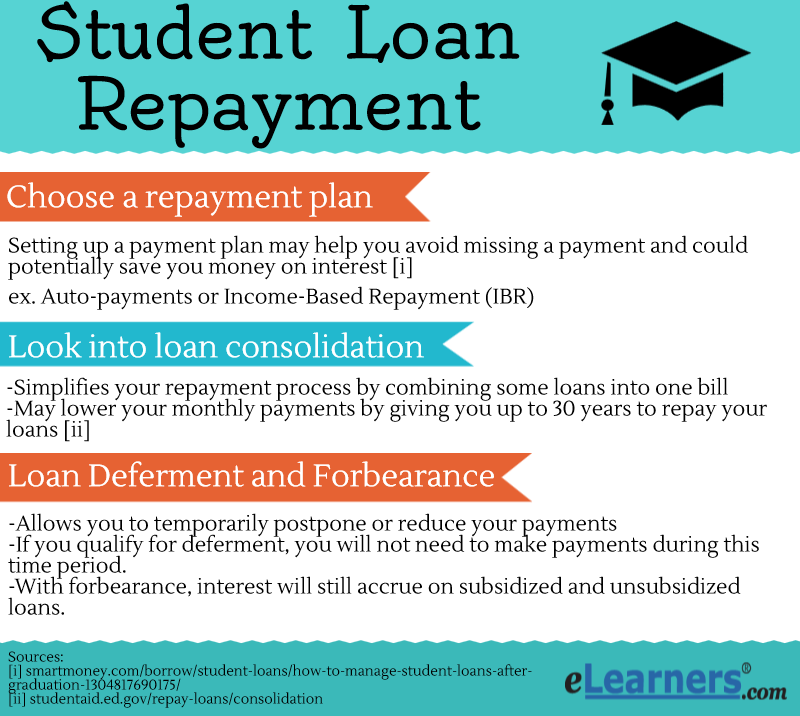 Graduation is generally a time for students to let loose and celebrate. However, finishing college also means it's time to start repaying your student loans. Understanding the repayment process – including the steps you need to take and what you need to avoid – is critical to ensuring that your financial situation does not go south.
Making Payments
The place to start is to determine the specific payment process of your loan servicer. It is your responsibility to ensure that you stay in touch with your servicer and make your payments on time, regardless of whether or not you actually receive a bill. You can  visit the National Student Loan Data System (NSLDS®) to retrieve loan information (including contact info for your loan servicer) for any federal student loans you have received.
Choosing a Repayment Plan
According to an article on Smartmoney.com, setting up a payment plan may help you avoid missing a payment and could potentially save you money on interest.[i] Auto- payment plans are a great option, wherein you provide your lenders with your checking information so monthly payments are made automatically. You can also check with your lender to see if they offer discounts to borrowers that pay electronically.
If you have a federal student loan, the Income-Based Repayment (IBR) plan is worth taking a look at. IBR was set up by the federal government to reduce monthly payment and help make loan debt more manageable for students. To qualify, the monthly amount you are required to pay under the 10-year Standard Repayment Plan must be higher than the monthly amount you would be required to pay under IBR. [ii]
Looking Into Loan Consolidation
Loan consolidation can simplify your repayment process by combining all of your loans into one bill. This may lower your monthly payments by giving you up to 30 years to repay your loans. [iii] Consolidation may also give you the option to switch your variable interest rate loans to a more palatable fixed interest rate. What you do need to keep in mind is that by increasing the length of your repayment period, you will also make more payments and pay more interest in the long run.
Loan Deferment and Forbearance
If you have a federal student loan, under certain circumstances you can apply for deferment or forbearance of your loan – allowing you to temporarily postpone or reduce your payments. If you qualify for deferment, you will not need to make payments during this time period. Furthermore, in the cases of Federal Perkins Loans, Direct Subsidized Loans and Subsidized Federal Stafford Loans, the government may pay your interest. [iv]
If you find you are unable to follow through on your loan payments and you don't qualify for a deferment, forbearance is another option to prevent you from defaulting on your loan. With forbearance, interest will still accrue on subsidized and unsubsidized loans, but you may be able to stop or reduce your monthly payment for a period of up to a year. [iv]
It's very important to remember that you must first work with your loan servicer to apply for deferment or forbearance before you stop making any of your payment!
The Consequences of Loan Default
If you don't make your monthly loan payments, you risk going into going into loan default. If you think you  are in danger of missing a loan payment you should contact your loan servicer immediately. Failure to do so can result in the following financial ramifications:
Your full unpaid loan balance (including interest) will immediately be due
You will no longer be eligible for deferment, forbearance or repayment
Your loan account can be handed over to a collection agency and reported as delinquent to credit bureaus (which can negatively affect your credit rating). 
The IRS has the right to take your federal and state tax refund to collect on your defaulted student loan debt
Your employer may garnish your wages (at the request of the federal government)
You may be sued by your loan holder, which can prevent you from buying or selling assets [v]
---
[i] smartmoney.com/borrow/student-loans/how-to-manage-student-loans-after-graduation-1304817690175/
[ii] studentaid.ed.gov/repay-loans/understand/plans/income-based
[iii] studentaid.ed.gov/repay-loans/consolidation
[iv] studentaid.ed.gov/repay-loans/deferment-forbearance
[v] studentaid.ed.gov/repay-loans/default