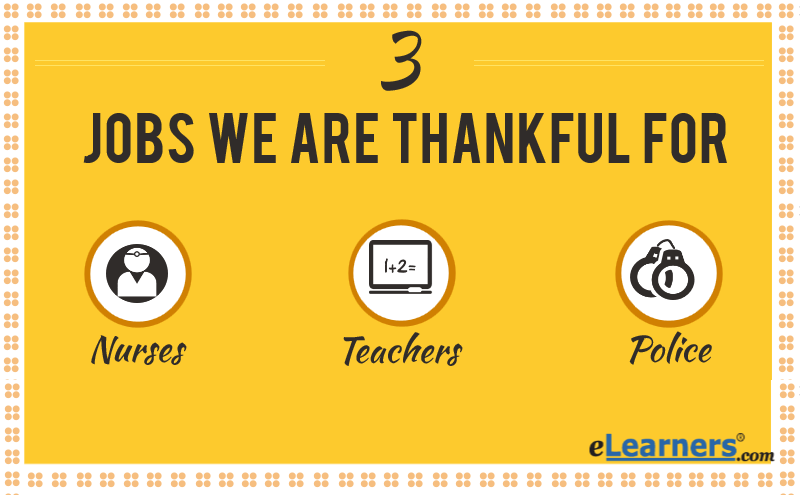 You know you're doing something right in your career when total strangers start sending you greeting cards and thank you notes. Getting thanks—genuine, heartfelt thanks—is probably worth more than any holiday bonus in history. Unfortunately, most of us don't get the chance to enjoy this amazing honor.
If you want to make a difference in the world—to bring about health, happiness, and hope for the future—you may be an ideal candidate for one of the following roles. Don't worry, you can thank us later…
Nursing
Nursing is already a popular career goal for many college students and career changers. Job prospects for registered nurses (RNs) are expected to be excellent in the coming years. In fact, some areas need RNs so badly that hospitals may be willing to provide signing bonuses (a lump sum of cash upon getting hired), very flexible work schedules, and tuition support for advanced nursing training.
Plus, nursing doesn't always require years and years of college before students can get to work. Many RNs start work after earning a two-year associate degree in nursing (ADN) or after a short-term diploma program in licensed practical nursing (LPN). Healthcare employers often do prefer RNs with a bachelor degree (or BSN), but as noted above, it may be possible to start earning money and gaining experience as a nurse with just a few years of college completed. Later on, RNs may wish to earn their Bachelors in Nursing online, and potentially get help paying for it—thanks to employer tuition reimbursement.
All logistics aside, nursing is a job route that's often rewarded with thanks and appreciation. National Nurses Day and Nurses Week are both celebrated in May. And you don't have to look very hard in any doctor's office or hospital to find huge bulletin boards full of thank-you notes, baby photos, and truly appreciative letters. When was the last time anyone got a thank-you note for work done in a cubicle, a call center, or behind a cash register?
Teaching
It's true that teachers aren't always thanked as often as they should be. Teaching careers come with the awesome advantage of difference-making potential. As a teacher, you could change a kid's entire outlook on education and the world. You could help a student feel important, or act as the role model he doesn't have at home. You could make learning fun by showing kids why history is so fascinating; or why books, music, and theater are so inspiring.
Added bonus? Getting into teaching may be easier than you think. Thanks to some innovative colleges and teaching programs, you may be able to earn your teaching degree and prepare for state certification through an online college program. Online teaching degrees still require in-person, student teaching sessions, but your college could help you find a local, student teaching placement in your area. All other coursework may be completed online. Find out which online teaching degrees may lead to teacher licensure in your state…  And don't forget Teacher Appreciation Day is in May!
Browse Online Education Degrees
Public Service
Students who put in the effort to get prepared and stand apart from other candidates may have the chance to do some of society's most important work. Police duties can range from the typical, action-packed assignments we see on television (drug busts, car chases, emergency first response) to the more everyday assignments that also keep people safe (traffic duty, theft investigation, etc.) Some officers hold niche roles as college campus police officers, public school officers, or even federal agency officers.
If you speak another language and you're willing to earn some college credits, you could be a valuable resource to security agencies like the FBI, DEA, or Border Patrol. And you'd better believe the public is grateful for security officers. Public Service Recognition Week is celebrated in May. Drop a line to your local police force, fire department, or local elected officials—at least the ones you voted for.