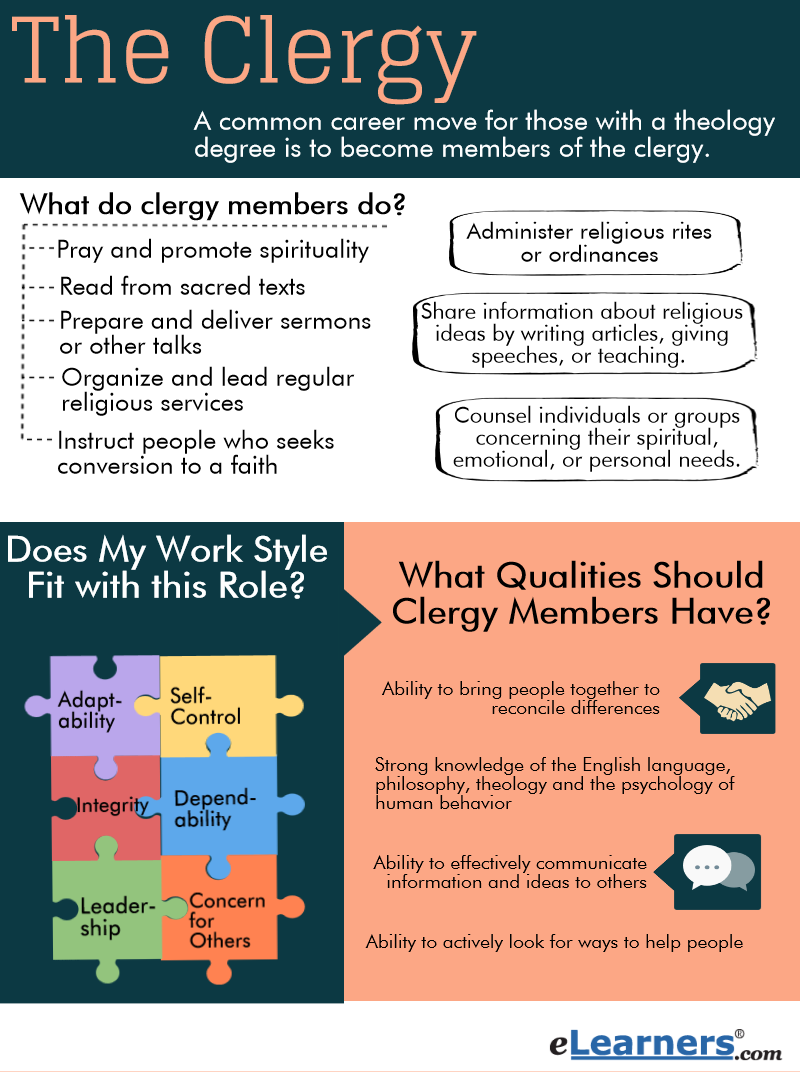 If you're nearing the end of your theology degree, you're likely at the point where you're trying to determine what type of career path you'd like to take. Although there are many options to explore, a common career move for those with this type of degree is to become members of the clergy. Some job titles in this occupation that you are likely already familiar with include Pastor, Minister, Priest, Rector, College Chaplain and Confessor.
Below, we will take a look a more in-depth look at the tasks, skills and work styles for clergy members so you can get a better idea of whether or not this occupation would be a good match for you.
What are the Typical Tasks of Clergy Members?
The primary role for clergy members is to conduct religious worship and provide spiritual and moral guidance to members of your denomination. According to O*NET[i], some of the key tasks of clergy members include:
•    Pray and promote spirituality.
•    Read from sacred texts such as the Bible, Torah, or Koran.
•    Prepare and deliver sermons or other talks.
•    Organize and lead regular religious services.
•    Share information about religious ideas by writing articles, giving speeches, or teaching.
•    Instruct people who seek conversion to a particular faith.
•    Counsel individuals or groups concerning their spiritual, emotional, or personal needs.
•    Visit people in homes, hospitals, or prisons to provide them with comfort and support.
•    Administer religious rites or ordinances.
What Type of Skills Are Required in the Clergy?
If you are thinking about becoming a member of the clergy, there are particular skills and abilities that will be an asset on the job. In addition to a strong knowledge of the English language, philosophy, theology and the psychology of human behavior, clergy members also require the following:
Service Orientation: The ability to actively look for ways to help people.
Active Listening: This involves giving full attention to what the speaker is saying, taking time to understand their points, asking questions as appropriate, and not interrupting.
Social Perceptiveness: Being aware of others' reactions and understanding why they react as they do.
Speaking / Teaching: The ability to effectively communicate information and ideas to others.
Critical Thinking:  Using logic and reasoning to identify the strengths and weaknesses of solutions or approaches to problems.
Negotiation and Persuasion: The ability to bring together others to reconcile differences or
Written /Oral Comprehension: The ability to read and understand written  information and the ability to listen an understand ideas presented through speech.
Does My Work Style Correspond with this Role?
A good thing to consider when looking into potential career paths is whether or not your work style corresponds with the types of activities involved on a day-to- day basis. To that end, let's take a look at some of the typical work styles required  for members of the clergy:
Integrity: This job requires being both honest and ethical.
Concern for Others: In this role,  you will need to be sensitive and understanding to the needs and feelings of others.
Self-Control: You must be capable of maintaining your composure, keeping your emotions in check and avoiding aggressive behavior in this role.
Dependability: This job requires you to be responsible, reliable and dependable to your members of the church and co-workers.
Leadership:  As a member of the clergy, you should be willing to lead, take charge and be a decision-maker.
Adaptability: This job requires you to be open to change and able to adapt to different situations in the workplace.
What is the Annual Median Salary of a Clergy Member?
According to the U.S. Bureau of Labor Statistics (BLS), the median national wage for members of the clergy in is $43,800 annually. [ii]
---
[i] http://www.onetonline.org/link/summary/21-2011.00 | [ii] http://www.bls.gov/oes/current/oes212011.htm#nat