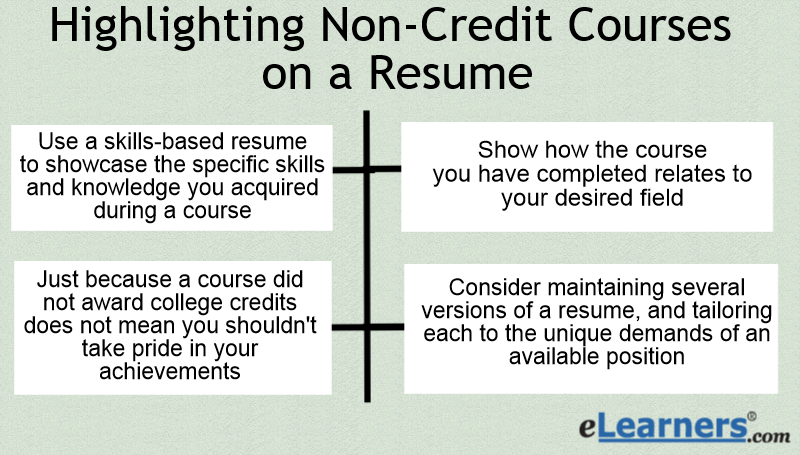 In today's highly competitive job market, the value of college credentials cannot be understated. With increasing competition for available positions and numbers of highly motivated college graduates rising all the time, students need to do everything they can to differentiate themselves from the competition. One way to achieve this may be to broaden your knowledge and skill set by completing non-credit college courses, but when it comes to highlighting these accomplishments, how should you go about presenting these courses on your resume?
One Size Does Not Fit All
Regardless of whether you're an aspiring marketing professional or have your sights set on pursuing a career in the technology field, there are almost as many ways to format a resume as there are jobs to apply for. However, the overall structure of your resume will inform how you should include information about non-credit college courses.
Let's say, for the sake of example, that you have an impressive degree from a good school, but lack the vital work experience that many employers want to see from prospective candidates. If this situation sounds familiar, then the chances are good that you're already up to speed with what is known as a skills-based resume - a summary of what you can do and precisely how you can bring value to an organization. Skills-based resumes are ideal for presenting non-credit college courses, such as those taken through online learning platforms like Udemy, as you can highlight the specific skills and knowledge you acquired during these courses, instead of focusing on their traditional academic merit.
Emphasizing Relationships
Many students maintain active profiles on LinkedIn to serve as another tool in their post?-graduation job search. However, the kind of relationships you should highlight on your resume, regardless of its format, are how the non-credit college courses you have completed relate to your desired field. For instance, if you're seeking a position at a technology company, you may want to specify the skills you acquired through a non-credit college course and how the relate to the job description of the role in question. Just because a course did not award college credits does not necessarily mean you did not acquire some valuable practical skills as a result.
Although it may seem like a lot of work, maintaining several versions of a resume, and tailoring each to the unique demands of an available position, could be a highly effective approach when seeking new opportunities. Remember, most hiring managers spend less than 1 minute scanning the resumes of each individual applicant, so be sure to present your non-credit college courses as an asset that proves you have the skills HR managers are looking for.
Shout Your Non-Credit College Courses From the Rooftops
Some students assume that because a course did not count toward their college credits that they should not highlight it on their resume, or that it would make a good conversation starter in an interview. However, savvy candidates realize that virtually anything can be framed as an accomplishment - one that another prospective hire vying for the job may not have. Just because a course did not award college credits does not mean you shouldn't take pride in your achievements. However you choose to format your resume, emphasize your unique selling points with pride and make sure hiring managers know exactly what you can bring to the table.