Psychology is one of today's popular majors for undergraduates[1], according to the National Center for Education Statistics. Because the principles of psychology are useful in fields from human resources to rehabilitative therapies to educational testing, psychology graduates can explore a wide variety of psychology careers by degree level. A bachelor's or associate degree in psychology could be a way into entry level psychology jobs, for example. Or, those who want to go on to graduate school might find fascinating careers with a master's in psychology. A PhD may not even be necessary!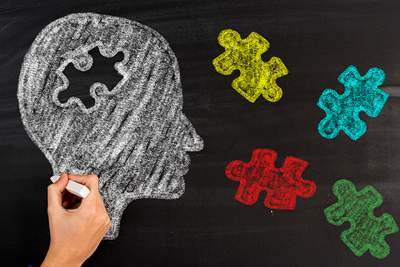 Whether you're exploring an undergrad or graduate degree, there are a wealth of outstanding online psychology programs to choose from. Read on to learn about psychology careers by degree level and find colleges that offer the right degree, certificate and specialty options for your needs. The path to your future awaits!
Southern New Hampshire University (SNHU) is a private, nonprofit institution with more than 80,000 online students. Accredited by the New England Association of Schools and Colleges, SNHU's bachelor's and master's programs help students develop an understanding of psychological theory and methods that may be applied across a variety of nonprofit, corporate and education settings.
Programs
Bachelor of Arts in Psychology:Students can follow a general psychology track or specialize in one of six concentrations: addictions, applied psychology, child and adolescent development, forensic psychology, mental health, social psychology.
Bachelor of Science in Business Studies in Industrial-Organizational Psychology: Students learn how to apply psychological principles to improve individual performance within an organization.
Master of Arts in Clinical Mental Health Counseling: The first step in the path toward licensure as a clinical mental health counselor, this program helps prepare students for post-graduate fieldwork licensing exams.
Master of Science in Psychology: Students can choose among concentrations in child developmental psychology, forensic psychology and industrial and organizational psychology. This program could also prepare them for doctoral-level coursework.
Three-quarters of the undergraduate students at this private, nonprofit school are enrolled solely in distance education. Ninety percent are over the age of 25. Accredited by The Higher Learning Commission, the Council on Social Work Education and the National Board of Certified Counselors), bachelor's and master's programs at Union are designed to prepare students for careers in mental health and human services fields as well as for graduate-level study.
Programs
Bachelor of Arts in PsychologyStudents can concentrate in addictions studies, forensic psychology or holistic psychology.
Master of Arts in Clinical Mental Health Counseling: This program prepares students for certification or licensure as a professional counselor or clinical mental health counselor. It can also help equip them for future doctoral studies in counseling and related fields.
This 150+-year-old, state-related land grant institution launched its online school, Penn State World Campus (PSWC), in 1998. Accredited by the Middle States Commission on Higher Education, PSWC offers two fully online bachelor's programs in psychology and the world's first fully online psychology club. Courses utilize mainstream technology tools such as email, Skype, discussion forums, chat rooms, and Blackboard Collaborate.
Programs
Bachelor of Arts in Psychology:A well-rounded curriculum in humanities, social sciences and science can help prepare students for careers in social work or caregiving professions.
Bachelor of Science in Psychology:Students can choose one of two tracks: a business option lays the foundation for careers in areas such as human resources, management or health care administration while a life sciences track is ideal for those considering graduate studies.
Originally founded in 1998 and accredited by The Higher Learning Commission, University of the Rockies is a private, for-profit graduate school that offers online psychology graduate programs with an exceptionally wide range of specializations. Online courses can be accessed 24 hours a day, seven days a week and all faculty members have doctorate degrees and recent experience practicing what they teach.
Programs
Master of Arts in Psychology:Students explore how to implement the insights of psychology in real-world domains through concentrations such as career management and counseling, criminology and justice studies, industrial organizational psychology, mediation and conflict resolution and sport and performance psychology.
Master of Arts in Counseling:This program may lead to licensure. Students discover how to implement the insights of counseling through specializations such as addiction counseling, clinical mental health counseling and marriage, couples and family counseling.
Doctor of Psychology:Through concentrations including business psychology, criminology, non-profit management and sports psychology, students gain psychological understanding that can be applied in executive business and management positions.
Doctor of Psychology, Clinical Specialization:This program may lead to licensure. With areas of concentration including clinical neuropsychology, forensic/correctional psychology, health psychology, marriage and family therapy and sport neuroperformance, courses prepare students to apply scientific research findings to everyday practice.
Backed by 75 years of experience in the education business and accredited by The Higher Learning Commission, Kaplan University prides itself on providing online learners with a quality education that's both customized and flexible. Some programs offer students the unique option of working toward a bachelor's degree while simultaneously completing courses in a master's degree program.
Programs
Human Services Certificate in Psychology:Designed for those who want to pursue a position or a potential promotion in the field of human services. Specializations include Elder Care and Child and Family Services.
Graduate/Post-Graduate Certificate in Psychology:Motivated professionals can expand their competencies in preparation for advancing or diversifying within their fields through coursework in applied behavior analysis, autism spectrum disorder, addictions and industrial/organizational psychology.
Bachelor of Science in Psychology:Students can learn how to implement the insights of psychology within concentrations such as applied behavior analysis, industrial/organizational psychology and addictions.
Master of Science in Psychology: With concentrations in addictions, applied behavior analysis and industrial / organizational psychology, this program explores the application of the principles of psychology to real-world domains.
This private, liberal arts university incorporates a Christian worldview in its online psychology programs, and students are assigned an academic advisor to help guide them through their time at the school. With full accreditation by the Western Association of Schools and Colleges, California Baptist University offers online psychology degrees at the undergraduate and graduate level.
Programs
Bachelor of Art in Psychology:Coursework equips graduates for employment in human and social service careers.
Master of Science in Counseling Psychology:Students work to become prepared for careers in marriage and family therapy or professional clinical counseling.
Founded in 1914 with one teacher and two students Colorado Christian University (CCU) has grown into a private, interdenominational Christian college with over 5,300 undergraduate students--36% of whom are enrolled only in distance education. Classes are taught from a Christian worldview with adult learners in mind and the school is regionally accredited by The Higher Learning Commission
Bachelor of Science in Psychology:With an impressively wide array of focus areas to choose from (abnormal psychology, environmental psychology, interpersonal relationships, research methodology, integration of psychology and theology), this program prepares graduates for careers in psychology and related fields. CCU psychology graduates have explored jobs and careers such as paraprofessionals in clinics and hospitals, case workers in social service, educational aides and staff positions in church and para-church ministries.
Built on a diverse and rich academic foundation, Argosy University was formed in 2001 with the merging of three separate academic institutions—the American Schools of Professional Psychology, the University of Sarasota and the Medical Institute of Minnesota. Today, Argosy University is accredited by the WASC Senior College and University Commission to offer programs at the associate, bachelor and graduate level.
Programs
Associate of Art in Psychology: Blending theory and practice in psychological science with coursework in the liberal arts, the curriculum is designed to help students acquire foundational knowledge, skills, and competencies that can be applied towards entry-level employment and/or provide the basis for continuation toward a BA.
Bachelor of Art in Psychology:After choosing a concentration in advanced studies in psychology, criminal justice, human services, organizational psychology, substance abuse or child and adolescent studies, students gain the skills and competencies to launch their career or enter graduate study in fields such as counseling, social work, and marriage and family therapy.
Master of Art in Psychology:This program prepares students to enter a master's level professional career or to pursue doctoral studies. Students can work toward an MA in Clinical Mental Health Counseling, an MA in Forensic Psychology, an MA in Industrial/ Organizational Psychology, or an MA in Sports-Exercise Psychology.
With the goal of pursuing leadership, supervisory, training and teaching positions in the counseling profession, students in this program focus on the application of research techniques to practices in mental health, social work, school counseling, pastoral counseling, family therapy, and psychiatric nursing.
BS/MS vs. BA/MA: Which is Right for You?
The answer depends on whether you are more interested in the science of psychology or its practical applications.
Choose a BS/MS if you're interested in the function of the brain as it affects human behavior
Choose a BA/MA if you want a versatile curriculum that emphasizes theory and case studies
No PhD? No problem!
While psychologists typically need a doctoral degree[2] in psychology, a master's degree may be sufficient for school and industrial organizational positions. Psychologists in clinical practice need a license. But while you can't become a counselor or therapist without a psychology degree, many other jobs make use of the critical thinking skills gained through non-PhD studies in psychology. Here are some interesting psychology careers by degree level.
Entry-level psychology jobs[3]
Social and human service assistant
Childcare worker
Home care aid
Occupational therapy/ physical therapy/ psychiatric aid
Jobs you could pursue with a bachelor's degree in psychology[4]:
Training and development specialist
Market research analyst
Probation officer/ correctional treatment specialist
Human resources manager
Social worker
Careers you could explore with a master's degree in psychology[5]:
School/ career counselor
Marriage and family therapist
counselor
Substance abuse/ mental health/ Behavioral disorder counselor
Rehabilitation counselor
Checklist for researching online psychology degree programs
Does the program offer the degree I need?
Is the program accredited?
Are there opportunities to specialize?
Are there in-person requirements?
What student services does the program provide?
---
[1] http://nces.ed.gov/fastfacts/display.asp?id=37;https://www.usnews.com/education/online-education/bachelors/rankings
[2] https://www.bls.gov/ooh/life-physical-and-social-science/psychologists.htm#tab-4
[3] https://www.bls.gov/ooh/occupation-finder.htm
[4] https://www.bls.gov/ooh/life-physical-and-social-science/psychologists.htm#tab-8
[5] https://www.bls.gov/ooh/life-physical-and-social-science/psychologists.htm#tab-8