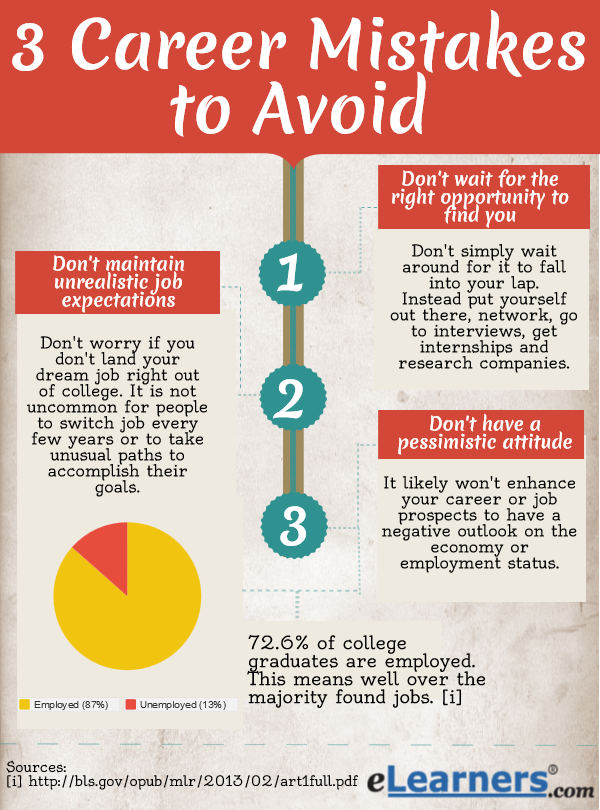 While the economy may be tough, it's still possible for college graduates to persevere and find full-time positions that they actually enjoy. However, you'll need to understand that the path to employment may be a tough one filled with many obstacles. In order to succeed, you must be prepared for and ready to face the professional road ahead.
To better assist you, here are three painful career mistakes college graduates must avoid when entering the work force.
1. Don't have a pessimistic attitude: Chicken Little, the sky is not falling—even in today's rocky economic climate. According to the U.S. Bureau of Labor Statistics, in 2011, roughly 11.3 percent of college graduates were unemployed and 72.6 percent were employed. This means that the well over the majority found jobs. While the unemployment rate still may be high, it won't advance your career or job prospects to keep a negative outlook on the economy or employment status. Hold your chin up and have a healthy attitude as you continue to pursue your desired profession.
2. Don't maintain unrealistic job expectations: So you didn't get hired at The New York Times right out of college. That doesn't mean your career was doomed before it even started. Today, it's not uncommon for people to switch jobs every few years, or to take unusual (and non-linear) paths to accomplish their goals and make it to the top of a respective field. If it is The New York Times you want to work for, find out what qualifications you'll need to gain employment there. 
3. Don't wait for the right opportunity to find you: Remember the saying "the early bird gets the worm"? Well, it definitely applies to the job market. While it might be tempting to take your time to find the right opportunity, don't simply wait around for the right opportunity to fall into your lap. If you want to get started on your career path after graduation, you have to put yourself out there, network, go to informational interviews, get an internship, attend career fairs, and research companies that you want to work for.
Avoiding the three pitfalls above may not always be easy. But remember, you have a long life ahead of you so don't get impatient if it doesn't happen for you all at once.