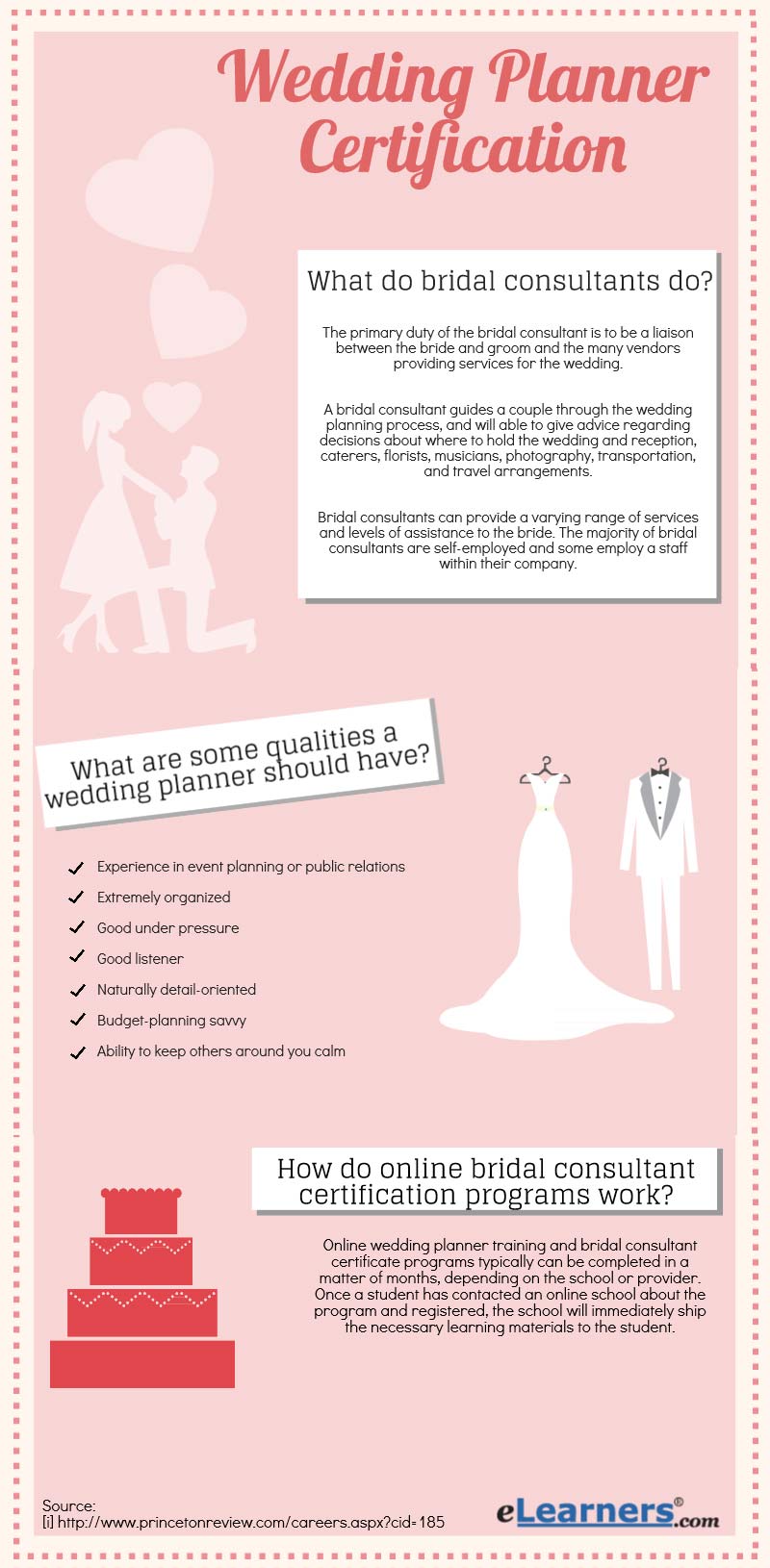 Though you spent countless hours as a little girl daydreaming of your wedding day, on average, today's bride spends even more time planning a wedding.
With millions of weddings taking place every year in the United States, the wedding and bridal industry brings in billions of dollars of revenue annually. And you guessed it, that means there is high demand for wedding planners!
This fast-growing industry is also contributing to a major boom in related industries, such as musicians and photographers; businesses in the food and hospitality industry; beauticians and seamstresses, etc.
1. What do bridal consultants do?
The primary duty of the bridal consultant is to be a liaison between the bride and groom and the many vendors providing services for the wedding. The expertise and helpfulness of a bridal consultant depends on training and experience.
A bridal consultant guides a couple through the wedding planning process, and will able to give advice regarding decisions about where to hold the wedding and reception, caterers, florists, musicians, photography, transportation, and travel arrangements.
Bridal consultants can provide a varying range of services and levels of assistance to the bride. The majority of bridal consultants are self-employed and some employ a staff within their company.
2. You might be a wedding junkie if
You subscribe to Modern Bride and Martha Stewart Weddings even though your wedding day has already come and gone or you're not even in a serious relationship.
"Pachabel's Canon in D" is your cell phone ring tone.
You know what a "pomander," "boutonniere," "fondant," and "stephanotis" are.
You picked out your engagement ring before you met your fiancé.
You have weighed the pros and cons of satin, chiffon, and organza.
You scoff at those who can't distinguish between the colors "celery" and "celadon."
You are seriously torn between a three-tiered floral embossed fondant cake with clusters of sugar-paste hydrangeas or a five-tiered pillar cake with mousseline buttercream frosting and sugar paste roses and edible pearls.
You eagerly RSVP to each and every bridal shower, bachelorette party, and wedding to which you are invited, mostly so you can get more inspiration and fresh ideas.
You are surprised when friends or family have no idea who Reem Acra, Ulla Maija, or Amsale Aberra are.
3. Can I become a wedding planner online?
Yes! You can earn a wedding planner certificate entirely online via the Internet or through a correspondence program via good ol' U.S. Postal Mail.
Though the bridal and wedding industry currently has no formal educational requirements for becoming a wedding planner, it is important to be closely familiar with the industry, as well as national trends, able to anticipate the needs of a client, and a wedding planner program cab help you network within the industry. Remember, at the end of the day, it's all about working with a couple to create an event that reflects their own personality and values under the constraints of time, space, and money!
4. How much do wedding planners earn?
Ah, but who cares about money when you truly love what you do? Just kidding, of course.
According to The Princeton Review, "Depending on the size of the wedding, income can be quite high. The average wedding today costs $20,000—at 15 percent that's a $3,000 commission. Wedding consultants who organize just two $20,000 weddings a month, earn more than $75,000 a year." [1]
5. What are some essential qualities that make a good wedding planner?
Experience in event planning or public relations
Extremely, fanatically, anal-retentively organized
Good under pressure
Good listener
Naturally detail-oriented
Budget-planning savvy
Able to keep others around you (like a frantic bride!) calm
Ability to continually project confidence and professionalism
6. How do online bridal consultant certification programs work?
Most online wedding planner training and bridal consultant certificate programs can be completed in a matter of months, depending on the school or provider. Once a student has contacted an online school about the program and registered, the school will immediately ship the necessary learning materials to the student.
Study materials will vary depending on the particular school or program provider, but may include textbooks, study guides, eBooks, CD-ROMs, etc. A bridal consultant program may be composed of 5 - 8 lessons. Some programs prepare students for exams to join a bridal consultant network, such as the Association of Bridal Consultants, based in Connecticut.
7. Are there any prerequisites for an online bridal consultant certificate?
Typically, there are no prerequisites for enrolling in an online wedding planner program or bridal consultant course, but it depends on your online school or provider.
Some may require that you have a GED or High School diploma. While it can definitely be helpful, you do not need to have industry or career experience to enroll in a bridal consultant program.
8. Will I ever have to go to a campus?
The majority of bridal consultant certification programs do not have a residency requirement, which means that you can complete your program completely online without ever having to visit a campus.
Plus, most wedding planner certification programs have open enrollment, which means that you can register for a program and start as soon as you receive all of your certificate program materials, In fact, most schools encourage you to start right away!
9. Will I be able to study at my own pace?
Yes, and this is one of the major benefits of an online program. Most programs are outlined so that as soon as you complete a lesson and/or pass a lesson exam, you will be sent the materials for the following lesson. The majority of programs are self-paced and asynchronous (not live).
[1]princetonreview.com/careers.aspx?cid=185