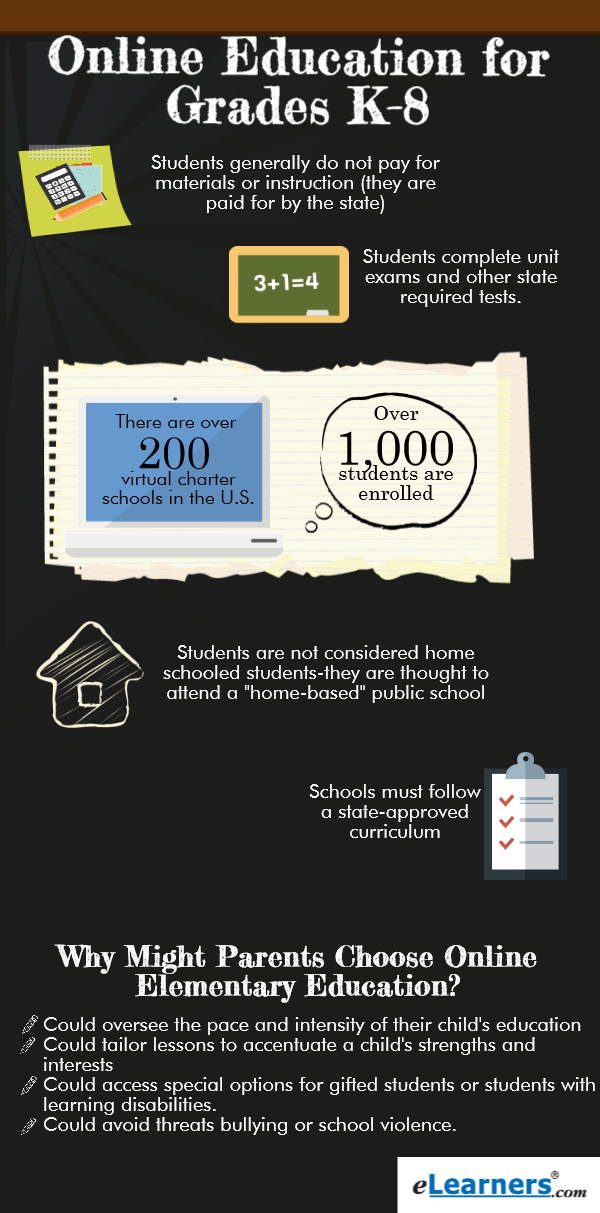 Online education is not just for adults. Just as online universities have changed the way college students view their educational options, online elementary school providers are giving parents an attractive alternative to the local schoolhouse.
Online Charter Schools
Online charter schools are independent schools that are funded by the government. Most importantly, their classes are conducted online. All materials and instruction are free to students. In some cases, states even pay to supply personal computers and Internet connections in students' homes. Students complete unit exams and other state required tests to ensure they're progressing at an appropriate pace. Their teachers can be reached through email and phone calls, and with occasional face-to-face visits.
Even though many online charter school students study at home, they are not considered homeschooled students. Instead, they are thought to attend a "home-based" public school. Just like other public school students, they don't have to pay for their own books and materials. Because the state pays for these things, online charter schools students must follow a state-approved curriculum.
While state tax dollars help to meet operating costs on a per student basis, charter schools are often also supported by independent curriculum companies. These companies help to standardize course content and maintain the schools' virtual infrastructures.
Private Cyber Schools
Private cyber schools are sometimes known as online academies. They offer packaged curriculums to homeschooled students, who pay out of pocket. These curriculums supplement independent homeschooling lessons. For example, a homeschooling parent may need help designing his science lessons, but prefer to draft all his own history classes.
An important point to note: private cyber school curriculums are often the same ones used by online charter schools. Charter school students get to access the materials for free, but they're bound to the charter school rules and administration. Homeschooled students can pay for the same lesson plans, and use them with free reign.
Umbrella/Cover Schools
Umbrella schools earn their name because they cover all the aspects of homeschooling. Umbrella schools are not tied to state funds, and they also don't require parents to teach or grade. Umbrella schools evaluate student schoolwork and keep track of students' scores and progress. Many have a religious affiliation, which underscores the overall curriculum, but umbrella schools can be secular as well. In some cases, umbrella schools organize group activities just like a traditional school would, including field trips, class projects, and state mandated immunizations.
Why Do Parents Choose Online Elementary Education?
They can oversee the pace and intensity of their kids' education, making sure it's not too fast or too slow.
They can tailor lessons to accentuate kids' strengths and interests, building on talents and getting kids more involved.
They can access special options for gifted students or students with learning disabilities.
They can avoid threats of bullying or school violence.