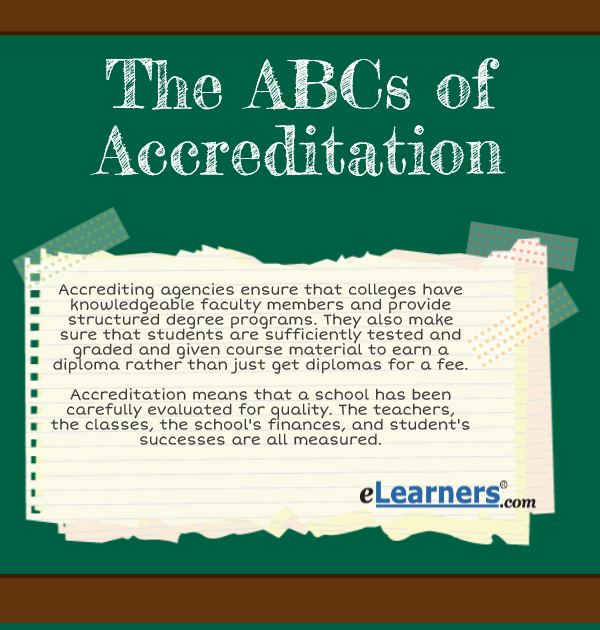 Accreditation is a topic that can be confusing as there is a lot of information to consider, including what accreditation means, the different kinds, when it matters most, how schools get it, and how to find out if your chosen school is accredited. Whether researching an online or traditional college, accreditation should be one of the first things you consider when choosing a program.
At its core, accreditation exists to protect students. Without it, people who don't live within driving distance of an online institution would have no way of knowing whether or not they are attending a legitimate college or an empty building with, at best, questionable instructors and zero student resources. The latter description is a "diploma mill" and there are over 1,000 known to exist in the United States alone. Accrediting agencies ensure that colleges have knowledgeable faculty members and provide structured degree programs. They also make sure that students are sufficiently tested and graded on assignments, and given course material to earn a diploma rather than just get diplomas for a fee.
Accreditation means that a school has been carefully evaluated for quality. The teachers, the classes, the school's finances, and student's successes are all measured. In short, accreditation is a serious check up.
The Accreditation Process
A part of the accreditation process, for both online and traditional colleges and universities, are school visits. In-person visits help to determine whether or not the school is actually providing everything it promises – including student resources and facilities. While colleges are not required to earn accreditation, they do apply for it voluntarily. Since accreditation determines whether or not a school can receive federal financial aid dollars, it is important to for schools to do so. Further, accreditation sometimes determines whether a student's coursework can transfer. For instance, if you were to take a class at a diploma mill and then later attend an accredited school such as the University of Massachusetts, your credits most likely wouldn't be recognized.
While it might seem that accreditation is the sole deciding factor in determining a legitimate school, this is not necessarily true. There are plenty of good non-traditional schools that, because either they don't fit the traditional model of higher education, or offer professional training, make them ineligible for mainstream accreditation. Individuals interested in such schools should do extensive research before enrolling by asking specific questions about offered courses and contacting current students or recent graduates to gauge their level of satisfaction.
Types of Accreditation
There are two main types of accreditation: institutional and program-based. If a school has institutional accreditation, from a reputable accrediting agency, all of its departments and degree programs meet basic standards of academic quality. Program-based accreditation means that a specific program or department, inside a given college, meets the high standards of professionals in that field. Both are important but, depending on your major, you may not be concerned with program-based accreditation.
Program-based accreditation is usually important for students who plan to become certified professionals. For example, accountants, nurses, doctors, and some mental health professionals need to be certified. This kind of accreditation is also important if your career requires you to take a professional exam – like the bar exam, for lawyers. Future attorneys who attend schools accredited by the American Bar Association can feel confident that they will cover the material included on the bar exam. If, however, a student is not yet sure about his exact career path, there are almost always other ways to qualify or prepare for a professional certification, if he decides to take that route later on.
Accreditation can either apply to an entire college, or to a single department inside a college. Many colleges have both types. Institutions that aren't colleges – like hospitals, for example – can receive program-based accreditation. Knowing your exact career path can be useful if you're hoping to select a school with program-based accreditation. But this isn't crucial. And the best rule of thumb is to select a college that has earned institutional accreditation from a reputable accrediting agency.
As far as the territory covered, accreditation agencies can be further broken down into two categories: regional and national. One is not worse or better than the other, they're just different. There are 6 regional accrediting agencies recognized by the United States Department of Education (USDE) and the Council for Higher Education Accreditation (CHEA), including: the Middle States Association of Colleges and Schools, the New England Association of Schools and Colleges, the North Central Association of Colleges and Schools, the Northwest Accreditation Commission, the Western Association of Schools and Colleges (WASC), and the Southern Association of Colleges and Schools (SACS).
Wanting to create consistent standards among schools in a given area, these six regional agencies were established in the 1800's and early 1900's as leagues of traditional colleges and universities. Long before the existence of emails, faxes, and websites, college advisors in Connecticut needed to know what high school students were learning in California. And employers in New York needed to know what college graduates had accomplished in Illinois. Accrediting agencies were started to make these standards clear to all the different people involved.
Later on, trade schools, religious schools, and other specialty colleges decided to develop standards for their own specific purposes. For example, the Accrediting Commission of Career School and Colleges of Technology (ACCSCT), accredits schools that offer career education. The Distance Education and Training Council (DETC), accredits schools that offer distance education – including online degrees. And the Association for Biblical Higher Education, the Association of Theological Schools, and the Transnational Association of Christian Colleges and Schools, all accredit faith-based schools.
Different, Not Better
Another important difference between the two kinds of accreditations is that regionally accredited schools often don't accept transfer credits from nationally accredited schools. This fact leads some people to assume that regionally accredited colleges are categorically more selective or "better" than their nationally accredited counterparts, though this is not the case. Acceptance of transfer credits isn't an issue of quality so much as it is an issue of applicability. If a student takes a course in gunsmithing at a nationally accredited school, it's difficult for a traditional, regionally accredited school to justify how that course applies to a liberal arts degree. Similarly, if you earn an associate's degree from a nationally accredited trade school, you might not be able to transfer those credits to a four-year bachelor's program. The courses may have been more difficult or less difficult than classes from a regionally accredited school, but it's just about relevance.
Determining whether or not an accrediting agency is legitimate is actually a simple process. First, a prospective student should select five or six colleges he is interested and then list the agencies that accredit those schools. Lastly, the student should go to the Department of Education's website, and check to make sure the accrediting agencies listed are recognized by the U.S. Department of Education's website (http://www.ed.gov) and check to make sure the accrediting agencies you listed are recognized by the US Department of Education.