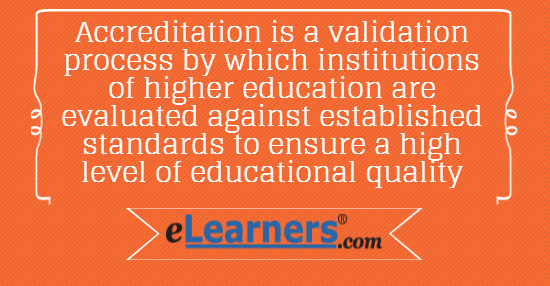 Will employers value the online degree you have received? Will you be able to transfer credits from your online course to another institution? Will the online program you select provide a rigorous and worthwhile educational experience? A key to answering these questions is an understanding of accreditation and the accreditation process. This article will provide you with the basic information you need to make wise and informed decisions when selecting an online program or course.
What is accreditation?
Accreditation is simply a validation process by which institutions of higher education are evaluated against established standards to ensure a high level of educational quality. It is typically accomplished through a peer-review process in which faculty from accredited institutions help to conduct evaluations of either new non-accredited institutions or accredited institutions seeking renewal. The standards used to conduct these evaluations vary but in general they assess: the institution's mission, goals and objectives, resources and resource allocation, student admission requirements, student support services and the quality of the faculty and educational offerings.
Why should I care about accreditation?Unlike the practices of most other countries, in the United States accreditation of institutions of higher education is not conducted by the government. Instead, it is a voluntary process that is implemented by private nongovernmental accrediting agencies. At present, there are both regional as well as national agencies involved in the accreditation process. The only role that the government plays is to evaluate these accrediting agencies using well developed criteria in order to identify those considered to be "reliable authorities" on the quality of institutions of higher education.
Knowing something about a school's accreditation can tell you a lot about the value of the degree or course for which you are paying. If you obtain a degree or take a course from a non-accredited institution you may find that the degree is not recognized by some employers or that the course credits may not transfer to other institutions. Understanding accreditation can also help you identify and avoid "diploma mills" (i.e. an unaccredited institution that grants degrees without ensuring students are properly qualified.)
To begin, it is important to understand that the term "accredited" is used rather loosely by some institutions and therefore you have to know what to look for when checking a school's accreditation. All institutions of higher education, online or "brick and mortar," should openly provide information on their accreditation to prospective students. The first thing to pay attention to are the words used. The documentation should clearly state that the institution is "accredited" and should list the accrediting agency. Some unaccredited schools use terms that give the appearance of accreditation when in fact none exists. Phrases that you should be wary of include: "pursuing accreditation," "chartered," "licensed or registered," "recognized," "authorized," or "approved." If these phrases are used without the term "accreditation" you should be sure to conduct a more detailed investigation. 
It is also very important to review the qualifications of the accrediting agency which has evaluated and approved the institution in question. The "American Association of Accredited Colleges and Universities," for example, may sound rather official but in reality this fake organization was invented several years ago by a less than prestigious college. This example illustrates the point that although, as noted earlier, the U.S. government via the Department of Education evaluates accrediting agencies, there are many that are not approved but that still operate, often in less than reputable ways.
How can you ensure that the accrediting agency is reputable?
Simple, be sure to check whether it is recognized by the U.S. Department of Education by visiting their listings of national and regional accrediting agencies.
Alternatively, you may also check the Council for Higher Education Accreditation (CHEA). CHEA is a nongovernmental coordinating agency that recognizes accrediting agencies in the United States and helps to coordinate policy and research on accreditation issues. They also maintain a list of national and regional accrediting agencies that have been evaluated and deemed to meet high quality standards.
What is the Carnegie Classification?
The Carnegie Classification data is a snapshot of U.S. higher education based on data available prior to the 2000 classification. It is based on the Higher Education Directory by Higher Education Publications, Inc. This Carnegie info tells you if a learning provider is accredited by an accrediting body recognized by the U.S. Department of Education (as of the 2000 Carnegie snapshot). It also tells you the level (Associates, Bachelors, Masters, Doctoral) of degree the institution is accredited to grant. Learning Providers may not be Carnegie classified for various reasons - when they are not located in the U.S., were not accredited by a "recognized" accreditor prior to the 2000 classification, or offer professional training or continuing educational opportunities that fall outside of the scope of the higher ed. Depending on your educational goals, you should also be cautious of the growing number of 'diploma mills' which do not aspire to meet any academic standards.
Are distance learning institutions accredited differently than "brick and mortar" institutions?
The answer is yes and no. Both the regional and national accrediting agencies, that are responsible for all accreditation including programs offered at a distance, hold distance learning institutions to the same high standards as other colleges and universities.
At the same time, they have recognized specific standards that are applied to "brick and mortar" institutions need to be adapted for distance learning to ensure that they continue to promote high quality education. For example, one of the fundamental distance learning standards looks at faculty support and whether they have the resources, facilities and equipment needed to engage in effective instruction at a distance.
Is accreditation a "cut and dry" issue?
The short answer is no. First, just because an institution is accredited does not mean that you are guaranteed a high quality education. It simply means that the infrastructure and educational offerings needed to get a good education are present. What you get from these resources depends a lot on what you put in.
Second, even if two institutions are accredited they may not allow you to transfer credit form one to the other. Other factors, such as your GPA, current and past degree programs, duration of the course, etc. may also factor into your ability to transfer credits.
Is not having accreditation always a bad thing?
No. It is important to stress that just because a school is not accredited it does not mean that they are inferior or illegal. For example, there are innovative non-traditional schools that may have not sought accreditation for legitimate reasons. In addition, some types of institutions that offer only professional training or continuing education may not be eligible to seek accreditation from the organizations previously mentioned.
As a result, it is likely that your education plans will play a role in how important accreditation is to you. For example, if you are seeking an online MBA, then you will likely want an accredited university or college. If you are simply looking to learn word processing then an online "training institute" that is not accredited might be fine. When making decisions about which online program is best for you, it is important to not only consider the institution's accreditation status, but your educational goals and learning needs as well.