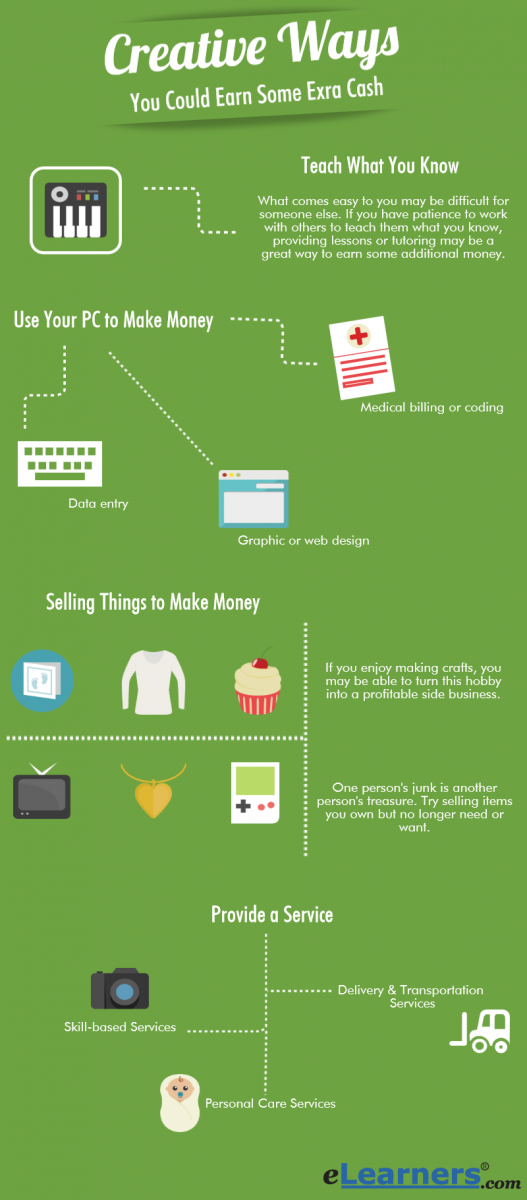 When it comes to managing your budget, the next best thing to saving money is earning extra money. You may be thinking that you are busy enough with school, kids, and work right now and just don't have time to take a second (or third!) job.
Well, you don't need to spend your valuable time making minimum wage working a cash register. You are smart and talented and there are a number of ways to earn extra money while still maintaining a good workable schedule. The list below demonstrates just some of the ways you can earn some extra cash.
Things You Can Do from Home to Make Money
Teach What You Know
Tap into your knowledge base or skill set and you are sure to find something of value that you can teach. What comes easy to you may be difficult for someone else. If you have patience to work with others to teach them what you know, providing lessons or tutoring is a great way to earn some additional money. Below are just a few ways you can make a little extra cash by instructing others:
Sports lessons (i.e. swimming, pitching, tennis, karate, golf)
Musical lessons (i.e. piano, singing, guitar)
Dance lessons (i.e. ballet, tap, hip-hop)
Tutoring (i.e. math, reading, foreign language)
Cooking lessons
Dog training
Self-defense
Using Your PC to Make Money
Obviously you have a computer or laptop, so why not get the most out of it? It is already helping you get your degree, and it can also help you earn money.< One convenience of making a little extra money by providing a service that utilizes your computer is that you can do it from the comfort of your own home, day or night. Just a few of the possibilities include:
Medical billing
Graphic or web design
Data entry
Transcription services
Word processing/typing
Accounting/bookkeeping
Payroll service
Selling Things to Make Money
Get Crafty
If you enjoy making crafts you may be able to turn this hobby into a profitable side business. People have a fondness for anything handmade, but with today's busy schedules they just don't have time to personally make these items. Selling the crafts you make is a great way to make money doing what you enjoy. Below are a few ideas to get your started:
Gift Baskets
Soaps
Candles
Scrapbooking
Greeting cards/announcements
Painting
Knitting
Jewelry
Hair Bows
Paintings
Woodworking
Become a Salesperson to Make Money
One woman's junk is another woman's treasure. Even a quick tour around you home can generate a long list of items you no longer use. Try listing them on ebay or Craigslist and you'll reap the rewards. You will eliminate clutter in your home, gain extra space AND make money. If you feel like selling is your thing, you can also step it up a notch and try telemarketing or your own direct sales business. Some suggestions for turning your persuasive powers into cash include:
Dealing in Antiques
Selling on ebay or Craigslist
Direct Sales (i.e. Mary Kay, Pampered Chef, Homemade Gourmet)
Telemarketing
Baked Goods
Provide A Useful Service to Make Money
There is a vast number of ways you can provide a useful service that other will pay for. Some services require a specific trade or skill. Others just require strength and the willingness to do the work that others prefer to avoid.<
Skills-based Services
If your customers are happy with the service you provide they will tell others about you. This means you can stay as busy as you'd like without any official advertising. Some profitable services include:
Sewing and alterations
Snow removal
Home/office cleaning
Event planning
Car repair
Lawn care/gardening/mowing
Handyman services (i.e. plumbing, wiring, painting)
Photography
Organizational services
Interior decorating
Delivery and Transportation Services
If you spend a lot of time at home, making money that involves getting out of the house may be perfect for you. This is especially true if you can make money doing things you need to do anyhow like running errands or shopping. Just consider today's fuel prices to make sure your earnings are really worth your time. To cut down on this cost try to combine your personal errands with the driving around you'll be doing for income. Some possible money-making opportunities include:
Newspaper delivery
Pizza delivery
Appliance delivery
Moving services
Errand running
Personal Care Services
If you are a people person, offering a service that provides some sort of care to others is a great way to cushion your bank account. If you do a good job, you can expect loyalty and a client base for years to come. Some services that benefit from a caring personality include:
In-home childcare
Salon services (i.e. hair care, nail care, facials, massage)
Dietician
Personal training services
Cooking services
Elderly care
Pet care/dog walking
These are just some of the ways you can earn extra money that don't include working retail or serving food. With a little creativity you can help finance your college education by doing something you enjoy and using the skills you have.