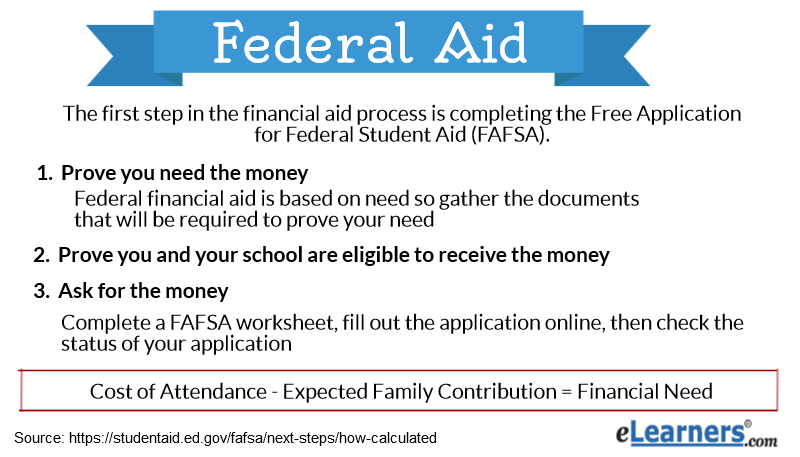 If you want the government to give you money for school you have to ask for it. Completing the Free Application for Federal Student Aid (FAFSA) is the first step in the financial aid process. You will have to provide information about yourself, your finances, and your school plans. That information will be used to determine what kind of financial help, or aid, you are eligible to receive.
Prove You Need the Money
Federal financial aid is based on need. Gather the documents that will be required to prove your need; anything related to the income you received the previous year is relevant. Your W-2 and tax return (and your parents' return if you are a dependent student) are key.
Prove You and Your School Are Eligible to Receive the Money
As an online student you are eligible for the same need-based aid available to traditional students as long as you meet the requirements and enroll in an eligible program.
To be eligible you must:
demonstrate financial need (except for certain loans).
have a high school diploma or a General Education Development (GED) certificate, pass a test approved by the U.S. Department of Education, meet other standards your state establishes that the Department approves, or complete a high school education in a home school setting that is treated as such under state law.
be working toward a degree or certificate in an eligible program.
be a U.S. citizen or eligible non-citizen.
have a valid Social Security Number (unless you're from the Republic of the Marshall Islands, the Federated States of Micronesia, or the Republic of Palau).
register with the Selective Service if required. You can use the paper or electronic FAFSA to register, you can register at www.sss.gov, or you can call 1-847-688-6888. (TTY users can call 1-847-688-2567.)
maintain satisfactory academic progress once in school.
certify that you are not in default on a federal student loan and do not owe money on a federal student grant.
certify that you will use federal student aid only for educational purposes.
To be eligible a school must:
be accredited
meet criteria established by Congress
and participate in the federal student aid programs
Call the school's financial office or visit the school's Web site to determine its eligibility.
Ask for the Money
It is easier than ever to submit a FAFSA. It won't take long at all if you are organized. You can complete it online in three simple steps. Complete a FAFSA worksheet, fill out the application online, then check the status of your application or correct information. Be sure to use the official government Web site so that your application process is secure and free of charge. You will open an account and request a pin, you will be able to save your document and work on it later, and take advantage of all the available support. The format is very user-friendly; there are pop-up hints and live help if you get confused.
The information you supply is then used to generate a Student Aid Report (SAR) which summarizes the FAFSA and indicates your Expected Family Contribution (EFC.) Though funds for higher education are at historic highs, the federal government operates under the premise that your education should cost you something. That amount is your Expected Family Contribution (EFC). It is based upon information you reported on the FAFSA including income, savings, family size, and the number of family members in college. Schools you listed on your FAFSA also receive this information. The school uses the EFC to determine your financial need — the difference between the cost of attendance and your EFC.
Cost of Attendance - Expected Family Contribution = Financial Need
You will then receive a financial aid award letter from the school. This letter details the financial aid package which represents the total amount of aid — grants, scholarships, loans, and work-study--for which you are eligible.
Deadlines
A good time to complete the FAFSA is as soon as possible after January 1. You may not have filed your tax return for the previous year, but it's not too early to start the financial aid process. You can estimate and take advantage of the FAFSA4caster. You can transfer data from FAFSA4caster to FAFSA on the Web once you are ready to apply for financial aid. You can update when information becomes available and add schools as necessary.
Though the FAFSA is a federal application, it is used to apply for aid from other sources including your state and the schools you select. Those deadlines for application may be different and may be earlier than the FAFSA deadline, so do your research. The financial aid office of the school(s) you attend, or plan to enroll, can help you find information about those deadlines. Be sure to ask how each school defines "deadline." Determine whether it refers to the date the application was submitted, or when it was received.
The sooner you apply, the sooner you can begin to plan for your future!