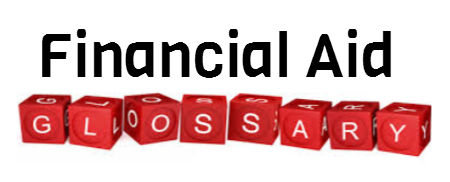 Financial aid is full of technical terms and similar-sounding program titles. If you've ever felt confused, you're not alone. The following glossary aims to help, by highlighting terms and phrases commonly used in financial aid descriptions or applications. If you're still uncertain about a term's meaning after reading its definition, or if you can't find the financial aid term you're looking for, be sure to speak to a financial aid expert – at your chosen college – before signing anything you don't fully understand.
Ability-to-Benefit Test - If you didn't graduate from high school or earn a GED, the federal government will not award you any financial aid for college or postsecondary training unless you can prove that you're academically prepared and likely to benefit from advanced education. The Ability-to-Benefit (ATB) test is a standardized exam used to make that determination. The U.S. Department of Education currently approves several different versions of the test, which are administered by community colleges and technical schools. In some cases, the test may also be a requirement for admission into a college program. At many community colleges, qualifying students can take the test for free; a small fee is sometimes required for those who fail and want to retest. Test format and score requirements vary, depending on which approved version is offered. (Update: Effective July 2012, federal financial aid will only be available to students who hold a high school diploma or a GED. If you are already receiving federal aid through the ATB qualification, you will not lose your eligibility.)
Capitalization - When you capitalize interest on a loan, you can avoid making payments for a certain period, but interest will still accrue during this payment-free period. The interest will be added to the principal loan amount, so when you begin to repay the loan you will have a new (higher) loan balance.
Cosigner - A cosigner is a person (often a family member or friend) who agrees to pay your loan in the event you default or fail to make payments. In order to qualify, a cosigner must present evidence of a significant income and a positive credit score. Most applicants for private student loans are required to have a cosigner, especially if the applicant is an undergraduate or a student without a steady income or credit history.
Credit Score - Your credit score is a measure of your creditworthiness. The number represents how likely you are to repay your debts, based on how much money you've previously borrowed, the types of loans you have taken out in the past, and your record of on-time payments. In a lender's eyes, the lower your credit score, the more likely you are to default and not pay your loan in full. If your credit score is high, you are considered a lesser risk and, are more likely to receive a loan – sometimes with more favorable interest rates.
Although private lenders approve or deny loan applications based on your credit score, most federal education loans do not depend on it. The exception is the Federal Direct PLUS loan, which does not approve applicants who have poor credit histories. Poor credit history may result from late payments, loan defaults, bankruptcy, foreclosure, repossession, tax liens, or wage garnishments within the last five years.
Deferment - If you are unable to repay your student loans due to unemployment, economic hardship, active duty military service, or continued status as a college student, you may be able to defer, or postpone, your monthly payments. In many cases, students who go back to school and are enrolled at last part-time are automatically granted deferments. They can either choose to accept deferment terms or to continue making payments. Most other forms of deferment require borrowers to submit request forms and supply evidence of financial constraints. Depending on the type of loan you're deferring (private vs. different types of federal loans), application requirements and interest charges will vary. For Federal Direct Subsidized loans, interest does not accrue on the loan during your deferment period. If you have already defaulted on a loan, you cannot apply for deferment.
Employer Tuition Reimbursement (Tuition Assistance) - Tuition reimbursement is an employment benefit offered by many U.S. employers. The benefit encourages workers to refresh their credentials and strive to advance within their organizations. Qualified employees may be reimbursed for all or part of their college tuition and school costs. Common stipulations for tuition reimbursement benefits include: type of education (only professionally relevant degree programs and courses may qualify), minimum GPA (low or failing course grades usually aren't reimbursed), and employee tenure (employees must remain with the organization for a set period of time, before and after qualifying for reimbursement).
Expected Family Contribution (EFC) - EFC is a measure of your family's financial strength. It is one of the factors schools use to determine your eligibility for federal and institutional financial aid. Your EFC is calculated based on your family's taxed and untaxed income, assets, and benefits (such as unemployment or Social Security), family size, and the number of family members who will attend college or career school during the year for which you are applying for aid. To determine your EFC, you'll need to fill out a Free Application for Federal Student Aid (FAFSA). If you're not ready to complete the full application, you can get an estimate of your EFC by using the FAFSA4caster, an online tool provided by the U.S. Department of Education.
Federal School Code - Every college that is eligible to receive and administer federal student aid has a unique Federal School Code, otherwise known as a Title IV Institution Code. This is the code you will use to ensure the college receives the results of your Free Application for Federal Student Aid (FAFSA). Certain degree programs within colleges may have their own Federal Codes. If you can't find your select college's code, contact its financial aid office.
Federal Student Aid (Title IV Aid) - Federal student aid, also known as Title IV aid, falls into three categories: federal grants, federal loans, and federal work-study. The U.S. Department of Education (USDE) determines which colleges are eligible to receive and administer Title IV aid on behalf of their students. Though the exact requirements for Title IV eligibility are complex and subject to changing regulations involving student loan default rates and other reputability metrics, the main criteria is that colleges must be accredited by a USDE-recognized accrediting agency. If you're not sure that your college is Title IV eligible or accredited by a USDE-recognized accrediting agency, contact its financial aid office. The college should supply you with a Federal School Code, otherwise known as a Title IV Institution Code. This is the code you will use to ensure the college receives the results of your Free Application for Federal Student Aid (FAFSA). Certain degree programs within colleges may have their own Federal Codes.
If your college does not have a Title IV Institution Code, it is not eligible to receive or administer federal financial aid. Even if you weren't planning on accepting federal aid, Title IV eligibility is still important. You may only claim college-related tax deductions if you attend a Title IV eligible school. Also, if you have any student loans from previous college study, you may not be able to defer them unless you are attending a Title IV eligible school.
Financial Aid Package (Award Letter) - After you've completed the Free Application for Federal Student Aid (FAFSA), your college's financial aid department will send you a financial aid package, also known as an award letter. Your financial aid package includes all the loans, grants, and work-study funds you are eligible to receive from the federal government and from that particular institution. The package does not include private scholarships or financial aid you may be qualified to receive from other colleges. You may accept or decline any of the aid listed in the package. If you choose to accept any of the aid offered, you need to do so before the stated deadline or you may lose the funds.
Free Application for Federal Student Aid (FAFSA) - All college students should complete the FAFSA, as the first step in the financial aid process. The form will calculate your Expected Family Contribution based on responses to 130 questions for both students and parents (if the student is unmarried and under 24). Questions are related to income, assets, and basic household facts. Each school will use the results of your FAFSA application (detailed in a Student Aid Report) to determine if you qualify for any aid from the institution. Your FAFSA results may also automatically qualify you for certain state-based financial aid.
There is no federal deadline for submitting the FAFSA. For any given school year, the FAFSA may be filed from July 1 until June 30 of the following year. That includes every day on the calendar. However, individual colleges and states have different parameters that you need to be aware of. For instance, college programs that begin in the fall may require applications to be submitted in the spring.
Institutional Aid - Institutional financial aid is money provided by a college to help qualifying students pay the costs associated with education. Costs may include tuition and other fees charged by the school. Institutional aid does not include private scholarships, state aid, or federal aid, although financial aid offices consider these factors when deciding how much school-based aid to award a particular student. Completing the Free Application for Federal Student Aid (FAFSA) is the first step in applying for institutional aid. You may wish to ask your school's financial aid office about other school-based scholarships that require separate applications.
Interest Rate - Nearly all student loans come with interest rates. The interest rate is a percentage of the amount borrowed, which is added monthly as a fee for the service of the loan. Ultimately, you will need to pay back the initial amount borrowed (principal) and any interest that accrues over time. Interest rates may be variable, which means that they will go up or down depending on the financial market, or they may be fixed, meaning they will stay the same percentage until the loan is paid in full. In general, federal student loans have a lower interest rate than private student loans.
Loan Forgiveness - Various student aid programs offer to forgive, or excuse, a portion of student loans borrowed in exchange for a work service agreement. These programs may be offered by the federal government, a state agency, or a private organization. Loan forgiveness is typically offered to those who enter in-demand professions, including professionals who work in underserved communities or fill understaffed roles. Nurses, teachers, healthcare professionals, physicians, lawyers, social workers, and military service members are among those who may qualify for loan forgiveness programs.
Merit-Based Awards - Merit-based financial aid is awarded based on student achievement in academics, athletics, community involvement, or other measures of personal accomplishment. Merit-based aid can come from schools, states, the federal government, or private organizations. These awards are not based on financial need.
Need-Based Awards - Unlike merit-based awards, these awards are based on how much money you need in order to pay for college. After you complete the Free Application for Federal Student Aid (FAFSA), various aid providers—including your college, your state, and the federal government—will evaluate your unmet financial need. Students with higher levels of need and lower Expected Family Contributions are offered more need-based awards.
Pell Grant - This is a federal program that provides need-based grants to low-income undergraduate and certain postgraduate students, to help them pay for school. If you qualify for this grant, you do not need to repay it. You may use it at any one of approximately 5,400 participating postsecondary institutions. Though the maximum Pell Grant amount for 2011-2012 is $5,550, exactly how much you're awarded depends on four factors: (1) your Expected Family Contribution, (2) the cost of attending your chosen college, (3) your enrollment status such as full-time or part-time, and (4) the number of semesters you'll complete during the award year. You will automatically be considered for a Pell Grant by filing the Free Application for Federal Student Aid (FAFSA).
Perkins Loan - This federal program provides low-interest loans to help needy students pay for college (at any one of approximately 1,800 participating postsecondary institutions). The amount you receive from a Perkins Loan is usually determined by financial aid administrators. Certain borrowers are exempt from repaying Perkins Loans—including qualifying graduates who find designated jobs in public service, the military, or teaching.
Preferred Lending Institution - When it comes to private student loans, many colleges maintain a list of lenders that they have vetted and recommend using. These institutions are noted as preferred because they meet specific criteria set by the school such as whether they have a history of working with the school, good customer service, 24/7 availability, counseling, interactive tools, and affordable terms and fees. In theory, using a preferred lender will make the financial aid process easier for both the student and the school.
Private Scholarships - There are literally thousands of private scholarships available to college students. They are sponsored by corporations, professional organizations, religious groups, social clubs, civic groups, fraternal organizations, and trade organizations. The awards can range from small, one-time payouts to full-tuition scholarships. Every scholarship comes with a unique set of eligibility requirements, application requirements, and judging standards. Scholarships may be awarded based on financial need, academic performance, or other criteria.
Private Student Loans - In addition to seeking federal aid, students may take out private loans. With a private student loan, you borrow money for college from a bank or lending institution. You are then responsible for repaying the loan according to the terms agreed upon. Fees and interest rates vary depending on the lender and your own credit history. In general, though, private loans have higher fees and interest rates than federal programs such as Perkins, Stafford, and PLUS Loans. When you must begin to repay a loan and the schedule for repayment will also vary. A cosigner may be required for private loans, or, if not required, may be an option that will allow you to secure a lower interest rate. You may want to consider private loans only as a last resort when paying for college since interest rates are often higher and repayment terms are often stricter than those associated with government loans.
PLUS Loan - The Federal PLUS Loan may be used to help pay for undergraduate or postgraduate tuition. In the case of undergraduates, parents take out the loan and are responsible for repayment. Their child must be enrolled at least half-time in an eligible school and program. The money may be used for tuition or school-related expenses. Graduate or professional students can apply for the loans themselves (and will be responsible for repayment). They, too, must be enrolled in an eligible program and school. Borrowers (parent or graduate student) must pass a credit check to qualify.
Stafford Loan (Subsidized) - These are need-based, federally guaranteed loans that do not accrue interest as long as you are enrolled in school at least half-time (or during any future deferment periods). The federal government subsidizes (or pays) the interest during these times. Both undergraduates and graduate or professional students may apply for these loans. As an undergraduate, the limit you can borrow increases with each year of study. Accordingly, college juniors and seniors can borrow more than freshmen or sophomores.
Stafford Loan (Unsubsidized) - Unsubsidized Stafford Loans are not based on need. One of the main differences between this loan and the subsidized loan is that unsubsidized loans begin to accrue interest as soon as they are disbursed or paid to the school. You are not required to pay anything back on the loan until six months after you graduate (or six months after dropping below half-time status). However, you can choose to make interest payments while still in school to keep your loan balance from growing too large. How much you can borrow will be determined by your school and is based on whether you are a dependent or independent student; whether you are an undergraduate or graduate/professional student; and, if an undergraduate, whether you are a freshman, sophomore, junior, or senior. There is an annual maximum on how much you may receive from all Stafford Loans (subsidized and unsubsidized) combined.
Student Aid Report (SAR) - Your SAR is a summary of the detailed information you provided on your Free Application for Federal Student Aid (FAFSA). Once your FAFSA is processed you will receive a copy of your SAR electronically (if you provided an email address) and a paper copy via mail. Among other information, your SAR usually includes your Expected Family Contribution and your Data Release Number (a four-digit number you can refer to when contacting customer service to make changes to your FAFSA). Schools that you have selected will receive a copy of your SAR. They will use the information on this report to determine your eligibility for various types of financial aid.
Title IV Aid - (See Federal Student Aid.)
Work-Study Program - Work-study programs are a type of financial aid typically offered by colleges to campus-based students who perform work for the school (or sometimes for a state agency). Students may be allowed to choose their assignments or may be given assignments based on staffing needs. Participants of work-study programs may earn a stipend (a lump sum awarded for each semester they work), a tuition discount, or an hourly wage.