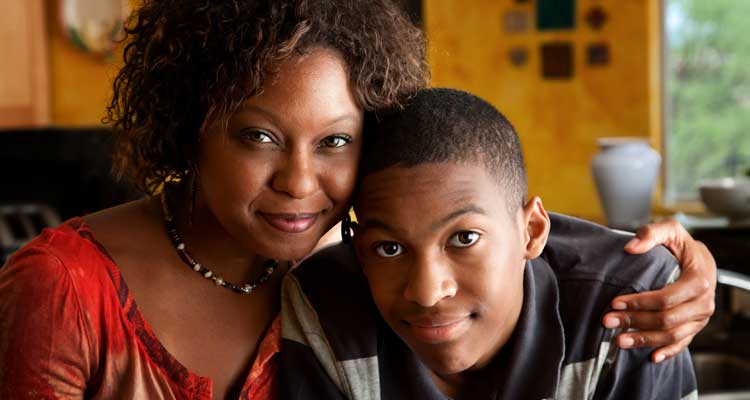 Being a single parent is difficult work. Single parents must juggle the challenged of earning a living, spending quality time with their children, and managing their household. Add it to the stress of trying to attend a college, even part-time and online, and it is easy to see how single parents can feel overwhelmed by all of their responsibilities. It's no secret that single-parent families have been on the rise over the past several decades. It's also no secret that higher education costs have raised dramatically as well. School grants for single mothers are available to offset this cost. Single fathers and low income families may also apply.
Statistics About Single-Parent Families
Going to college is not necessarily a privilege as once considered in the past, but rather a necessity to gain employment to survive.
According to the National Center for Children in Poverty, single-parent families are more than twice as likely to be considered low-income as two-parent families. [1] As of 2007, 12.8 million children live in a household with income below the poverty level. [2]
Low income and the one-parent family is a frustrating combination for attending college. While federal and/or state financial aid is available for these students, the amount of school grants for single mothers and loans have not kept up with the rising cost of higher education. Although all types of families must make concessions for the student or parent to attend college, one-parent families usually have extremely limited income and no assets to assist with college expenses.
However, there are a number of resources available to low-income, one-parent families which may help with family income. There is a staggering number of single-parent families with children under the age of 18. These children, and often the parent, dream of going to college. But how can they afford it?
Completing the FAFSA form is required to receive federal aid
Of course, everyone should fill out the Free Application for Federal Student Aid, or FAFSA. Like the name says it is free, and it can be completed online at www.fafsa.ed.gov. The U.S. Department of Education makes some $80 billion in grants, loans, and work-study assistance available each year. Some of this assistance, such as Pell Grants, are based upon need and calculated according to the family's expected contribution toward their education.
Research school grants for single mothers and low incoming households funding as much as possible
Another good place to check for federal resources is www.grants.gov. There are literally hundreds of school grants for single mothers available for higher education and job re-training. You may be steered toward the FAFSA for many of the grants, but there are also grants which can be applied for separately, such as some of the job re-training grants.
State governments also offer a variety of financial aid for college students, including grants (which, unlike loans, usually don't have to be repaid). Check with your state's Higher Education Agency for more details about the forms of state assistance available. Typically, the student must be attending a college in the state in which they reside to have access to this form of financial aid.
Employers may offer free funding for educational costs
Some potential students overlook financial aid that is available right under their nose. Unions, employers, and civic organizations may offer grants, scholarships, or tuition reimbursement. Ask the employer's human resources department about any kind of education or continuing education benefits they may offer. Some employers will cover full tuition if the degree program applies to the employee's job. It pays to find out.
Resources in the Community
CoAbode- In addition to federal programs, there are a number of private organizations that offer assistance to single-parent or low-income families. CoAbode offers shared housing for mothers to reduce the cost of living expenses.
Basically, CoAbode helps single mothers find roommates with other single mothers to share expenses, thus increasing disposable income. Remember the '80s sitcom Kate and Allie? Same thing! CoAbode claims to reduce housing costs by one-half, as well as place children in a safer school district.
Sunshine Lady Foundation- The Sunshine Lady Foundation offers the Women's Independence Scholarship Program to help survivors of domestic violence. Their goal is to provide this scholarship for women of domestic violence who want to get an education at any type of college, whether full or part time. Their goal is to help women gain employment and personal independence.
2-1-1- Heard of 2-1-1? It's a free service for the community to access services such as food banks, utility assistance, housing, child care, etc., in your area. Some states already have this service, but it is estimated that by 2008, 80% of states will have this available. You can check to see if your state has this by calling 2-1-1.
Young Men's Christian Association & Young Women's Christian Association- If you are in need of shelter, find your local Y. The YMCA or YWCA provides temporary and permanent shelter to spouses with children, especially those who are escaping a dangerous or abusive situation. They also have employment services, job training, and literacy programs available to those who need it.
Starting Your Search for Grants for Single Mothers, Fathers, and Low Income Families
There are a few resources out there for single-parent and/or low-income families. This is definitely not the limit. Start with local resources like your human services office, financial aid office, and city hall. Then access the U.S. government for additional resources. Lastly, do a web search for single-parent or low-income family financial resources.
Guaranteed, there are many more opportunities out there. However, be careful of sites that charge a fee for a scholarship search or application. Read the fine print with applications before you submit information via the Internet.
Current and former members of the military may find additional perks
Former military veterans should also check and see if they have any unused education benefits they can use. At the very least, check to see if any military training is worth college credit. Each branch of the military makes a valuable transcript of training courses that are worth college credit. Veterans may be farther along in their pursuit of a college degree than they thought! Check with the local office of the Veterans Administration for more information.
Being a single parent is difficult work. Single parents must juggle the challenged of earning a living, spending quality time with their children, and managing their household. Add it to the stress of trying to attend a college, even part-time and online, and it is easy to see how single parents can feel overwhelmed by all of their responsibilities.
Single-parent households face greater hurdles in balancing a family budget
For many, seeking higher education is a way of improving the finances and futures of their families. The question for many single parents is, "How do I pay for my education?" This problem isn't limited to single mothers, either. According to the Pew Research Center, "The number of single father households has increased about ninefold since 1960, from less than 300,000 to more than 2.6 million in 2011." [3]
Single parents have greater difficulty accessing education than two-parent households
For single-parent families, finding the funds to pay for the education needed to help increase their income can be a Catch-22. They don't have the income to pay for college courses, and they have a difficult time increasing their income without a college education.
Finding the right resources to offset educational costs
There are grants and scholarships available to help single parents fill the gap, and although many of the resources for single parents are geared toward single mothers, there are a few resources available for single fathers as well.
A good first place to start is by contacting the financial aid departments of the colleges and universities you are interested in attending. Many colleges offer grants for single parents.
Ask your financial aid counselor about any special financing available, and what forms are needed to apply for it. The college website may also have some detailed information about the kinds of aid available through that particular school. Although many of these aid programs may specify they are for single mothers, don't be afraid to ask if they are applicable to single fathers as well. You may be pleasantly surprised.
---
[1] http://www.nccp.org/publications/pub_560.html
[2] http://www.nccp.org/publications/pub_975.html
[3] http://www.pewsocialtrends.org/2013/07/02/the-rise-of-single-fathers/