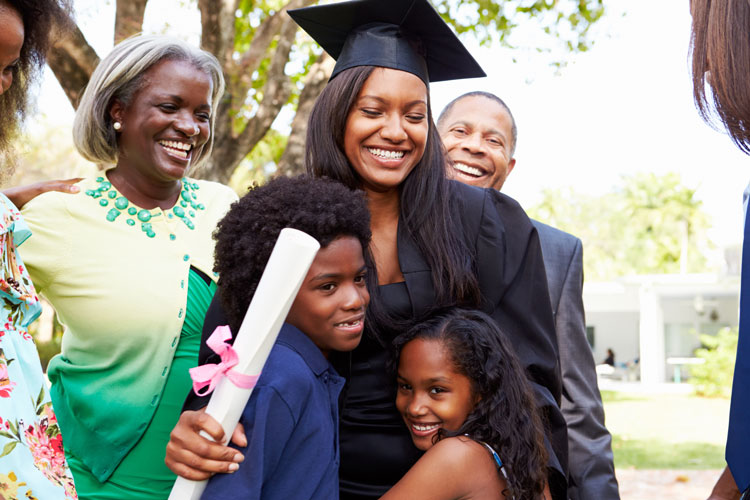 Looking for info on scholarships for moms? If you're a working mom who wants to go back to school to earn your degree, paying for it can be a big concern. But don't let that get in the way of pursuing your dreams!
The good news is there are a variety of scholarships for working moms that may be available to those who qualify to help ease the cost of enhancing your education. You need to do your research. And that's where we come in! In addition to student financial aid options from the federal or state governments that may be available to qualified students, you can also apply for scholarships for moms that are specially designed to help you pursue your credentials, while still taking care of your family. What single mother scholarships may be available to eligible students?
Trying to earn a degree as the only breadwinner can be tough. As you probably can imagine, it requires a lot of juggling, and comes with a lot of expenses. Check out our list of info on scholarships for single mothers to see what help may be available to you if you qualify.
Financial Success for Single Mothers[ii]
This $750 scholarship from Furzy Marketing was started to help qualified single mothers pursue their education and potentially improve their lives by earning a degree. Applicants must be at least 18 years old, enrolled in 6 units at any level of college, and have a minimum GPA of 2.3 (college) or 2.5 for high school.
To apply:
Fill out and submit an online application form.
Write a 450 to 700 word essay on "How Can Single Mothers Use Roth IRAs to Enhance Their Financial Position" and include it with your online application.
For more information, see www.furzymarketing.com/scholarships.
Women's Independence Scholarship Programs[iii]
These scholarships for moms were created by the Sunshine Lady Foundation to help formerly battered single mothers with young children pursue work skills that may help them better support their families. Among other qualifications, applicants must have applied for or been officially accepted into an accredited course of study at a U.S. institution.
To apply:
Complete the online application form.
Provide the necessary documents, including any transcripts.
For more information, go to www.wispinc.org/Scholarship/tabid/56/Default.aspx.
Soroptimist Live Your Dream Awards[iv]
This award program was created to help eligible women who are the primary sources of financial support for their families—enhance their education, qualifications, and potential employment prospects. Three levels of cash awards are available in varying amounts up to $10,000 (award amounts vary).
To apply:
Ensure you meet the eligibility requirements, including being enrolled or accepted into a vocational training program or undergrad degree program.
Ask two school- or work-related people to fill out a reference form for you.
Complete and submit an online application, including a 750-word essay explaining the economic and personal challenges you've faced and the dreams you're interested in pursuing.
For more information, visit www.soroptimist.org/awards/live-your-dream-awards.html.
What are some more general scholarships for moms?
Just because you're not a single mother, doesn't mean you don't potentially qualify for financial assistance that may be available to help you cover tuition. There are plenty of organizations that recognize this (thank goodness!) and offer scholarships for moms who are eligible. So, let's take a look.…
AAUW Selected Professions Fellowships[v]
This professional fellowship program is focused on women who plan to pursue a full-time course of study at an accredited U.S. institution in a degree area where participation from women is traditionally low. Amounts awarded to qualified individuals range from $5,000 to $8,000. Scholarships are awarded to eligible students for master's programs in:
Computer and Information Sciences
Architecture
Engineering
Mathematics and Statistics
Scholarships in the degree programs and fields below are also eligible to women of color:
Master's in Business Administration (for second year of study only)
Law (for third year of study, JD candidates only)
Doctorate in medicine (for third or fourth year of study, MD or DO only)
To apply:
You must pass the eligibility quiz before filling out the online application.
You must include three recommendations that meet the necessary requirements.
You need to submit your transcripts and resumes.
You need to include a $35 filing fee.
For more information, www.aauw.org/what-we-do/educational-funding-and-awards/selected-professions-fellowships/spf-application/.
AAUW Career Development Grants[vi]
These career development grants may be awarded to eligible women who are looking to jumpstart a career by pursuing additional higher education, technical, or professional training. Women of color, women pursuing education in non-traditional fields, and those who don't have an advanced degree may be given priority.
To apply:
You need to pass the eligibility quiz before filling out the online application.
You must gather three professional or academic recommendations that meet the stated requirements.
You need to submit your transcripts and resumes.
You must also include a $35 filing fee.
Education Support Awards[vii]
The Patsy Takemoto Mink Education Foundation offers five scholarships of up to $5,000 each that may help eligible, low-income mothers who are pursuing education or training. Scholarships are generally awarded based on financial need; personal circumstances; chosen educational path; occupational goals; and service, civic, or activist goals.
To apply:
You should be at least 17 years old, and a mother with minor children.
You must be pursuing a vocational degree/certificate, an associate's degree, a first bachelor's degree, or a graduate's degree.
You must be enrolled in a not-for-profit accredited program or institution.
You need to meet the low-income requirements.
For more information, visit www.patsyminkfoundation.org/edsupport.html.
Philanthropic Educational Organization (P.E.O.) Program for Continuing Education[viii]
This grant program is intended to help qualified women whose education has been interrupted and who want to return to school to earn a degree—or certification—to help them pursue a career. The maximum amount generally awarded is $3,000.
To apply:
Carefully review the eligibility criteria on the website.
Submit the Information Form for a Potential PCE Candidate Seeking Chapter Sponsorship.
Attend your local chapter's eligibility interview.
If approved, you will be notified with instructions for setting up an online account for your formal application.
For more information, visit www.peointernational.org/about-peo-program-continuing-education-pce.
Ready to take the next step?
Enhancing your education to pursue a better life for you and your family may not always have to be such a struggle. And you should be proud of yourself for going for what it takes to pursue your dreams! As we've seen, there may be an abundance of scholarship for moms available for qualified women out there that might help make the whole process easier. So, with some planning, research, and perseverance, you may be on your way to earning your degree and jumpstarting your new career. Now, what are you waiting for?
---
[i]shrumlawoffice.com/scholarships-for-single-mothers [ii]careerinfonet.org/scholarshipsearch/scholarshipdetail.asp?Accession=2014135&printer=&nodeid=22&recordNum=2&keyword=MOTHERS&keySearchType=All&count=5&awardtype=&Studylevel=&RequiredAffiliations=&Georestriction=&searchtype=keyword [iii]careerinfonet.org/scholarshipsearch/scholarshipdetail.asp?Accession=9993140&printer=&nodeid=22&recordNum=5&keyword=MOTHERS&keySearchType=All&count=5&awardtype=&Studylevel=&RequiredAffiliations=&Georestriction=&searchtype=keyword [iv]soroptimist.org/awards/live-your-dream-awards.html [v]aauw.org/what-we-do/educational-funding-and-awards/selected-professions-fellowships/spf-application/ [vi]aauw.org/what-we-do/educational-funding-and-awards/career-development-grants/cdg-application/ [vii]patsyminkfoundation.org/edsupport.html [viii]peointernational.org/about-peo-program-continuing-education-pce