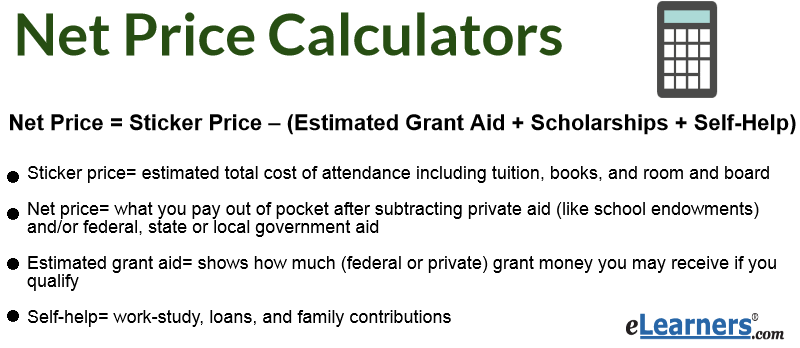 Got tuition sticker shock? Before you give up on a seemingly overpriced dream school, try a new tool that promises to help first-time students figure out the "true" cost of college: Net price calculators (also known as NPCs). You'll be seeing NPCs as you apply to Title IV schools, as the federal government required schools to post them on their websites by October 29, 2011.
 Students using net price calculators still need to file a FAFSA to see how much federal aid they may be eligible to receive. But NPCs are still useful for helping you (and your family) make college application decisions faster and earlier. They compute your net price based on standardized inputs like your household size, number of dependents, and income – all of which generate your Estimated Family Contribution (EFC).
"Most students only see individualized estimates for their financial aid and net price after they have applied to college, applied for financial aid, gotten accepted by the college, and received their financial aid letter with only months left to decide which college to attend," said Diane Cheng, a researcher for The Institution of College Access and Success (TICAS).
Cheng continues, "Now, with net price calculators, students can see how much they or their families will have to earn, save, or borrow to attend particular schools before they have to decide where to apply."
Indeed, timing is considered to be one of NPCs' biggest advantages.
"It gives the student and parent a sense of estimated affordability prior to the completion of the FAFSA," said Albert Tezeno, associate vice president of enrollment management and financial aid director at Grambling University. "The FAFSA for the upcoming aid year is available January 1. The net price calculator is available year round."
As these NPCs make their debut, schools are encouraging first-time, full-time degree-seeking students to try them out.
"We have had the opportunity to speak to groups of parents and students at events such as Financial Aid Nights," said Vanessa Barrios, the assistant director of financial aid at St. Joseph's College. For students who wish to get an early estimate of their net price, "we mention that if they are interested in St. Joseph's they can check our net price calculator out."
But that doesn't mean other types of students (such as online or transfer students) are being left out in the cold. To find out more about the nuts and bolts of NPCs, read the guidelines below:
1. Understand How Net Price Calculators Work
All net price calculators are designed somewhat differently (unless they use a federal template), but all of them follow a basic equation:
Net Price = Sticker Price – (Estimated Grant Aid + Scholarships + Self-Help)
Sticker price is the estimated total cost of attendance including tuition, books, fees and room and board. Net price is what you pay out of pocket after subtracting private aid (like school endowments) and/or federal, state or local government aid. Self-help consists of work-study, loans, and family contributions. Estimated grant aid shows how much (federal or private) grant money you may receive.
The difference between a college's advertised tuition costs and the amount of money the average student actually pays can be as much as $11,380 to $17,130, according to College Board's 2011 study. While the average sticker price averaged $38,590 at private colleges in the 2011-12 academic year, net price averaged $23,060 for these schools.
2. Determine if You Are a First-Time or Transfer Student
By design, net price calculators are intended for use by those who intend to go to school full-time and are not international students. Colleges can and do go beyond the federal requirement by customizing NPCs for other types of students, including transfer students.
"We're seeing some colleges create separate calculators for transfer students or for other types of students," said Cheng. "However, at some schools, freshmen and transfer students may incur different educational costs and be eligible for different types or amounts of grants and scholarships."
Such calculators are similar to the ones for first-time students, and sometimes shown as a separate link on the school's web page. What if the school you are interested in doesn't have a customized version? To get a ballpark estimate of whether that school is affordable, you can still use NPCs that are not specifically designed for transfer students.
3. Account for Variables
Net price calculators are programmed to display potential grants and scholarships, based on limited eligibility information that you supply.  NPCs can't account for certain variables the way your Free Application for Federal Aid (FAFSA) can, or what your cumulative grade point average will be when you graduate from high school.  Even if you've already done both, NPCs aren't designed to ask about these factors.  Nevertheless, the timeliness of your FAFSA application and/or your high school grades or standardized test scores could have a major impact on the types of funds available to you. 
So when you view the results of your NPC session, keep in mind that these variables exist.  If you want to maximize the chances that your actual financial aid package will resemble the results you see on the NPC page, contact a financial aid advisor at your chosen college(s).  Ask about priority deadlines for filing the FAFSA and about the academic requirements for any potential merit-based awards offered by your state or the college.
4. Consider Your Enrollment Status (Part-Time vs. Full-Time)
Net price calculators, per the federal requirement, provide estimates based on full-time attendance. That means results can be skewed if you actually attend part-time. While it would decrease some costs (like tuition), it may also decrease the available amounts of grants and scholarships.
For example, federal Pell Grant amounts are pro-rated based on the student's enrollment status. "A half-time student would only receive 50 percent of his or her scheduled award," said Cheng. "That student would receive 100 percent of his/her scheduled award if he or she enrolled full-time."
The number of credits that are required for full-time status differ from school to school, though, so be sure to check with your admissions office. Also be sure to ask about scholarships and self-help options available to part-time students.
5. Enter All Pertinent Information
Your household income, age, marital status, GPA, zip code and SAT/ACT scores are some of the questions that most NPCs will ask. Because they are designed to offer anonymous net price estimates, there is no need to disclose details like your phone number or Social Security Number.
But you may still be asked other kinds of questions, such as if you are part of a Native American tribe, planning to earn a master's, or affiliated with the military. There's a reason why: "Schools that ask those types of questions usually give out grants for scholarships based on the student's answers to get the most useful net price estimate," said Cheng.
6. View Results as Estimates, Not Guarantees
Be careful to distinguish between the forms of aid that you don't have to pay back (such as scholarships) and those that you do, with interest (such as Stafford Loans). For example, be wary of NPCs that highlight results saying your "Estimated Net Price after Loans and/or Work Study = $0." Such results do not account for the reality of paying back aid monies.
NPCs should display long-term estimates prominently, but some don't – with misleading conclusions.  "This tactic promotes an illusion of affordability and can easily lead students and their families to believe that they will have no out-of-pocket costs," the TICAS study warns.