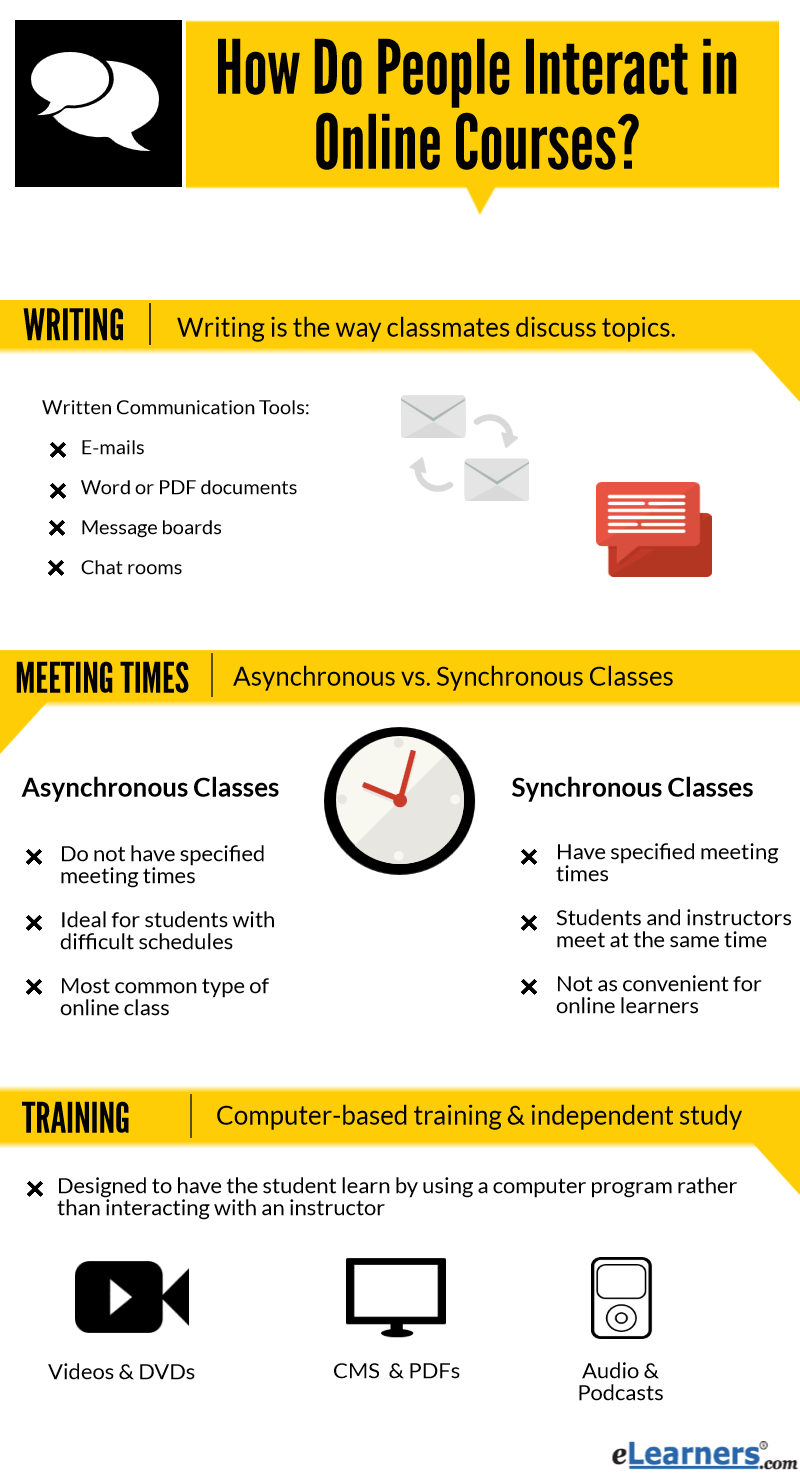 In a traditional class setting, the instructor provides feedback to students vocally, with body language, or writing on a whiteboard or chalkboard. Students comment or ask questions, interact with others in verbal discussions, collaborate with small groups, and may give presentations. Similar forms of interaction and collaboration exist in online courses, with a few substantial differences.
Writing is the way classmates discuss topics.
Writing is the primary form of communication in the online classroom. Unlike the campus classroom, online students do not have the opportunity to speak to one another as readily. Written communication is much more prevalent in online classrooms. Verbal communication is used in teleconferencing and videoconferencing.
Written communication tools in the online classroom can include:
E-mails
Word or PDF documents
Threaded discussions or message boards
Chat rooms
Asynchronous classes do not have specified meeting times.
Online learning is usually asynchronous. This means the instructors and students do not necessarily need to be online at the same time to post information or messages.
Online students have varied personal schedules and live in different time zones, which contributes to the disjointed nature of online classroom communication. The majority of the interaction does not occur at the same time, with discussions and responses being separated by minutes or even days.
Asynchronous communication is the most common type of online class, allowing students to develop the most convenient and effective personal work/study schedules rather than having to adhere to predetermined class meeting times.
Asynchronous classes are highly effective, especially for students and learners who:
like to take longer to formulate their thoughts
are very detail oriented
are uncomfortable participating in verbal discussion or speaking in front of a large audience
Asynchronous learning entails a certain amount of adaptation for both instructor and student. Classroom participants must develop reading and writing skills in order to communicate effectively. Asynchronous learning requires that students be articulate, well-written, and follow the etiquette rules that apply to this type of learning environment.
Synchronous classes have specified meeting times.
In synchronous learning, students and instructors meet together at the same time. Conversations and communication occurs at a set time using technology such as video conferencing, chat rooms, and conference calls.
This mode of learning is not as convenient for most students as asynchronous learning. Synchronous learning presents time constraints for participants and is more reliant on technology such as a high bandwidth Internet connection, Web cameras, microphones, and specialized software programs.
Computer based training and independent study courses are similar.
Computer based training (CBT) differs from both asynchronous and synchronous learning in that CBT is designed to have the student learn by using a computer program rather than interacting with an instructor. A student progresses through his or her course following a preset curriculum, similar to many online classes. Grades are assigned based on assessment quizzes and tests rather than discussion boards and research papers.
Still other schools offer independent study methods which are similar to CBT. The student progresses through the course work alone, without the opportunity to interact with classmates. Online independent study differs from CBT in that students interact with an instructor, facilitator, or school department one-on-one. Online independent study includes lecture notes, readings, and assignments that are prepared for the student and accessible at all times.
You can expect the following…
Content Management System (CMS) like Blackboard, eCollege, Moodle, etc.
Word processing documents such as .DOC or .PDF files
Streaming audio, video, and podcasts
Compact discs (CDs), digital video discs (DVDs), video cassettes
Textbooks and printed literature