How a Flipped Classroom Innovator Improved His Teaching Style - Interview with Dan Jones
When he considered enrolling to earn his online master's degree, Dan Jones had an important question that is common amongst potential students: Can I keep up with the work? As a middle school teacher and family man, Jones knew he wanted to earn his master's degree but didn't have the time or luxury to go the traditional route and attend on-campus classes. But once he found out how flexible online education could be for his particular situation, he knew he'd be able to cross 'Earning My Next Degree' off of his to-do list.
Since Dan Jones spent more than 10 years working and teaching before returning to being a student himself, he had a different perspective on the lessons he was learning to earn his degree. He was able to apply practices in his coursework to his everyday classroom. He could speak with fellow educators from around the country and bounce ideas off of them. He could run his own teaching methods by other educators and see how effective they were. Had he not enrolled in an online master's degree program, he may not have been exposed to the type of network of fellow students who had similar goals as he did.
Jones earned his first two degrees in the traditional way—an Associate's of Arts degree from Ohio State University and a Bachelor's of Science in middle school education from Ashland University. He completed his master's in curriculum and instruction with a focus in digital learning and teaching at American College of Education, where he found the flexibility and group forum discussions a perfect fit for his already packed schedule and time-consuming personal responsibilities. Jones was able to view lessons and fit his coursework in when it worked with his schedules, not a school's schedule. Now, he has combines his 11 years of teaching experience and the knowledge he gained from his master's program to strengthen his innovative 'flipped classroom' teaching methods.
Enjoy our full interview with Dan Jones, as he details what it was about online learning tools that helped him achieve his goals.
eLearners: Tell us a little about your background. Was there a gap in your undergraduate education and, if so, what caused it?
I just finished my 11th year of teaching. I have a passion for integrating technology into my classroom as well as project-based learning. I graduated from Ashland University in December of 2003. I took a 12-year break from higher education and focused on practicing what I had learned in my undergraduate courses.
After 10 years in the classroom, I knew that it was time to pursue my Master's Degree, but it was a decision that terrified me. I was working as a full-time teacher, a part-time retail associate, and I have a family. I knew that with all of my responsibilities, going to a physical classroom would not be an option. I began to look online to see if there would be a choice that would meet my needs.
eLearners: What made you decide to earn your master's degrees online, as opposed to applying to a campus school? What were some of the key deciding factors for you to complete your education in this way?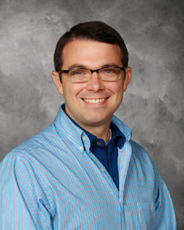 My work and family responsibilities kept me from being able to attend a traditional on-campus program. Everything I had heard about online learning sounded like it would be a perfect fit for me: a flexible learning environment, a flexible schedule, and otherwise fit my needs. It sounded perfect.
eLearners: What are some of the features of online learning that were beneficial to your circumstances?
Working a full-time job plus a part-time job meant that time was going to be a challenge. The simple fact that I could complete lessons when I had time during my day meant that pursuing a master's degree would be possible. I also love that the things I was learning in my courses were things that I could apply in my classroom immediately. I also loved the simple fact that the educators I was taking classes with were from all over the country, as well as the world. This gave me a much broader understanding of how the content impacts different environments and how the content can be applied differently to the variety of situations that people were familiar with.
eLearners: Has your time as an online learner influenced your teaching methods and style in any way? If so, how?
Many of the teaching strategies I was using in the classroom were cutting edge (as far as I knew). When I began my master's program, I was able to do professional reading which enabled me to validate the instructional methods I employed and know, backed by research, that I was doing what was best for kids. The amount of reading and research required in the Master's program propelled me to integrate research as a constant component of my educational career.
eLearners: Can you talk a little about flipped classrooms? What sort of innovations have you implemented in your middle school classroom?
My flipped classroom is a project-based flipped classroom. I have also integrated a distance learning component to the class as a means of making the content come to life. The distance learning component has allowed me to bring the US Capitol, The National Archives, The White House Historical Association, Mount Vernon, England, Italy and so much more into my classroom. One of the things that I do that makes my classroom unique is that I allow my students to tell me how they would like to represent their understanding of the content that we cover in class. Each child designs their own unique project from the ground up and then presents their project to the classroom.
eLearners: What do you think are some of your concerns against enrolling in online learning? Did they prove to be true or false?
One of my concerns when enrolling in online education was a fear of the unknown. I had no idea, really, what to expect. I worried about whether or not I would be able to keep up with the pace of the class. Each of my concerns was very naive. The structure of the classes at ACE are designed to meet the needs of individuals who are busy. I felt that the professors did offer a ton of support and even showed flexibility in the assignments. The coursework was not overwhelming due to the fact that I could do it according to my schedule.
eLearners: What were the important elements you looked for in a school?
Some of the elements that were important to me when looking for an online school were: state accreditation, solid reputation, and affordability.
eLearners: Do you feel a communal sense at all with your fellow graduates? Did you need to work together on projects or participate in class discuss via online forums?
I have felt great communal connections with my fellow graduates. The classes have discussion boards that allowed me to engage in great conversation throughout each class. Many of the classes also had group discussions that allowed me to engage with other professionals from all over the country. These conversations were great springboards to share ideas as well as get feedback on instructional needs.
eLearners: Were there any downsides for you to completing a program online?
Everything that I experienced in my online education at ACE was outstanding. I felt as though I was able to get a lot out of it and that I was able to personalize the depth of learning.
eLearners: What advice do you have for a student who is considering enrolling in an online degree program?
An online education is a great choice when thinking about higher education. There is a lot of flexibility in that you get to work on assignments and listen to lectures when your schedule permits. I truly believe that I received a great education, and I am proud of my academic background and achievements.
---
The expert interviewed for this article may be compensated to provide opinions on products, services, websites and various other topics. Even though the expert may receive compensation for this interview, the views, opinions, and positions expressed by the expert are his or hers alone, are not endorsed by, and do not necessarily reflect the views, opinions, and positions of eLearners.com or EducationDynamics, LLC or any of the schools with whom it maintains business relationships, including American College University. eLearners.com and EducationDynamics, LLC make no representations as to the accuracy, completeness, timeliness, suitability, or validity of any information in this article and will not be liable for any errors, omissions, or delays in or resulting from this information or any losses or damages arising from its display or use.