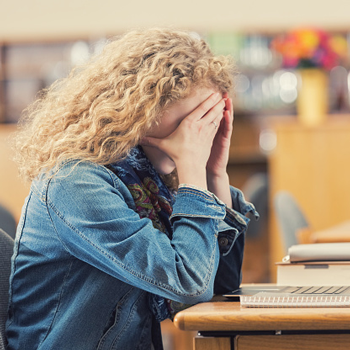 Academic dismissal is serious, but it doesn't have to be the end of the world. Applying to another college after dismissal is a step you'll have to take if you're interested in pursuing your education in spite of your academic setback. That means researching other schools that may be willing to give you a second chance.
While there are no guarantees, we've put together a list of colleges that may accept transfer students from varying academic backgrounds. Alternatively, scroll down for more info on how to get back into college after flunking out (or at least figure out what went wrong!).
Colleges That May Accept Transfer Students with a Less-Than-Perfect Academic Record
Each of these schools has different admissions requirements, such as a minimum GPA. However, they all list transfer policies for eligible students. And, you just might be able to find an institution that can help you pursue a new start.
I Failed Out of College…Now What? Tips for Applying to Another College After Dismissal.
Yes, the situation can look bleak if you've been academically dismissed from college. But here are some steps you can take to try and get back on track:
1. Figure Out What Happened. Maybe you found your courses to be too difficult, your schedule was too busy, or you figured out too late that your major wasn't the ideal fit for your abilities. Or, problems like depression, poor study skills, or personal issues got in your way. Reasons for flunking college can be both varied and personal. But whatever they are, it's important to figure out why your first attempt at college didn't go the way you planned, so you can make changes for next time.
2. Find Out if It's Really Over. Were you academically dismissed or just put on suspension or probation? Some colleges may give students with low grades a chance to take a break from college, regroup, and come up with a new plan. You may even be able to pursue courses at another college or university while academically suspended. On the other hand, your college or university may have dismissed you for good, in which case you'll need to figure out a plan B. Either way, it's a good idea to meet with an academic advisor from your school to make sure you understand all possible options, such as potential reinstatement.
3. Put Your Academic Dismissal into Perspective. Cause for academic dismissal may vary by institution, and understanding what dismissal means for your school may play a big role in finding a potential transfer college. For example, some institutions may place a student on probation, suspension, or dismissal if their GPA is below 2.0 or even 2.5. Since some potential transfer colleges may accept transfer credits for courses in which the student earned a 2.0 or above, a GPA that's too low for one college may be acceptable to another.
4. Find Colleges That May Give You Another Chance. Some students might pursue courses at a local community college to try and boost their grades before pursuing potential reinstatement. Others might search for a new college or university that accepts transfer students, and then try to finish earning their degree at that institution. Whatever path you plan to pursue, spend some time info-finding to make sure you meet the requirements for the schools you plan to apply to.
5. Get Ready to Apply. You'll need to process and understand your setback so you can explain your academic dismissal to prospective transfer colleges. Your prospective school may want to know why your original college plan didn't work out for you, what went wrong, and what you plan to do differently next time. If you have to explain your college history during an interview or in a personal statement, it's best to keep things positive. Be honest, but also forward-looking. You can't change what happened, but you can identify your mistakes, set new goals, and move on.
Can You Attend Another College While on Academic Suspension?
Transferring colleges while suspended, or simply taking some courses at another school during this period, may be one way to try and recover your momentum in spite of a setback. However, your ideal next step may depend on the particulars of your situation.
If you're on academic suspension because of your low GPA, you might be able to take courses at another college during the period of your suspension, and then possibly transfer those credits to your original school if and when your suspension is lifted. On the other hand, you might want to use your period of suspension as an opportunity to reevaluate your goals, figure out what your missteps were, and do some self-searching about whether or not you still see yourself at your current school.
Search Potential Transfer Schools (and Put Your Academic Dismissal Behind You)
Accepting the fact that you have been dismissed from a college can be painful. But applying to another college after dismissal doesn't have to be! Search our sponsored listings for higher education partners that may help you pursue a new start.