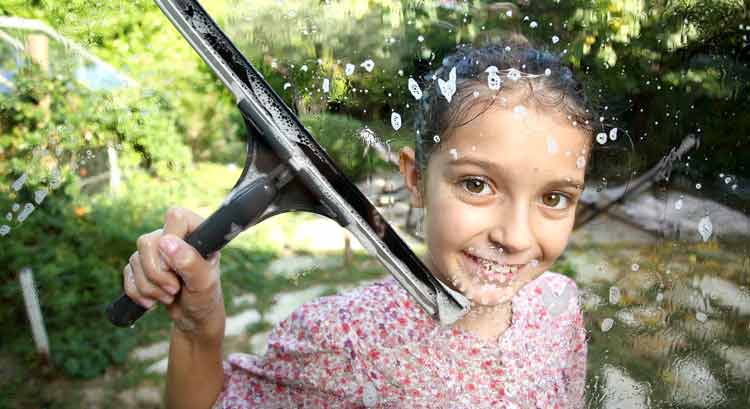 It's difficult enough balancing kids with housework, so the thought of successfully pursuing an online degree may seem impossible. However, taking online education courses can actually be quite manageable for parents.
You see, those beautiful bundles of joy you brought into the world can not only be helpful in your pursuit of an online education, but can also assist in your home's upkeep.
In addition to everyday tasks (dusting, sweeping, picking up toys), there are many fun and often forgotten jobs that will make your house sparkle and get you closer to earning an online degree. What are they exactly? Well, you'll have to read on for that.
Clean mirrors and windows.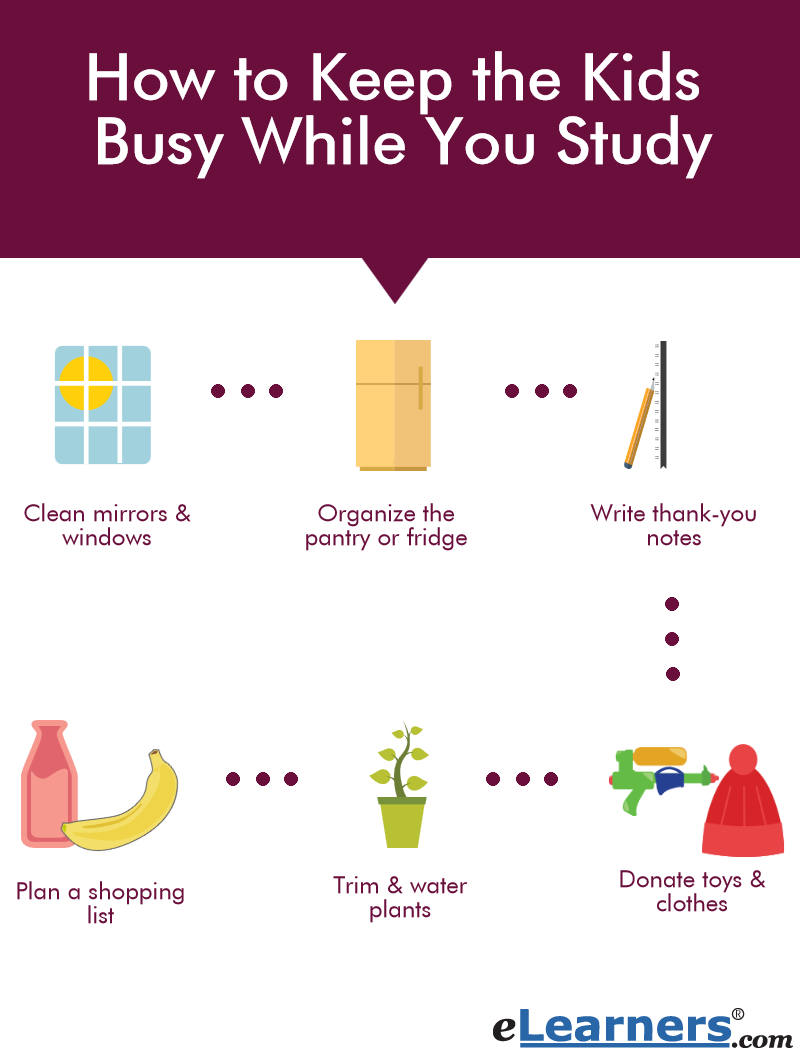 Cleaning windows and mirrors with a gentle spray cleaner such as Seventh Generation® is a fun way to keep kids busy. As long as the cleaner is nontoxic, kids can spray it independently and wipe smudged surfaces clean.
Bonus tip: These cleaners can also be used to clean appliance surfaces, such as dishwashers and refrigerators.
Increase the Fun: Buy markers specially made for writing on windows. Let your kids draw pictures on the windows and then clean them.
Organize the pantry.
If your pantry houses old pasta, vintage gravy packets and an antique peanut butter jar, you're not alone. But you can set your kids loose on tidying up this unruly space.
First, make a simple sheet of instructions. Otherwise, your children will have a million unanswered questions when you're trying to concentrate. The instructions can be as simple as:
Take everything out of the pantry and put it on the kitchen table.
Wipe out the pantry with a damp sponge.
Throw away all open pasta packages that are nearly empty.
Group the pantry items by type (soup, pasta, JELL-O®, etc.)
Line up the items back on the shelves.
Clean and refill spice jars.
Take a look at your spice rack and you'll probably find a bunch of jars filled with faded, gray-green flecks and powders. The food experts say to refill spices about every six months for optimum freshness and flavor, but if you're like most people, spices stick around for years.
This is a fun opportunity for kids to help out and experiment with new flavors. Have your kids dump out old spices, wash the jars and write new labels. Then, have them use a small funnel to refill the jars with new spices. A small piece of paper rolled diagonally into a funnel also works well.
Increase the Fun: Slice several apples, and have your kids taste test sweeter spices like cinnamon, nutmeg and allspice on the prepared fruit. Or invite your kids to try exotic spices like curry and turmeric in plain yogurt with pita.
Select gently used clothes and toys for donation.
Next time you ask your kids to clean their rooms, ask them to do it with "giving" in mind. There are bound to be stuffed animals, dolls and games that can be donated to a local children's home or charity. Give your kids a box or big bag to fill with gently used toys they no longer use.
Similarly, kids can dig into their closets and drawers for clothing they've outgrown.
Bonus tip: Take your kids with you when you make the donation.
Decorate a canvas pocket organizer.
Pocketed canvas organizers that hang on doors can be a great way to harness those straying shoes, small toys or other items. Have your kids decide what the organizer will be used for and where it will hang. Then, give them fabric markers or paint to decorate the organizer using bedroom colors, favorite cartoon characters and anything else they can think of. After the organizer is thoroughly dry, have your kids place items in the pockets.
Holiday preparations and thank-you notes.
Do birthday or holiday gifts need wrapping? Set out the supplies on the floor or table and put your children in charge of wrapping and decorating gifts. Remind them to stick nametags on the gifts! Recipients will love seeing that your kids did the wrapping all by themselves.
Trim and water plants.
Kids will love being gardeners for a day. Show them how to use small clippers to trim bushes and snip off dead leaves and flowers. Have them put on bathing suits and use a hose or watering cans to water the garden.
If your green thumb is the indoor variety, show kids how to water the plants in a controlled way. If you have plants with large, waxy leaves, have your kids remove the dust off the leaves using damp paper towels.
Involve young children.
Even young toddlers can grab a dust cloth and copy older siblings as they clean. Of course, everything including the dog may get dusted, but that's okay. As long as your kids are focused and cooperative, they are getting the job done.
Bonus tip: Buy mini-sized cleaning supplies, such as a dust broom and pan, for your youngest children.
Plan a dinner and shopping list.
Give your kids dinner duty and have them peruse a cookbook or kid-safe recipe Web site. Have them stick Post-it® notes on or print out favorite recipes. Then have them vote on one entrée, one side dish and one dessert.
Next, have your kids read through the required ingredients for the winning recipes and make a grocery list for needed items. Plan a night to cook together as a family.
Increase the Fun: Ask a restaurant for paper chef hats for your kids to wear. After the dinner is cooked, have your children "play restaurant" and serve you.
Free choice chore duty.
Kids like exercising some control over their choices. Have them be "Inspectors" and walk around the house with a clipboard, noting chores that need to be done. Then, have your kids hold a meeting and each choose two chores. After they complete the chores, let them inspect one another's performance.