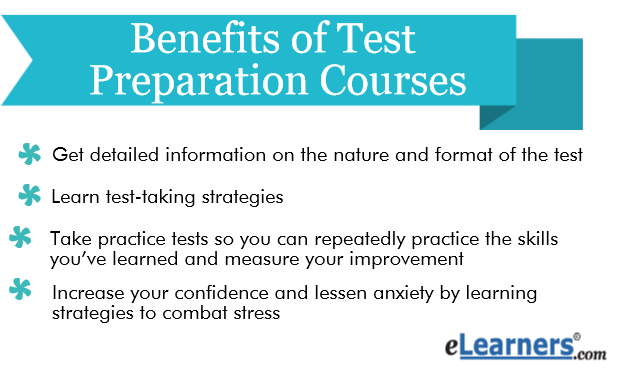 Does the mere mention of standardized tests make you feel stressed? You're not alone. It's normal to feel nervous in the face of a big exam, especially when it can determine the course of your education or career. But if the only strategy in your studying game plan is to cross your fingers and hope for the best, you may need a little help from the professionals. Whether you're a rookie or a veteran test-taker, a test prep course could be the boost you need to achieve exam success. 
What is a test prep course?
A test prep course is a class that helps students prepare for tests in an effort to improve test performance. Offered both online and in a traditional classroom setting, test prep courses can help you get ready for a number of different exams. For example, Kaplan, one of the world leaders in test preparation, offers courses in all of the following areas:
College admissions: PSAT/NMSQT, SAT, ACT, SAT Subject Tests, AP Exams, ASVAB
Grad school admissions: LSAT – Law School, MCAT – Medical School, GMAT – Business School, GRE – Graduate school, MAT – Graduate School, DAT – Dental School, PCAT – Pharmacy School, OAT – Optometry School
Medical licensing: USMLE, COMLEX
Nursing and other health sciences: NCLEX, Nursing School Exams, NAPLEX, NBDE, PANCE/PANRE
Professional licensing: Real Estate, IT Certification, Architecture, Engineering, Bar Review - Law
What will I learn in a test prep course?
A prep course should equip you to take your exam in several ways. Certified test prep course instructors will:
Provide detailed information on the nature and format of the test
Teach test-taking strategies to help you better your performance in each area
Give practice tests so you can repeatedly practice the skills you've learned and measure your improvement
Help increase your confidence and lessen anxiety with by teaching strategies to combat stress  
Test prep courses are available in both traditional classroom settings and online. Do you prefer face-to-face interaction with an instructor and classmates? Consider taking a traditional, campus-based course. But if taking a course from the comfort of your own home sounds ideal, then an online course may be for you.
Who can benefit most from a test prep course?
Almost anyone could benefit from extra preparation for a big exam, but students who typically struggle during tests may benefit the most from a structured course. Whether you fit into one or all of the categories below, a prep class could give you the edge you need to earn better test scores. 
You always need that extra push. Not an A-type personality? If you're the kind who needs outside sources to motivate you, then a test prep course could be the nudge you need to start studying. With scheduled classes, an established curriculum, and take-home assignments, test prep courses provide structure and organization for students who lack the tools (or willpower) to study strategically. Test prep instructors can also be another motivating force by providing encouragement and support through feedback and individual attention. 
You're a procrastinator.  It's easy to put some things off, like cleaning your room or starting an exercise regimen.  However, waiting until the very last minute to start studying for a major test is never a smart idea. Whether it will determine which college you'll be admitted to or if you'll earn your professional license, you need to see your test as a commitment – one that requires you to devote time and energy to the preparation process. A scheduled course that forces you to start preparing several months in advance could be all the motivation you need to get started.    
You aren't a great test-taker.  If you regularly bomb big exams, then you may be someone who just simply doesn't do well on tests. Whether the culprit is poor memorization skills or nerves getting the best of you, a test prep course can teach you strategies to overcome your biggest hurdles. Also, as an outside observer, a test prep instructor may be able to identify your individual weaknesses and provide techniques to help you improve your test-taking abilities. 
You want a maximum return on your investment.  Standardized tests can costs hundreds of dollars in fees, and if you fail the exam, you'll have to pay to take the exam again. By taking a test prep course, you can make sure you feel as prepared as possible – and potentially avoid wasting more money re-taking the test in the future. 
No matter how many tests you've taken, a test prep course could be the source of expertise, support and motivation you need to succeed on your next big exam. Find the test prep course that's right for you with Kaplan, the leading provider of test prep courses on nearly 30 exams.