Sponsored Online Programs Available
Pursue Online PhD Programs in Business: Ecommerce and Social Media
PhD in Ecommerce Online programs focus on how businesses can harness the power of social media and ecommerce to reach customers. Programs also look at how technology and digital media can improve business functions, leading to more effective organizations. Pursuing online PhD programs in business with a focus on ecommerce and social media could be the perfect way to explore new territory in the field of business and leadership.
By enrolling in an online PhD in business program with a focus on Ecommerce or social media, you could potentially study things like how new technology and communications tools affect the marketplace. Sound good? Then let's learn a bit more about what a PhD in Ecommerce Online may offer.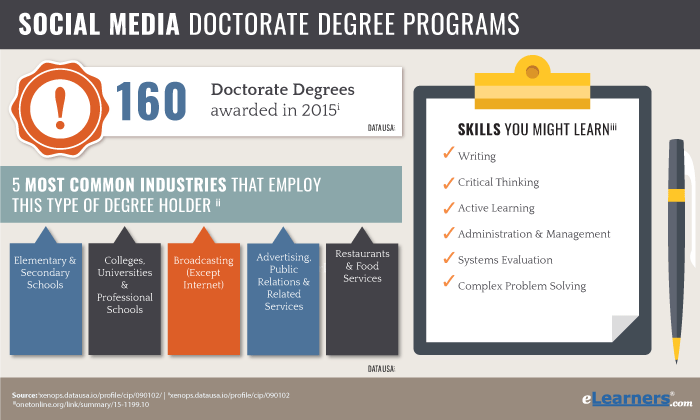 What Could I Learn About Ecommerce and Social Media in an Online PhD Business Program?
Online PhD programs in business may be aimed at candidates with goals in academia. Or, doctoral-level programs may be perfect if you're interested in using communications and technology to further goals in organizational leadership. Either way, PhD programs may be research-intensive, potentially allowing you to pursue new knowledge in an area of interest to you. In fact, original research may be a chance for you to raise questions and address problems that even the experts don't know a lot about!
Potential Course Work in a PhD in Ecommerce Online
Here's a sampling of potential courses you might find in online PhD programs in business – social media and ecommerce:
Digital business
Pricing strategies
Marketing and culture
Consumer behavior
Technology, communication, and media in organizations
Social networking for organizations
Possible Subject Matter in a PhD in Ecommerce Online
And here are a couple of broad subject areas you could potentially research while pursuing a PhD in business online, with a focus on social media and ecommerce:
Social interactions
Online retailing
Social media marketing and analytics
Cross-media marketing
Electronic commerce
Keep in mind that typically, doctoral candidates must complete a dissertation on a subject of personal and professional interest. You may work with a faculty advisor to plan this project. Additionally, courses can be intended to help doctoral students jump-start their research. You might study research methodologies, the difference between qualitative and quantitative research, and other useful knowledge.
So if you have a burning interest in getting to the heart of social media's importance, or you're hoping to develop a new ecommerce model, then perhaps earning a PhD in business online is the perfect path for you!
Find Online PhD Programs in Business
Take the next step! Check out some sponsored listings for ecommerce and social media PhD programs that may suit your goals and get the attention of college recruiters too.