0 Sponsored Online Programs Available
Online Agriculture Associates Degree
While earning an associates agribusiness degree online, you will explore the theories, applications, techniques, and technologies that shape agriculture. Degree programs also will address how business principles, such as marketing, management, and finance, apply to agriculture. Studies in these areas could help you pursue a career in agribusiness or prepare you to transfer to a bachelors degree program in agribusiness. If you're not quite ready to pursue a bachelors degree but want to learn how business and agriculture intersect, earning an agribusiness associates degree may be perfect for you.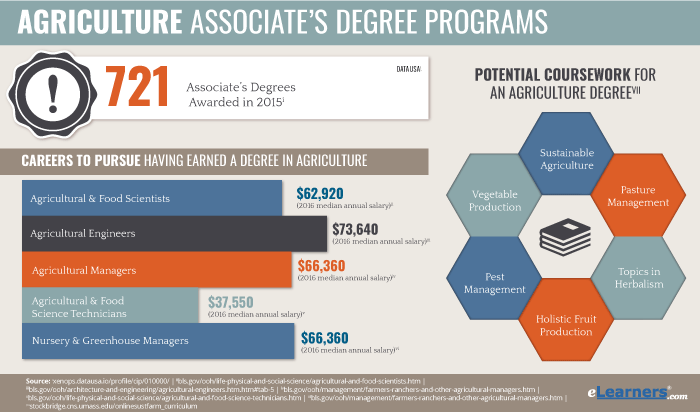 So What Will I Study If I Pursue An Associates Agribusiness Degree Online?
Through a combination of digital platforms, interfaces, and media, you'll likely study areas of business, agriculture, and environmental science. For example, you might study topics such as the following.
agricultural economics.
farm and ranch business records.
farm and ranch business management.
agricultural marketing, accounting, finance, and management.
agriculture and technology.
agricultural law.
sustainable agriculture.
agronomy.
business fundamentals.
Your elective courses may help you specialize your knowledge in a particular area. You might take more advanced courses in the subjects listed above, or you might study other subjects. For example, advanced courses might include some of these subjects.
livestock production.
livestock fitting, showing, and judging.
beef, swine, or sheep production.
feeds and feeding.
range management.
forage crop science.
soils.
plants, agriculture, and civilization.
You might also concentrate your studies in a particular area such as food systems, dairy science, horticulture, or crop production. These are just some of the options you might find as you pursue an agribusiness degree online.
What Is the Structure of An Online Agribusiness Degree Program?
At the associates level, an agribusiness online degree program will likely be divided between general education and major courses. In many cases, the courses are designed to be completed
over two years of fulltime study. If the program is student-paced, students might earn their associate's degree in less or more time.
To facilitate classes, instructors typically utilize a range of technologies and media. Students typically must have a computer, strong internet connection, and place to work. Pursuing an ag business degree online may be a wonderful option for students who live in rural areas, work during the day, or otherwise cannot afford to take courses on campus.
What's My Next Step to Find an Online Agriculture Associates Degree?
Now that you know a bit more about what you might study in an online agriculture associates degree program, it's time to take action. Browse through the collection of programs on this site and compare options. Contact any program for additional information and to ask questions. When you find a program you like, work with the school to apply and register. You could be on your way to earning an associates agribusiness degree online.