Sponsored Online Programs Available
Online Agricultural Management Bachelors Degree Programs
Online Agriculture Bachelors Degree programs teach the knowledge and skills students need to succeed in agribusiness. Programs are designed to help students draw important connections between business, agriculture, and environmental sciences. As agriculture and food systems respond to new technologies, changing markets, and environmental concerns, skilled and knowledgeable business people might be increasingly important in the agricultural landscape.
Whether students are new to agricultural sciences or have experience working in the field, pursuing an agribusiness, agricultural management, or environmental management bachelors degree could be a career-enhancing move. It could also help develop an ever-changing industry and protect our world's natural resources.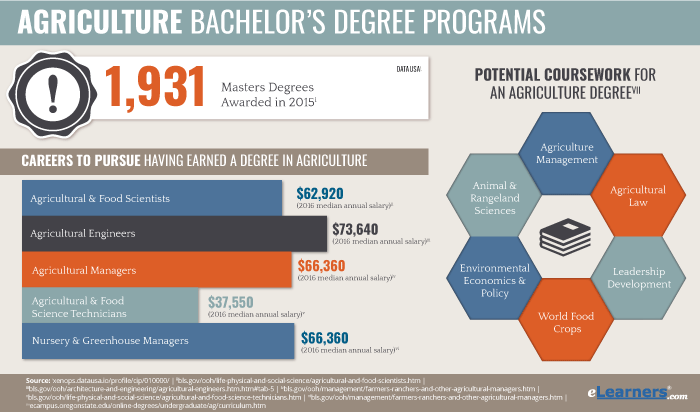 Who Might Benefit from an Online Agriculture Bachelors Degree
People who work for, have experience in, or want to manage small, medium, or large farms, manufacturing plants, or other entities.
People who want to analyze and manage the impact agriculture has on the environment.
People who want to learn the newest theories, technologies, and practices in agribusiness and related areas.
People who have little to no experience in agribusiness but want to enter the field.
What Do Students Study in Online Agricultural Business and Management Bachelors Degree Programs?
Through online agribusiness courses, students might learn many things.
They might learn about agricultural and food crop system dynamics.
Students could research the connection between agriculture and the environment.
There might be an emphasis on learning how to lend one's skills to agribusinesses or develop their own business ventures.
They might develop their leadership and managing abilities.
Enrollees may develop vital problem-solving and decision-making skills.
Plus, many programs enable students to tailor their curricula. This could help students better meet their professional goals.
The curricula in online agricultural business and management bachelors degree programs vary. However, there are several subjects students might study no matter the online agriculture bachelors degree program.
They might study supply chain management.
They might study micro- and macro-economics, especially of food systems.
They might study agribusiness and environmental business.
They might study financial and market analysis, forecasting, and pricing.
They might study fundamentals of business such as agribusiness management, accounting, finance, and marketing.
They might study business writing, public speaking, personal computing, and other forms of professional and technical communication.
They might study agribusiness in the local, national, or global economy.
Some types of agribusiness courses might be geared more toward elective study. Through your elective courses:
You might explore food science and technology.
You might learn about human nutrition.
You might study soil, crop, and watershed sciences.
You might explore horticulture or landscape architecture.
You might learn about natural resource and ecosystems.
You might study pest management.
You might learn how to educate others about agriculture and the environment.
You might study the social, legal, and ethical environment of agribusiness.
You might explore rural sociology.
Ultimately, the curricula in online agricultural business and management bachelors degree programs is likely to be interdisciplinary.
How Are Online Agriculture Bachelors Degree Programs Structured?
Online agriculture business and management bachelors degree programs are typically four year programs. Some online programs might be self-paced and enable students to earn their bachelors degrees in more or less time.
An agribusiness online degree program may use a variety of technologies to deliver coursework. Digital interfaces, platforms, and multimedia, such as videos, chats, and conferencing, are just some examples of how online students might learn.
One of the benefits of pursuing an agribusiness degree online, is that you might not have to move, leave your job, or otherwise neglect certain responsibilities to participate in one. All you need is a computer, a workspace, financial and academic resources, and an appetite to learn.
Next Steps
First, look through programs on our site. See what programs are available. Second, click on programs and schools to learn more about them and to request information. Compare and contrast programs to get a sense of which best fit your needs. Finally, work with the program and school of your choice to register. It's that simple! Pursuing your agricultural or environmental business degree online could be a wonderful way to enhance or begin your career. Good luck!