Sponsored Online Programs Available
Agribusiness PhD Online Degree Programs
Doctorate level online agribusiness degree programs address how to use advanced business practices and research methodologies to impact agriculture and the environment. These advanced programs aim to help students understand the management, marketing, and finance models that help agribusinesses succeed. They may also lay out the best practices to thinking critically and applying solutions to protect natural resources and implement sustainable practices.
Many people who pursue a doctorate degree in agribusiness online may pursue management or other leadership positions in agriculture and related fields. Perhaps you could be next.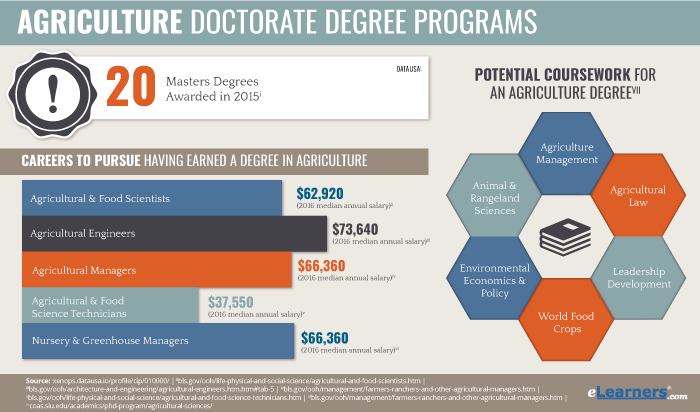 What Do Students in Doctorate Level Online Agribusiness Degree Programs Study?
What students in doctorate level online agribusiness degree programs study depends on the program. Some programs might be in management with an emphasis on agribusiness. Others might be in agriculture with an emphasis on business, agribusiness itself, sustainability, or something similar.
Potential Types of Course Work & Subjects
Over four to six years of fulltime study, students typically engage in interdisciplinary coursework.
Classes present theories and applications in management and leadership.
Studies include agribusiness, micro-, and macro-economics.
Other coursework is likely to include supply chain management.
Professors also may discuss agriculture, sustainability, and environmental science.
In addition, students will likely take numerous research methodology courses as part of their core curricula. In many programs, students will take elective courses or pursue a concentration. Some subjects of study include the following:
Students may study Environmental risk.
Courses may cover Biotechnology.
Policy, government, and agriculture are also relevant topics.
Other electives might be Animal and resources management.
Students may be exposed to concepts like how to Forage resources planning and utilization.
Other important course work is Plant, soil, and environmental resources.
Finally, at least on our list, classes may address Agricultural waste management.
Other Stuff You Should Know
As you can see, elective courses and concentrations help students pursue a more specific line of knowledge in agriculture, agribusiness, and sustainability.
Students might also be able to work with an instructor online to complete independent studies. Labs, lectures, and group activities may all be completed online. Students might use numerous digital platforms, interfaces, and media to learn interactively.
To conclude their programs, students pursuing a doctorate level agribusiness degree online might have to defend their research through a dissertation or attend a research symposium online or in person.
Next Steps
If you're ready to enhance your knowledge and skills and pursue a leadership, management, or other advanced position in agriculture, looking through online doctorate programs is a great place to start. Online agriculture degrees at the doctorate level come in many shapes and flavors. You might find your perfect program here! Simply browse through the programs on our site, compare your options, and contact programs for more information. It's that simple.