Sponsored Online Programs Available
Pursuing an Agribusiness Masters or Sustainable Agriculture Masters Degree
There are many great reasons to pursue an agribusiness or sustainable Masters in Agriculture Online. Students may learn how to:
Improve sales.
Streamline production.
Enhance animal or crop health.
And otherwise influence agribusiness.
Depending on their program, business and agriculture students may also learn how to increase, promote, and manage sustainable practices throughout the agriculture industry. Best of all, they could learn how to do so without sacrificing business profitability. In just two to three years, students may learn how to increase agribusiness functionality, sustainability, and profitability.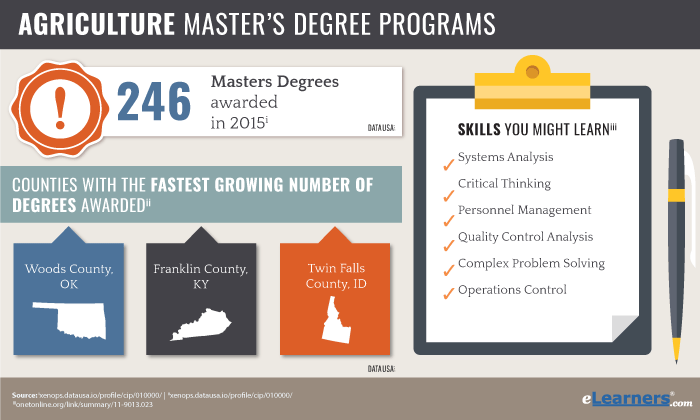 What Are Agribusiness and Sustainable Agriculture?
Agribusiness applies components of business, such as finance, accounting, marketing, and management, to agriculture. Agribusiness professionals might manage the business components of:
Farming.
Ranching.
Food cropping.
Raising animals.
And more.
Sustainable agriculture combines the business of agriculture with the science of conservation, sustainability, and resource management. Agribusiness professionals may manage land, animal, and natural resources to help ensure sustainability and profitability over time.
Why Pursue a Masters in Agriculture Online?
An online agribusiness masters degree program may give students an advanced look at agriculture, business, and sustainability. Students might learn how to:
Make informed decisions across areas of agribusiness.
Apply key business and sustainability concepts to real-world agricultural issues.
Manage and lead people in the agribusiness field.
Students might develop their advanced knowledge and skills in these and other areas by:
Learning from educators knowledgeable in business, agriculture, and sustainability.
Doing case studies.
Participating in internships.
Interacting with classmates employed across sectors of the agricultural industry.
These and other features of online agribusiness degree programs could help professionals learn how to help agribusinesses succeed.
Curricula in Agribusiness Masters Degrees and Sustainable Agriculture Masters Degree Programs
In agribusiness and sustainable agriculture masters degree programs, students explore the intersection between business and agriculture. Students might pursue a Master of Business Administration with an emphasis in agriculture, or a Master of Science in Agriculture with an emphasis in business. These are just some of many options. No matter the specific type of degree program, students pursuing an agribusiness or sustainable agriculture degree online typically learn how to help farms, ranches, processing plants, and other aspects of agricultural business evolve and thrive.
What Classes Would I Take?
Here are some of the many topics students might study as they pursue an online sustainable agriculture or agribusiness masters degree:
Technology in agribusiness.
Agribusiness financial management and economics.
Agribusiness management and marketing.
Operations management.
Agribusiness law and ethics.
Agribusiness logistics.
Optimization techniques for agribusiness.
Agribusiness risk management.
International agribusiness policy.
Comparative agriculture systems.
Leadership and decision-making.
Quantitative methods for decision-making.
Problem-solving and project management.
Macroeconomics, trade, and policy in international agribusiness.
Business analysis.
Information technology.
Students may also study soil fertility, resource distribution, precision agriculture, sustainable agriculture, and more. This could help them learn how to establish, maintain, and manage sustainable practices over time.
Anything Else I Should Know about a Masters in Agriculture Online?
To conclude their programs, students pursuing a sustainable agriculture or agribusiness degree online might have to:
Write a thesis.
Take a capstone course.
Do an internship in their local community.
Take an oral comprehensive exam.
In many online programs, students may have to spend several weeks on campus. As you consider online programs, choose one that meets your logistical needs.
Next Steps to find a Masters in Agriculture Online:
If you're ready to learn how to help agribusinesses run smoothly, effectively, and sustainably, begin the search for your perfect program. Browse through our sponsored listings of online agribusiness masters degree programs. Click on programs for more information and to contact them directly. Whether you want to pursue an online sustainable agriculture degree or simply learn the ins and outs of agribusiness, we likely have options for you. Good luck!